PARENTS RELY ON SCHOOLS TO GIVE CHILDREN THE EXERCISE THEY NEED
SUMMER is over and the kids are back in school, which is a good thing for their health according to a new survey revealing time conscious parents are relying on PE lessons and running around the playground as the main form of physical activity for their children.

The survey of 1,000 parents conducted by LeapFrog, the leading children's educational entertainment brand, reveals that parents in North West England are confused about how to keep their children fit and healthy, with 49% admitting they have no idea that the Government recommended daily amount of physical activity for young children is 1 hour a day. 20% of parents are confused by what the right healthy choices are for their family and 36% blame an overload of diet and health messages for this.

According to the survey, the average child spends 8 hours and 55 minutes a week being active, but just an 8th (1 hour and 40 minutes) of that time is outside school, making school depended upon to provide children the majority of their physical activity.

25% of parents say they lack the time to make plans for their children to be physically active and 29% admit they find it difficult to motivate their child to get active outside of school. Further, despite being a main source of exercise for kids, 16% of parents said PE is their child's least favourite subject at school, 16% said their child thought PE was boring and a further 10% said their child feels embarrassed doing PE.

With childhood obesity in the limelight and many parents lacking in time and knowledge on how to keep their children active at home, LeapFrog's latest innovation, LeapBand, the first wearable activity tracker for children, gives parents the power to no longer rely on schools to get their child moving. Importantly LeapBand offers a fun and refreshing solution to making being active part of everyday life, and hopes to motivate young children and their parents to be more enthusiastic about physical activity with the wearable device.

Dr. Gavin Sandercock, Children's Fitness Professor at Fitmedia comments:- "LeapFrog's research gives cause for concern that parents are relying too much on schools to provide their child enough exercise and are lacking in the time and knowledge to motivate them at home. LeapBand is unique in being the only device to inspire children to get moving and learn healthy habits in a fun and rewarding way, offering parents a new way to inspire their children to get active."

Sally Plumridge, International Marketing Director at LeapFrog adds:- "Our research shows parents are relying on schools to give their child enough physical activity, but are confused about the best ways to keep them motivated at home. The new school term and the arrival of LeapBand offer a completely fresh start for both parents and children to change the way they think about active play outside of school time. With LeapBand, parents can benefit from valuable insight about their child's daily activity and kids will be having so much fun, they won't realise all of the physical exercise they are experiencing and the healthy habits they are learning."

LeapBand, which launched in August, gets kids moving and having fun with 50 different activities and challenges, tracking and rewarding a child's physical movements: the more active they are, the more points they earn. A choice of 8 virtual pets are on offer to be nurtured with healthy treats and guide the child through imaginative and engaging active play. They can also unlock additional games, challenges, levels of play and virtual rewards for their on-screen pet.

LeapBand has an aspirational fit-band style designed with kids in mind. High-tech features include a built-in accelerometer, high-resolution colour screen, rechargeable battery and water-resistant design, making it the ultimate activity wearable for kids. Parents can set school time and night time modes to select days and times during the week where LeapBand will only display the analogue or digital clock but will continue to track and reward activity.

For extended play after school, parents can download a free app called PetathlonT Games, available for Wi-Fi enabled LeapPad tablets, iOS or Android devices, which allows children to compete as their pet in mini-games to win extra rewards for their animals, including medals and tracksuits. These earned rewards can then be synced to LeapBand through LeapFrog Connect, which appear on the child's virtual pet, providing children with a collaborative play platform with LeapPad. The Petathlon Games app is available for download to Wi-Fi enabled LeapPad tablets from LeapFrog as well as an iOS or Android smartphone or tablet.

The LeapBand activity tracker (RRP £29.99, for children 4 to 7 years old) comes in green, pink, blue and orange, online and is available major UK retail locations. Additional activities and challenges are free and available for download via LeapFrog Connect for LeapBand. For more information, visit:- leapfrog.com/en/leapband.

Call for children to submit entries for sunflower comp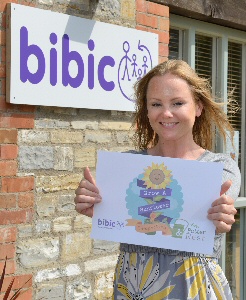 SCHOOL children in Southport who took part in a sunflower competition for a national charity are being urged, over September 2014, to send in their entries. bibic is reminding youngsters in the town who took part in the growing competition to submit their entries before 30 September 2014, to be in with a chance of winning.

Carla Bloomfield, Fundraising Team Member at bibic, which helps children and young people with conditions affecting their social, communication and learning abilities, explained:- "Earlier this year we teamed up with online garden centre, potterandrest.co.uk and asked children aged up to 16 years old to enter a competition to grow the sunflower with the fattest face. We would now like youngsters to measure their sunflower across the middle of its 'face', excluding petals. We would then like them to take a photo of their sunflower and complete the entry form, which can be downloaded. All entries must be submitted via email before midnight on 30 September 2014 to:- hello@potterandrest.co.uk with the entry form and a photo of the sunflower attached to the email."

There are 2 titles to be won; Regional Winner and National Winner. The five regional winners will each receive a £10 Potter & Rest voucher and a certificate.

The National Winner will be the entrant whose sunflower 'face' was recorded as the largest and they will receive a certificate and a £50 Potter & Rest voucher. The overall winner's school will also be presented with a £50 Potter & Rest voucher.

The winners will be announced by bibic in October 2014.

bibic helps children and young people aged from 6 months to 18-years-old with conditions affecting their social, communication and learning abilities to achieve their potential for a happier and more fulfilled life. These include developmental conditions such as autism, cerebral palsy, Down's syndrome and brain injury.

Carla continued:- "The competition formed part of our Smile Campaign, which aims to raise awareness of its Sponsor a UK Child initiative. The initiative gives people the opportunity to change a child's life forever. We currently have two children, Zoe and Ray, who can be sponsored For a donation of £5 each month, sponsors receive pictures of their chosen child together with their story, an update on their progress every six months, drawings or letters and a certificate and thank you drawing, via the charity. There is no direct contact between the child and their families and the sponsor."

potterandrest.co.uk aims to be the largest 'true' garden centre online with free expert advice available to gardeners via telephone and social media backed by a 5 year plant guarantee. The e-garden centre hopes to appeal to all levels of gardeners from complete novices to keen amateurs and on to expert gardeners.

bibic receives no government funding and relies on support and donations to provide the life changing help needed by many children and their families. The charity has a national assessment centre in Somerset. Its therapists work closely with families nationwide to create a therapy programme, which provides them with the skills and strategies to support their child or children.

If you would like to support bibic's work and wish to make a £5 donation to the charity, please text:- 'KIDS02 £5' to:- 70070 or for a £10 donation text:- 'KIDS02 £10' to:- 70070.

To find out more about bibic's Sponsor a UK Child initiative, please visit:- bibic.org.uk. For more information, please call bibic on:- 01458 253344. you can also follow them on Twitter and via Facebook.