TV's Gogglebox stars open family business at Pyramids, Birkenhead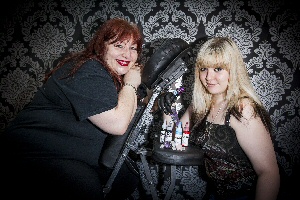 A MOTHER and daughter team who have already made their mark in the world of television are now running their own tattooing and gift business at Pyramids Shopping Centre in Birkenhead.

Viv Woerdenweber, 52, and her 20 year old daughter Eve shot to national fame after becoming the unexpected stars of the Bafta-winning Channel 4 series Gogglebox. The runaway TV smash hit broadcasts viewers' reactions to popular TV shows using cameras installed in their living rooms.

As they wait for the next series of the smash-hit show to start next month, Viv and Eve, who live in Tranmere, have opened a two-in-one business in St Werburgh's Square at Pyramids Shopping Centre.

On the ground floor is Viv's Twilight gift shop selling everything from body jewellery to tarot cards and upstairs on the first floor Eve has her state of the art tattoo studio called Pretty Inked.

Since they opened for business just last week a number of their customers have been shocked to see 2 such well known faces greeting them.

Viv said:- "We have attracted quite a bit of attention from people who recognise us from the TV show and it's definitely going to be good for business. However, I like to think people will also come in for what we're offering at Twilight and Pretty Inked. I had a shop called Twilight for quite a few years on Birkenhead Market but as business was so good I decided to move to larger premises in Pyramids Shopping Centre. Both Eve and I feel it's the place to be because it's bigger, busier and the shop has a great outlook. I'm really proud of the unique range of products we're offering at Twilight, which includes crystals, incense sticks, silver jewellery and collectible figurines. We also do holistic therapies and tarot cards. In fact, we have something to suit everyone's tastes."

Although Twilight also does a nice line in crystal balls, it's unlikely that even one of these could have fortold the huge success of Gogglebox, which started in March 2013, and has attracted an audience of almost three million by the end of its second series. It landed the Bafta award for reality and constructed factual programmes earlier this year.

The show is filmed by a 5 strong TV crew at Viv and Eve's semi-detached home in Tranmere and they appear on it alongside Viv's German husband Ralf, 51, and Eve's 21 year old boyfriend Jay, who is working at Twilight while he completes his customer services training.

The family were asked to star in Gogglebox by a TV scout who approached Viv at her shop on Birkenhead Market and Eve talked them all into taking part.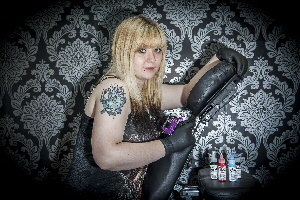 Eve said:- "We started filming last year and the crew comes up from London 3 times a week with the sessions lasting at least 6 hours a night. The whole thing is filmed a week in advance and we've all been amazed at how popular it is. The response has been just phenomenal. We're just a regular family but people who watch it say they love it because we say the same sort of things about the programmes that they are thinking themselves. To win the Bafta was incredible because we just weren't expecting it. In fact, we were being filmed as the result was announced, which was just unreal. We're due to start the new series next month and I just can't wait to begin. But in the meantime we've been busy getting our two new businesses ready for opening at Pyramids. It's been a dream of mine to have my own tattooing business since I was very young and I have 4 years of experience already under my belt working in different places including various apprenticeships. I can do all sorts of designs from small ones of someone's name to what's known as a full sleeve, which means tattoos all the way down a person's arm. Men in the age range from 18 to 40 are our biggest customers although we do get a few women in too. To me a tattoo is an expression of who you are as an individual. I have four down my right arm all to do with my family and childhood. When I'm older I'd like to have many more."

Eve, who has all the correct licenses and insurance for practising her body art, added that her new studio is fitted with all the latest equipment and follows the most stringent cleanliness and hygiene rules. She said she was delighted to be working alongside her mum Viv in what was very much a family business.

Derek Millar, Commercial Director for Pyramids Shopping Centre, said:- "We continue to welcome new business to Pyramids Shopping Centre which is not only a great indication of how well the shopping centre is doing generally but is also important for our shoppers as we are the main shopping hub on the Wirral. It's been great to work with Viv and Eve at Pyramids Shopping Centre and support the start-up of a local, family run business which offers something completely different. I know people will enjoy popping in not just for the gifts and tattoos but also to catch up on the latest Gogglebox gossip."

Giving away one little secret of how Gogglebox is filmed, Viv said:- "The crew have become almost part of the family and we get on very well with them. But because we live in just a normal sized house things can get a bit crowded when they're with us. While the 4 of us are being filmed by remotely controlled cameras in the living room the crew; that's a director, researcher, cameraman, soundman and production runner - are all squashed into the kitchen or sitting on the stairs. But it all seems to work very well and they even bring us little presents like cream doughnuts and make us tea and coffee. The whole experience is just amazing and we never expected the show to be such a hit or win a Bafta, which is a huge award. I think it's so successful because it's just struck a chord with people and we say what they're thinking. We're now looking forward to our 2 new businesses at Pyramids being as big a hit as Gogglebox."

For more information about Twilight and Pretty Inked go to:- pyramidsbirkenhead.com.

Rib-tickling Autumn comedy line-up for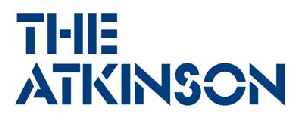 THE Atkinson continues to build on its reputation as one of the best venues for comedy with an impressive line up of household comedy names for the autumn season. With 1st class comedy gigs starting with Katherine Ryan on 17 October, who is fast becoming one of the most recognisable faces on British TV, followed by Radio 4 regular Mark Steel on 25 October 2014 and the already sold out Henning Wehn on 8 November 2014. Next up is the Lafta funniest stand-up winner of 2013 Paul Chowdhry on 21 November, and then Paul Foot on 26 November 2014; with his new show Hovercraft Symphony in Gammon Major and finally Irelands finest Tommy Tiernan on 4 December 2014. Comedy gigs start at 8pm.

Katherine Ryan has appeared on BBC 1′s Live At The Apollo & Let's Dance for Comic Relief, BBC 2′s Mock The Week, QI & Nevermind The Buzzcocks, C4′s 8 Out of 10 Cats and more. She is now embarking on her second UK stand-up tour. The fresh, often dangerously fierce pop culture obsessed Canadian, was unaffected by publicised death threats and survived the world's first crack smoking mayor. Tickets are priced at £12 (£10 concessions).*

Coming to The Atkinson is the 'Mark Steel's in Town' show, based on the Radio 4 series in which he writes a show centred around each town, and has now been to at least 5 million places. It's a sparkling verdict on humanity that he has mocked them all and somehow is still alive. Tickets are priced at £15.*

The Atkinson is delighted to welcome the host of Channel 4's Stand up of the Week and star of BBC'1's Live at The Apollo Paul Chowdhry to the venue for his biggest tour to date. He tackles everything borderline within the human psyche. Why is one person's offence another person's humour?

PC may be his initials, but the relentless world he lives in definitely isn't. Why has tackling the preconceptions of political correctness become so offensive? Paul will tackle these areas with hard hitting subjects like the fine art of attracting women, jokes cut from his TV appearances, homosexuality, non existent customer services and the now infamous 1980's. It's time to enter PC's World. Tickets are priced at £14.*
Heralded by critics, Paul Foot's previous tours have been showered with 5 star reviews and nominations, credited as "masterful" (Scotsman) and "ingenious" (The Australian Herald Sun). His subversive, insightful absurdity constantly challenges and delights his faithful connoisseurs, leaving:- "your sides sore and your face wet with tears" (Edinburgh Evening News).

His most recent TV credits include BBC1's Would I Lie To You, BBC2's Never Mind The Buzzcocks, C4's 8 Out Of 10 Cats and Comedy Central's The Alternative Comedy Experience. Don't miss your chance to see:- "a cult classic, a relic from the past, a rare exotic bird, he's special" (The Daily Express). Tickets are priced at £12.50.*

Join Tommy Tiernan, a legend in Ireland who outsells any other Irish comic. His recent International touring schedule has included the UK, USA, Europe, Canada, Australia and New Zealand; including 2 sell out performances in one night at The Sydney Opera House and a run at The Soho Theatre in London's West End. Tiernan's mastery of stand up allows him to take risks other comedians dare not. Through hilarious storytelling and a high energy, non apologetic delivery he is continually challenging his audience who can be confident they are in safe hands. Tickets are priced at:- £15.*

In addition to these headline shows The Atkinson also offers the best in up and coming comedy talent at their very own Laugh Out Loud Comedy Club where, on the first Saturday of every month from 8pm, the very best live stand up comes to Southport; with each show consisting of 3 of the top comedians and one of the finest compares in the comedy business.

The new season of Laugh Out Loud comedy nights include:-

► Saturday, 6 September 2014 - Tony Hendrick, Simon Bligh, Bryan and Krystal.
► Saturday, 4 October 2014 - Andy Askins, Phil Walker and Phil Chapman.
► Saturday, 15 November 2014 - Roger Monkhouse, Scott Bennet and Fin Taylor.

► Saturday, 6 December 2014 - Tom Wrigglesworth, Howard Read and Barry Dodds.
Tickets are:- £12.50 (£15 door) or you can get a season ticket (Sept-Dec) for just £40. *
Please note recommended age for this is 16+

After the huge success of the Faulty Towers Dining Experience The Atkinson brings you 'Allo 'Allo! – Le Dinner Show' on Saturday, 27 September 2014 and Edmund Blackadder – The Dinner Show on Saturday, 13 December 2014. Both events take place at 1.30pm and 7.30pm, tickets are priced at £41 which includes a 3 course meal.

Tickets for all these shows are on sale now so get flexing your funny bone! Tickets are available online or by calling The Atkinson Box Office on:- 01704 533333. You can also purchase your tickets over the counter during The Atkinson's opening hours.

* Please be advised there is a £2 booking fee for booking over the phone and online bookings.
Did you see the 'Supermoon'?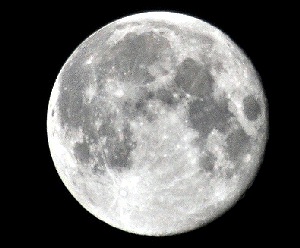 DID you see the Harvest or 'Supermoon' on Tuesday, 9 September 2014? This is a photograph taken of it by our Editor Patrick Trollope. The 'Supermoon' is the name given to the Moon when its elliptical orbit around the Earth is at its closest. The result for us on Earth, looking up at it makes the Moon appear up to 15% larger than it normally seems in the night sky. The name 'Harvest Moon' derives from farmers who used it to help them work late into the night, working on the peak of harvest. Harvest Moon, is not only also called a Supermoon, but it is also sometimes referred to as the 'Hunter's Moon'. This was the last one of the 3 Supermoons of 2014, rising 7:13pm and setting 12 hours and 53 minutes later at 8:06. The other 2 of the Supermoons occurred on 12 July and 10 August 2014. On all 3 nights the effect of being bigger was increased because the full moon phase coincided with its Perigee, its closest approach, so arguably making it an extra super moon. Do let us know if you got any photos or video shots of it by emailing us to news24@southportreporter.com. Also let us know if you spotted it... On our Facebook Page, Jean Marshall said:- "I did see it last night. Quite something!" For Moon phases and a bit of science about the Moon go to our Moon.