NATIONAL TRAINING OF BLUE LIGHT SERVICES TO BE PUT TO THE TEST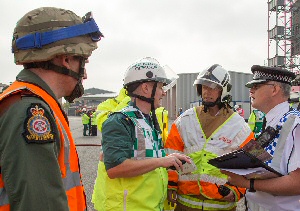 LIVERPOOL was the scene of a massive national training exercise, code named Endeavour, and designed to test the initial joint response of all three emergency services (police, fire and ambulance) It took place on Thursday, 18 September 2014, at the Merseyside Fire & Rescue Service Training and Development Academy on Storrington Avenue, Croxteth, and included incident commanders from Merseyside Police, Merseyside Fire and Rescue Service and North West Ambulance Service NHS Trust.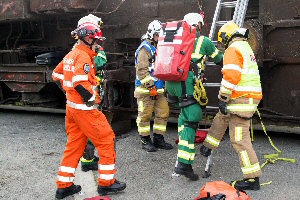 Stretching over 14 hours and involving around 1,000 people, including Officers and staff from Merseyside Police, MF&RS and North West Ambulance Service NHS Trust, and partner organisations including Liverpool City Council, British Transport Police, the Ministry of Defence and the Environment Agency.. The exercise is the culmination of a national 2 year training programme for incident commanders across the emergency services, which aims to ensure the blue light emergency services across the country work effectively together to save lives when responding to a major incident.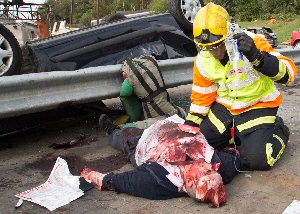 Driven by the emergency services, the Joint Emergency Services Interoperability Programme (JESIP); was the largest and most ambitious joint training programme ever undertaken by the 3 blue light services.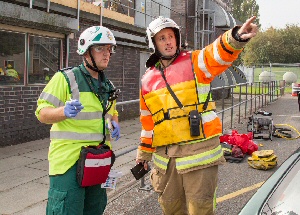 The training, which promotes the overarching aim of the programme - 'Working Together Saving Lives' - is mainly directed at Officers who are likely to take command in the very early stages of the response to a major incident. Other organisations which have also been involved include HM Coastguard and the Civil Nuclear Constabulary.

The exercise has been closely monitored throughout and findings will be used to help identify best practice, but also to identify areas of duplication and misunderstanding and to help achieve the best possible response within the so called Golden Hour, and beyond, when chances of minimising damage and of preventing escalation are at their highest.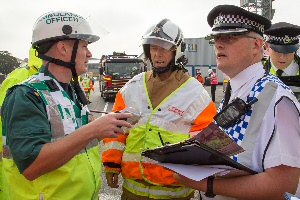 The programme was created after public inquiries following a number of major incidents, including the London bombings in 2005 and the Derek Bird shootings in Cumbria in 2010, reported that, although the emergency services worked well independently, they did not work together as well as they could.

Assistant Chief Constable Darren Martland, said:- "The exercise is the culmination of 2 years training across the emergency services and it will test the joint response of the emergency services, and a number of other agencies, in relation to those initial hours following a major incident. JESIP has trained more than 10,000 incident commanders across the emergency services to improve crucial areas of communication between the services, develop a better understanding of the different roles and responsibilities and ensure more effective joint decision making. Joint Endeavour will test that training, which is designed to improve the service provided to the public by all three emergency services. Our ultimate aim as emergency services is to protect and save lives and reduce harm and by continually reviewing how we work together we can ensure we provide an effective and efficient service to those in need."

Merseyside Fire and Rescue Service Chief Fire Officer Dan Stephens said:- "Exercise Joint Endeavour will simulate the significant challenge faced by emergency service personnel when a major incident occurs. The exercise will require all three emergency services to work closely together to manage hazards and effect numerous rescues. Exercises like Joint Endeavour are invaluable, as they allow our specialist teams to put their skills and knowledge to the test under highly realistic conditions in an environment where effective co-ordination with other emergency services and agencies is essential. Our firefighters and the Urban Search and Rescue Team carry out regular training to ensure they are prepared to deal with all eventualities, with the most up to date equipment and knowledge to respond to any incident. Merseyside was selected to host the largest validation exercise of the national programme JESIP (the Joint Emergency Services Interoperability Programme). More than 45 Officers at our Service have completed the JESIP training so far and the courses they have been on have also led to many good working relationships forming amongst the three emergency services."

Bob Williams, Chief Executive for North West Ambulance Trust (NWAS) said:- "We are extremely pleased to be part of such an exciting programme that involves all emergency services, this is a great opportunity to demonstrate and, more importantly, put to test the joint operability skills we have been able to develop through the JESIP programme. This live exercise has taken 2 years to achieve and will see commanders and control room staff from all blue light emergency services working to the same principles for joint working; applying standard models for sharing incident information and enabling rapid, effective joint decision making – a national standard for all emergency services. All NWAS staff involved have worked very hard to bring this multi-agency exercise to fruition."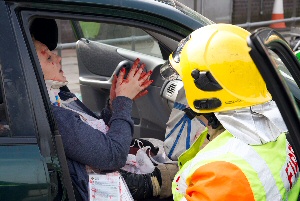 Steve Wheaton, JESIP Assistant Senior Responsible Officer, said:- "We are grateful to the agencies on Merseyside for agreeing to host this massive event. It will mark the culmination of the first phase of JESIP, which has seen the creation of a unique joint training programme, bringing together personnel from the three blue light services, and other responder organisations, solely to improve even further the service they give to the public in situations of crisis."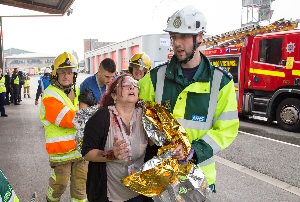 Throughout the day wide range of vehicles and staff from many emergency and utility services abounded in the area, and helicopters were in evidence across the wider region as they engaged in their supporting roles. However, disruption to traffic in the area seemed negligible.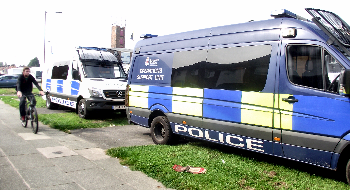 If you were involved we would like to have your input and/or photos. Also, a few folk have been critical of the expense and of the essentially artificial nature of an exercise like this; others proclaim that they are vitally important. Do you hold any views you would care to share with us? If so, go to:- news24@southportreporter.com.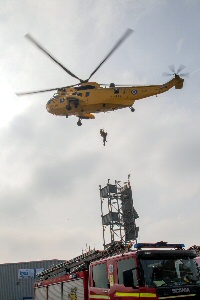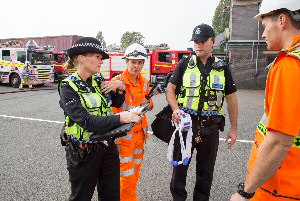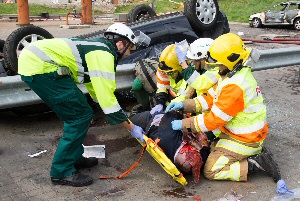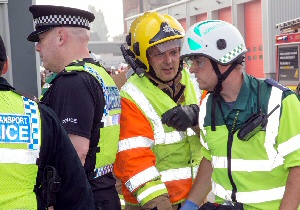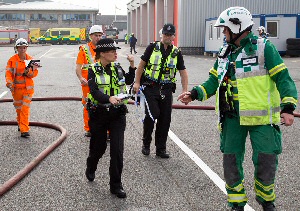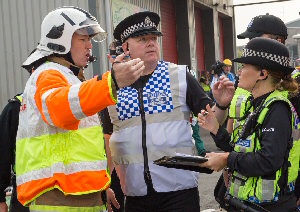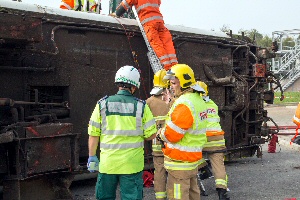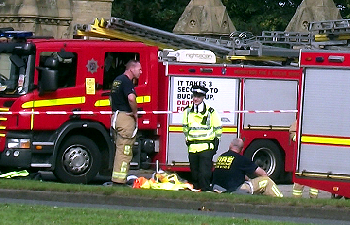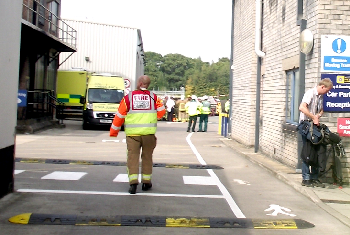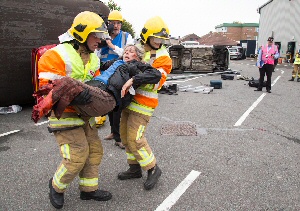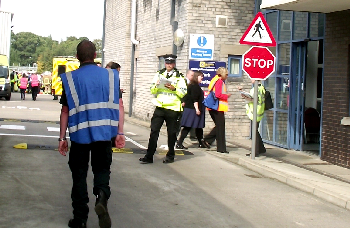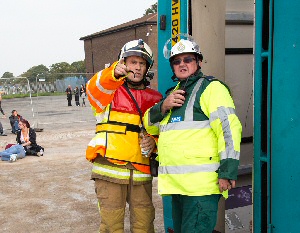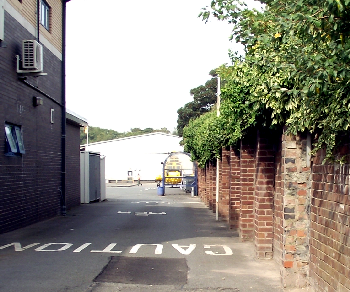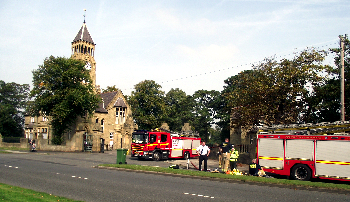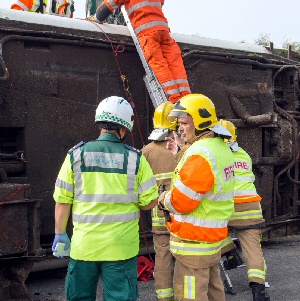 Elderly woman's handbag is stolen in a Church car park
MERSEYSIDE Police Detectives in Crosby have launched an investigation into a report of a theft from a car at St Peter and Paul Church, in Crosby, on Saturday, 13 September 2014. "At approximately 5pm, an 84 year old woman was parking her car in the church car park, when a man, with a push bike, offered to help guide her into a parking space. He then opened the passenger door, took her handbag and made off on his bike." the Merseyside Police Press Office told us. Detective Constable Jay Boardman said:- "This is a shameful crime, where someone has preyed on an elderly person. The lady in this incident, who was attending a service for her dead brother, was left extremely upset and frightened by her ordeal and I would like to appeal to anyone who has any information that will help us identify this man to contact the Police." The Police have told us that the offender is described as:- white, approximately 40 years old, slim build, with a lean face and dark, medium length hair. At the time of the incident he was reported to have been wearing a brown coloured jacket, with the hood up, dark trousers and riding a dark coloured push bike. Enquiries into thefts are continuing and CCTV is being located and reviewed. Anyone with information is asked to call Sefton CID on:- 0151 777 3824, or the Police Non-Emergency Number on 101 or Crimestoppers, anonymously, on:- 0800 555 111.