Pickfords in Liverpool supports the NSPCC's Underwear Rule campaign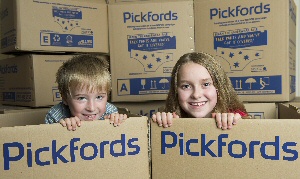 PICKFORDS, the UK's largest removals and storage company, is supporting the NSPCC's Underwear Rule campaign through its network of branches, including Pickfords in Liverpool, by using the space on its cartons to promote an important message for parents and carers. The Underwear Rule is a simple way that parents can help keep their children safe from sexual abuse by having conversations with them without using scary words or mentioning sex. By talking 'PANTS', parents can help their children to understand the key points of the Underwear Rule, which are:-
Privates are private

Always remember your body belongs to you

No means no

Talk about secrets that upset you

Speak up, someone can help
The campaign has been extremely successful to date leading to 400,000 additional parents having conversations with their children about keeping safe from sexual abuse. Pickfords' Managing Director, Russell Start said:- "Pickfords is delighted to be able to support the NSPCC by promoting the Underwear Rule campaign in this way. We've just started using the cartons and our removals staff are already being asked what the Underwear Rule campaign is about, so the cartons are definitely doing their job in getting the message out there."

NSPCC Senior Campaigns Officer, Stephen Nutt said;- "We're extremely grateful to Pickfords for their continued support and especially for helping us to promote the Underwear Rule campaign. By displaying our campaign on all of its packing boxes we're able to reach a vast number of parents and carers, right across the UK."

Pickfords has supported the NSPCC since 2010 and to date has raised over £150,000 for the charity through staff taking part in a range of events, from marathons to skydives. The company has also previously donated advertising space on their packing cartons to promote the NSPCC's helpline, which deals with calls from anyone concerned about a child.

The NSPCC has developed a simple Underwear Rule guide for parents, and a child-friendly version to help them talk PANTS with their children. Guides are also available for parents and children with learning disabilities, as well as in Latvian, Lithuanian, Polish and Russian. To find out more about the NSPCC Underwear Rule or to download one of the guides, at:- nspcc.org.uk/underwear.

Local Plan submissions published
LIVERPOOL City Council has published a draft list of sites required by Government suggesting areas which could potentially be used to grow and develop the City over the next 15 years. It follows a widespread consultation earlier this year aimed at identifying areas that could provide the housing, business, industrial units, open space and infrastructure the City needs in future.
Liverpool's Local Plan; which all local planning authorities are legally required to produce; will set out how new housing and employment demand, estimated at over 40,000 new homes and 300 hectares of land for industrial and commercial use can be delivered by 2028.
Local Plans are required to objectively assess need for key land uses and then find the sites and means of delivering on those requirements.
The City Council will now review and consider all the responses before publishing a draft Local Plan in summer 2015 which will clearly show the sites being taken forward and explanations of all of the decision making process.

The draft Local Plan will be subject to a planning inquiry by an independent inspector in 2016/17. It is only once this process has been completed that the Council will adopt it.

The Council received around 330 representations covering 280 sites with a combined area of around 1,000 hectares; less than 1% of the City. A total of 60 of the representations were about protecting existing sites from development or change.

Councillor Malcolm Kennedy, Cabinet member for regeneration, said:- "We are a growing City with huge ambitions and the Local Plan will be instrumental in how our City looks, grows and develops in the future. It is important to stress that this is a rigorous and fully transparent process that will take a number of years to complete, and is one that the Government places a duty on us to go through. Each site will be fully assessed and analysed and then be subject to independent scrutiny during a planning inquiry to decide whether or not its inclusion will meet the City's requirements. The Local Plan is essential for attracting investment for the right uses in the right places. If developers, investors and businesses don't understand our aspirations they will go elsewhere, so this is about making sure we are in the best position to help the City prosper. Conversely, without a local plan developers would have a much easier chance of developing against our wishes as we would be less able to demonstrate what our strategic needs and requirements are and where they should be delivered. This is an evolving process and the list will be adapted and changed before we adopt it in a few years' time."

The draft list of sites will be discussed at a special meeting of the City Council's Regeneration, Housing and Sustainability Select Committee on 23 September 2014. You can view the full report here and the sites on the draft list on the Liverpool City Council's website.