Oriel launches competition to offer a deserving local football team a brand new kit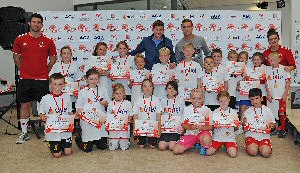 AS part of its drive to empower young people, housing development company Oriel, part of the First Ark Group, is offering one deserving under 16's school football team the chance to win a brand new kit for its squad; just in time for the start of the new season. Any football team with players aged 16 and under, which is linked to an educational establishment in the Liverpool City region, Merseyside, is eligible to enter Oriel's competition for a chance to win a new kit.

The competition comes on the back of Oriel's recent sponsorship of a summer youth football camp held at the Lord Derby Academy on Seel Road in Huyton, run by the Steven Gerrard Foundation in association with the Hugh McAuley Football Academy. The soccer skills course, held from 22 August to 29 August 2014 and supported by Oriel for the second year running, gave 100 local children the opportunity to develop not only football skills, but grow in confidence and learn life skills too. Liverpool FC captain Steven Gerrard, who grew up in Huyton, and team mate Jordan Henderson met the budding young footballers during their graduation ceremony at the end of the camp.

To enter to win a football kit, teachers, parents and guardians are invited to submit a 150 word summary which outlines why their team is the most deserving of the new kit. All entries must be emailed by the 30 September 2014. A panel of judges will review applications and the team which delivers the most compelling submission will receive a new kit, including shirts, shorts and socks for 10 outfield players and a goalkeeper. The winner will be announced shortly afterwards.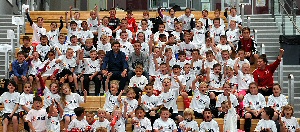 Oriel is a housebuilder with a difference; the team is passionate about building high quality, stylish, spacious and green homes with all its profits going back into communities.
Group director, Stephen Heverin, said:- "It's important that we care about the communities we work with, whether this is by providing new affordable homes, giving youngsters inspiration by helping them to meet their sporting heroes, or simply by supplying something as practical as a much needed football kit to a local school. This year's soccer school, supported by the Steven Gerrard Foundation, has been the best to date. Yet again we've been able to help offer local youngsters the chance to learn new skills and meet Steven, who is such a fantastic role model. We want to extend our support further by encouraging schools that are in need of a football kit to come forward so we can help them to kick off the season in style."

To find out more about Oriel, or to find out more about the competition and its full terms and conditions, please visit the website.

Commissioner wants your views on Community Remedy
HOW do you think those responsible for anti-social behaviour and low level crime in your neighbourhood should be dealt with?

Would you like to see them apologise to their victims, or maybe you think they should repair the damage they've caused, or speak to the victim about the impact their behaviour has had on them?

As part of the new Anti-Social Behaviour, Crime and Policing Act 2014 victims are being given a say in how offenders are dealt with through the Community Remedy and Police and Crime Commissioner Clive Grunshaw is in charge of how that looks for Lancashire. And the Commissioner wants your input into what measures you think should be included on that list, before he agrees the final Community Remedy document with the county's Chief Constable.

Mr Grunshaw said:- "Community Remedy will be used in cases where dealing with offenders out of court is the most appropriate option, and it will be an important way of giving victims a voice in this process. As Police and Crime Commissioner I want to empower victims and communities. I want them to feel involved in tackling the issues which blight their neighbourhoods and to feel satisfied with the outcome if they have been a victim of crime. By having a say on what should be included in Lancashire's Community Remedy document, residents can influence how offenders are dealt with. The measures need to be appropriate and proportionate to the types of offences and they also need to be things which will have a positive impact. Ultimately the aim is to empower victims, rehabilitate offenders, and see damage repaired."

In order for a Community Remedy to be used the offender needs to accept they've committed an offence, the victim needs to agree with them on the remedy and the Police need to agree the remedy is appropriate for both the crime and the offender.

Suggested remedies include the offender meeting the victim face-to-face through a Restorative Justice process, an apology from the offender to the victim either by letter or face-to-face or the offender repairing the damage or cleaning up any mess caused as a result of their actions.

In total, the Commissioner is asking residents to indicate whether they agree or disagree with 7 proposed options, and is also asking for them to make any suggestions.

Residents will be able to take part in the survey by visiting the Police and Crime Commissioner's area at the Lancashire Constabulary Open Day on Sunday, 28 September 2014, or go online at:- lancashire-pcc.gov.uk.
LEGION QUIZ NIGHT
THOSE who are looking for a fun night out should come to John Nelson`s Fun Quiz on Wednesday, 8 October 2014 at Formby Luncheon Club, Rosemary Lane at 7:30pm prompt. Tickets cost £5 and there will be a raffle and auction, all proceeds to go to Formby Royal British Legion Branch Funds, which funds Remembrance in Formby, Altcar, Ince Blundell and Hightown. People are asked to bring their own drinks and glasses. Tickets are available from the Luncheon Club, Formby Books or Formby Hardware or by ringing:- 01704 871927, or 01704 874101. Those who have not been to 1 of John Nelson`s Nights before are in for a treat, please come prepared to enjoy yourselves!