Patient observation technology saves lives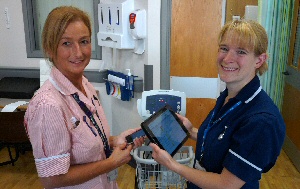 PIONEERING technology used by nurses at Southport and Ormskirk Hospital NHS Trust was recognised as contributing to big drops in deaths in hospitals, research published in BMJ Quality and Safety reports.

The study found that death rates fell by 15% after the VitalPAC system was introduced at 2 large hospitals in England.

The drop in mortality represented more than 750 lives saved in a single year across the 2 sites, the paper found.

VitalPAC allows nurses to use handheld devices, such as iPods, instead of paper charts to record patients' vital signs like blood pressure, pulse, and oxygen levels.

Specialist software automatically calculates if the patient is deteriorating. Where this is the case, the device warns the nurse to increase the frequency of monitoring and, when required, to alert a doctor or a rapid response team.

VitalPAC has been in use at Ormskirk and District General Hospital since August in H ward. The next wards to adopt it will be 9A and 14A at Southport hospital and G ward at Ormskirk with the rest of the Trust following shortly afterwards.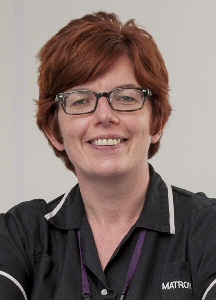 Matron Bridget Lees, clinical lead for the project, said:- "Since we have brought in VitalPAC we have seen real benefits to patients and clinical staff. Recording patient vital signs is quicker and more accurate and nurses get early warning if a patient is showing signs of deterioration, so they can take action."

Information recorded on the handheld devices is automatically uploaded to a hospital wide system allowing nurses, doctors and managers to monitor the health of patients across all wards. Staff on ward rounds have real time access to information from any device connected to the hospital network.

VitalPAC was funded with a £986,000 award from the Nursing Technology Fund. The Trust is only 1 of 2 using the software in the North West.

Roger Killen, Chief Executive of The Learning Clinic, the company which developed VitalPAC, said:- "This is a great example of a collaboration between front line clinicians, engineers and software designers to create a system which brings clear benefits to patients and staff. The BMJ Quality and Safety paper confirms, based on studying results at two large hospitals, that introducing VitalPAC was followed by dramatic falls in mortality."

The study in BMJ Quality and Safety reported a fall of almost 400 deaths among patients in one year at Queen Alexandra Hospital, Portsmouth, and a drop of more than 370 in the same period at University Hospital, Coventry, according to the research. An accompanying editorial in the journal described the research as "an important milestone" in improving patient safety and said the lowering of mortality at these 2 hospitals "represents a truly dramatic improvement." VitalPAC was introduced in Portsmouth in 2005 and in Coventry two years later. Researchers compared the actual number of deaths in each hospital following deployment of the system with estimates based on the number dying in the year before roll out. In 2010, some 397 fewer patients than expected died at Portsmouth. At Coventry, the figure was 372 patients.

There's no excuse…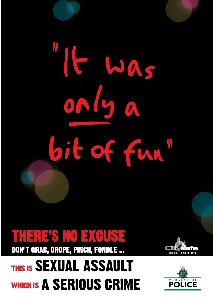 A news campaign is being launched to warn men who grope women that they are committing a crime. The campaign by Citysafe, the community safety partnership, says:- "There's no excuse… don't grab, grope, pinch, fondle" and that claims such as "It was only a bit of fun" are completely unacceptable. It points out that such behaviour is not only unwelcome and unacceptable but it constitutes sexual assault which is a serious crime. The campaign started when a number of strategic groups, including the Student Safety Group and Violence against Women and Girls, expressed concern about an increasing number of sexual assaults against women especially in the night time economy of the City centre. "It is difficult to quantify as these are incidents which are massively underreported. But the feedback we are getting is that it is a serious and growing problem especially for women who go to City centre bars and clubs. Not only is it unpleasant and unwelcome to say the least but there should be no doubt that inappropriate sexual touching is a criminal offence. We want men to be aware of this and think about what they are doing; it is not a joke or a bit of fun. No one should have to put up with this sort of behaviour and everyone should be able to enjoy themselves without this unwanted attention." said Councillor Emily Spurrell, Mayoral lead on Community Safety. The campaign will be highlighted in social media including Facebook and Twitter and will feature a series of posters. As part of the campaign, bar and door staff are being given regular and ongoing training to enable them to identify potential examples of inappropriate touching, to offer appropriate support to victims and ensure issues are reported. They will also be made aware of the help and support for victims of sexual assault by local services such as SAFEPlace Merseyside (SARC) and Rape and Sexual Abuse Service (RASA).
Merseyside Collective Switch Offers Extended
THE Merseyside Collective Switch exclusive energy deals have now been extended until midnight, Monday, 29 September 2014. Hundreds of Merseyside residents have already switched through the scheme and are now saving an average of £202 a year on their energy bills. The Switch Together, Save Together scheme is organised by local charity, Energy Projects Plus, together with the 6 Merseyside local authorities. It aims to reduce people's energy bills by collective buying power to negotiate cheaper tariffs from energy suppliers and making it easier for people to switch. E.on has offered 2 exclusive tariffs for the collective switch, which are the cheapest on the market for both Monthly Direct Debit and Payment on Receipt of Bill customers. The offers tariffs are both fixed, protecting customers from any price rises until September 2015. To benefit from these exclusive tariffs, householders need to register with the Merseyside Collective Switch. To register visit:- lcrenergyswitch.co.uk or call freephone:- 0800 043 0151 to speak to an advisor. Ellie Abernethy, Project Manager at Energy Projects Plus said:- "It's great that people are making such significant savings through switching. Now the offers have been extended even more local people have the opportunity to benefit from the scheme and save on their bills." You can see the offers as part of a full market comparison, and generate a personalised quotation to see how much you could save, by visiting:- lcrenergyswitch.co.uk. Alternatively, you can call freephone:- 0800 043 0151 to speak to an advisor.