Hospital Grateful for Grand' Gesture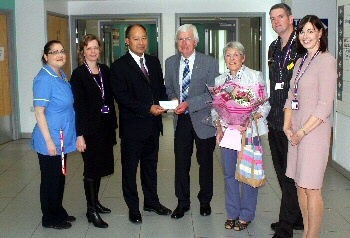 A summer garden party organised by the Rotary Club of Bradford Blaize, has raised £1,000 for Liverpool Heart and Chest Hospital Appeal. The Rotary Club decided to raise funds for the Appeal, following the excellent treatment given to one of its members, Graham Robinson, by the aortic surgery team at Liverpool Heart and Chest Hospital. Graham, who lives in Shipley in West Yorkshire, was referred to the country's largest single site specialist heart and chest hospital in April for an aortic aneurysm repair procedure. He said:- "In addition to the great skill of Mr Aung Oo, my cardiac surgeon, the care that I received from all the staff at every point throughout my stay was excellent. Whether in theatre, or in the critical care unit or on the ward, the staff were always kind, caring, competent and compassionate, and they also knew when and where appropriate to add some humour to my situation. It is thanks to all of these wonderful staff, including the pain specialists and physiotherapists that I have recovered so well. I am indeed a very fortunate person." To say:- "thank you for the care and support that Graham and his wife Marilyn received", members and wives of the Rotary Club of Bradford Blaize organised a summer garden party in aid of the hospital's charity. Following his latest check up with his consultant, Graham and Marilyn were delighted to present a cheque for £1,000 to the Trust's Chief Executive, Jane Tomkinson and the aortic surgery team. Jane added:- "It is a pleasure to accept the very generous donation from the Rotary Club. We will ensure that every penny is used to support patients, such as Graham, undergoing aortic surgery at our hospital in the future."
Liverpool's Lord Mayor is ready to give runners a boost
LIVERPOOL'S Lord Mayor will give runners a boost at the weekly Princes Park 5k run this weekend. On Saturday, 1 November 2014, the Lord Mayor Councillor, Erica Kemp, will be at the starting line of the 189th run since it 1st began in 2011, and she will be giving runners an encouraging pep talk before they set off on their journey around the park. Councillor Kemp, said:- "The weekly 5k run at Princes Park is a great way for everyone, from beginners to dedicated runners, to get involved in keeping fit both mentally and physically. The volunteers who run this event do a fantastic job of organising the run every week, without their time and dedication this great community event, which attracts over 200 runners each week, would not take place. I hope that we can encourage more and more people to come along and take part in the run."

The run is a voluntary event which takes place every Saturday at Princes Park. Anyone wanting to get involved in the next run must register 1st at online and bring along their unique runners 'barcode' to the event. The very 1st Parkrun began 10 years ago with a free, weekly, timed 5k run in Bushy Park in London , organised entirely by volunteers. The model proved highly successful, and has since expanded to around 300 Parkruns in the UK, with more overseas... In Liverpool, Princes Parkrun was established in 2011 by a group of local running enthusiasts. The event currently attracts over 200 runners per week, and has approximately 5500 people registered to take part.

Ruth's Asian charity ride in aid of baby hospice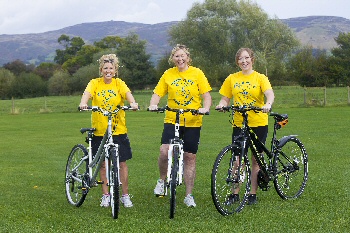 A big hearted businesswoman is in training for a marathon charity bike ride in Asia to raise money for a Liverpool hospice for babies. Ruth Macbryde sets off next month to cycle 250 miles from Ho Chi Minh City in Vietnam to Angkor Wat in Cambodia, in temperatures of up to 38C. Ruth was challenged to do the cycle ride in aid of the Zoe's Place Baby Hospice by her good friend, TV comedian and former radio Merseyside presenter Willie Miller, who champions Zoe's Place. The specialist hospice in Yew Tree Lane, West Derby, provides palliative, respite and end of life care to babies and infants aged from birth to 5 years suffering from life limiting or life threatening conditions. Ruth, a director of Macbryde Homes which builds high quality homes across North West England and North Wales, is hoping to raise at least £15,000. She's "delighted" to have already achieved over half of the target amount along with another £4,000 in pledges. She will be joined on the ride by her friend Christine Howatson, from Ruthin, and her daughter, Ffion. They will be accompanied by 50 other Zoe's Place supporters and will complete the ride over 5 days, starting on 11 November 2014. Ruth, from St Asaph in North Wales, said:- "Hospices like Zoe's Place give you a whole new perspective on life. I truly couldn't imagine how it must feel to need the fantastic facilities and care provided by a baby's hospice. The support and professional help; both medical and personal; to each family is amazing. The team at Zoe's Place are dedicated to their patients and their families and do their utmost to help, support, and improve their quality of life to ensure they make every day as special as it can possibly be. It's really heart warming to see their dedication, happy faces and cheery dispositions which make for a happier environment for patients and their families. I would like to say a big thank you to all the people who have already made a donation on behalf of all the families they are helping." Ruth added:- "I've been very lucky in that I have good friends and family to support my charity activities and I'm looking forward to the challenge of raising funds for Zoe's Place. As far as the bike ride goes, training is imperative which is why we have devised our very own rigorous training regime; we are determined to excel at this challenge. Apparently, the 1st day that is hardest as it's 56 miles on undulating roads. It's going to be pretty hot with temperatures up to 38 degrees with some serious humidity."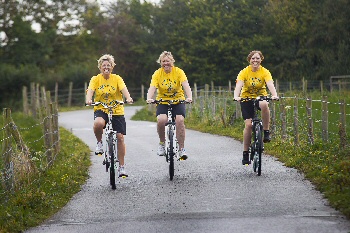 Fellow participant Christine said:- "I've recently turned 50 and got a bit fitter, I thought it would be great to do this challenge and raise funds for such a worthwhile and rewarding cause." The bike ride is the latest in a series of charitable events supported by Ruth who has raised in excess of £150,000 for North Wales charities including St David's Hospice in Llandudno, Tŷ Gobaith Children's Hospice in the Conwy Valley and Cancer Research UK. Anybody wanting to make a donation should go to:- JustGiving.com.