Research finds football managers aren't such tactical geniuses after all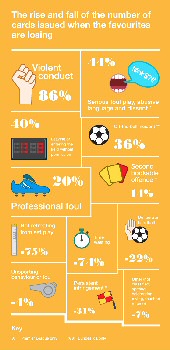 FOOTBALL managers bringing on substitutes to avoid a shock defeat actually make things worse, according to new research. The researchers looked at what the bookies' favourite did in 3,672 matches in the German Bundesliga over 12 seasons from 1998/99 to 2009/10 and 4,560 games in the English Premier League in the 12 seasons from 2000/01 to 2011/12. As well as throwing on subs that didn't come off, they found that teams heading for a shock defeat were 85% more likely to receive a card for violent conduct. There were also increases in cards for serious foul play, off the ball incidents and professional fouls, while cards for time wasting demeanours drop by 73%. Many professional football managers are often seen as tactical geniuses, but Leif Brandes, of Warwick Business School, Björn Bartling, of the University of Zurich, and Daniel Schunk, of the University of Mainz, found that they make mistakes when trailing to a side they are expected to beat. Dr Brandes said:- "Our research shows that coaches implement offensive strategy changes by means of substitutions, for example a striker for a defender, significantly more often if their teams are behind expectations than if their teams are not behind expectations. Despite the push to bring on another striker to help bring the score back in favour of the team expected to win our research found such an action actually had negative consequences, with on average it worsening their goal difference by 0.3, while they were also 0.3 points worse off. When the bookies favourites are behind we found they also receive more cards, 14% more cards per minute. This, plus substituting players in an offensive way while being behind expectations sees them concede more goals and give up more points." In their paper, 'Expectations as Reference Points - Field Evidence from Professional Soccer', due to be published in Management Science, the academics tested a model of 'reference dependent behaviour' by analysing 8,200 matches in the top football divisions of Germany and England. This model states that if people are expecting a certain outcome and it doesn't happen they don't always act in a rational way to get back to that expected outcome. Dr Brandes said:- "This is exactly what we see with football teams when they are the favourites to win. Our research shows in real life how people are affected by expectations. After all, these players and coaches are paid huge sums of money to play each week in front of a massive audience, and this shows they can experience psychological distress and act irrationally by taking too much of a risk when expectations are not being reached. Previously this has only been seen in a controlled environment, but our study of football teams reveals it happens in a real-life situation." The study also found fewer goals are scored in the Premier League compared to the Bundesliga, with 2.63 goals per match in England compared to 2.85 in Germany and fewer cards are handed out (3.26 cards per match compared to 4.31). Also substitutions are somewhat rarer in England (4.89 per match compared to 5.46) and they are less attack minded. But in both countries when the bookies' favourite is losing they lose their cool. Dr Brandes said:- "The size of the effect is considerable. Cards for 'dissent' increase by 43 per cent if a team is unexpectedly behind, while violent conduct offences rise by 85 per cent. Conversely, when the favoured team is losing cards for time wasting or not retreating from a set play properly fall by 75% and 74%."

More grants for community groups
YOUNGSTERS are set to become community champions after Lancashire's Police and Crime Commissioner approved his latest round of Community Action Fund grants. Nelson FC in the Community will put its £2000 grant toward a scheme which aims to provide football coaching to a group of deprived youngsters in the town, and turn them into 'community champions' with the aim of reducing anti-social behaviour. The scheme, which will run for 16 weeks, is one of four projects which Police and Crime Commissioner Clive Grunshaw has agreed to fund. Blackpool based theatre company TramShed, Creative Minds in Blackburn and Skelmersdale Action for Youth (S.A.Y) have also been successful in their applications to the fund. The Commissioner said:- "I am delighted to have funded four more projects which will benefit communities across Lancashire. The aim of my fund is to make a real difference to Lancashire's communities; not just for those people involved in the projects, but also the wider community who will benefit from the positive outcomes these schemes aim to deliver. I am committed to helping organisations which are striving to improve their neighbourhoods at grass-roots level, and are harnessing community spirit to improve their local areas for everyone. This could be by tackling crime and anti-social behaviour, or by improving outcomes for vulnerable people. I wish these projects the best of luck and I hope they make a real difference." TramShed; based at Montgomery High School in Bispham; has been awarded £2,000 to fund an eight month project to deliver specialised workshops to children, young people and adults from minority groups, with the aim of staging an original production at the end. The group aims to tackle issues around disability discrimination and hate crime, and actively involve people who may not normally engage with the arts or be excluded from other activities for a variety of reasons. Blackburn based Creative Minds has been awarded £1750 towards its Break Through project, which will deliver holiday activities for young people living in Highercroft; one of the most deprived areas of the UK. The scheme aims to offer the young people the chance to discover new activities such as martial arts, street dance and animation with the aim of reducing anti-social behaviour. And Skelmersdale Action For Youth has been awarded £2000 for its Get Involved in the Community project, which aims to provide activities for youngsters with the aim of reducing crime and tackling issues such as hoax fire service calls, ASB and alcohol misuse. The group will also encourage the local community to get involved in the activities in a bid to break down barriers and promote mutual respect between different generations of residents. To find out more about the Community Action Fund, and how your group can apply for a grant, visit the PCC's website.
Competition - "Once Upon A Time... Let The Magic of Storytelling In"
ONCE Upon a Time is the brand new, fun creative writing competition for young writers aged 4 to 11 years. The group, Young Writers who are behind the competition say:- "We are inviting schools in the UK to submit their pupils' mini sagas to us. A mini saga is a complete story written in just 100 words! Using our winter themed pack teachers can inspire and enthuse pupils to write a mini saga on a theme of their choice, ensuring originality and brrr-illiant fun! Each mini saga submitted will be read by our editorial team and considered for a regional anthology. Published poets will then be in with the chance of being chosen as the winner from their region, with the best poet in each collection winning a £10 book token. The best school in the series will win £1,000! To support teachers Young Writers provides free teacher resources in line with the National Curriculum, including a lesson plan. All our competition information and resources can be viewed and downloaded for free via the here. Once Upon A Time is now open to 4 to 11 year olds across the UK. To take part please visit our website. Entries can be submitted online or by post and need to reach us by Friday, 19 December 2014."