Wirral launch of electronic Saveaway marks start of Merseytravel's 'Walrus' smart ticketing scheme
PEOPLE on Wirral will be the 1st to be able to buy an electronic Saveaway as it replaces the scratch off ticket in the borough from Monday, 24 November 2014, becoming the 1st product on the Walrus smartcard. Smart Saveaways, which cover off peak day travel on bus, trains and the Mersey Ferries, will be available at around 190 PayPoint outlets in Wirral as well as the Birkenhead travel centre. They will be loaded on to a free Walrus smartcard, which people will be encouraged to keep safe and re-use every time they buy a Saveaway as there will be a £1 activation charge for all new cards from April 2015.
The smart Saveaway is being rolled out in 1 borough 1st, so any unforeseen issues can be identified and put right before they are made available across the rest of Merseyside, by the end of March 2015. Though the smart Saveaways are being launched in Wirral, travel will not be restricted to within the borough.
There is no change to where the Saveaways can be used as long as the right 1 is purchased to cover the customer's area of travel. On launch, smart Saveaways will be available for on the day travel only, but the opportunity for customers to load multiple Saveaways on the card for future use is being explored.
Cllr Liam Robinson, Chair of Merseytravel said:- "This is an exciting milestone. This electronic Saveaway marks just the start of our smart ticketing journey which will be focussed on giving public transport users convenience, choice and flexibility in when and how they purchase travel. We sold around three million Saveaways last year so it's quite overwhelming to imagine that in just a few months we could be one of the top regions outside London in terms of smart ticketing transactions. We're currently working on a broader ticketing strategy, with operators, which will set out what Merseyside's smart ticketing future will look like and will guide where we go next."

As not all current Saveaway retailers will have the facility to retail smart Saveaways, there will be a phasing out of scratch off Saveaway tickets at these outlets from the time the scheme is introduced in each area. Smart Saveaways will not be available from rail stations, but people will still be able to purchase rail ticket style Saveaways. A ticketing strategy is being developed to set out the focus and next steps in Merseyside's smart ticketing journey. It follows a ticketing review which has looked afresh at Merseytravel's suite of ticketing products, many of which have been around for 30 years, to ensure that ticketing options best meet the needs of the modern traveller. This has included looking at the overall price structure and zoning system. For more information, including FAQs and the nearest place to buy your smart Saveaway, visit:- MerseyTravel.Gov.UK.
St Faith's Christmas Craft Market will be in Crosby - very soon!!!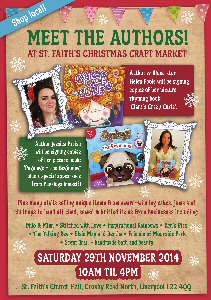 ON Saturday, 29 November 2014, St Faith's Christmas Craft Market will be held at the Church Hall, on Crosby Road North, Crosby, Merseyside (L22 4QQ. The event will have loads of stalls and also have 2 children's book author, selling and signing books! Jessica Parish, from St. Helens, will be signing her book:- "Pugalugs – The Beginning", a short illustrated story about a little pug puppy called:- 'Pugalugs'. Along with Jessica, the illustrator and author Helen Poole, who is from Crosby, signing her book:– "Clara's Crazy Curls." 'Pugalugs' himself (the actual dog the story was based on) will also be there! Jessica told us in an email to us that:- "I am excited to announce that Pugalugs has its very own stall at this year's St Faiths Christmas Craft Market. I will be there to sign and personalize every book sold, and Pugalugs will also be on hand to 'autograph' his very own book and 'shake paws' with all of his fans. There will be a free slice of 'Pugalugs' cake available on a 1st come 1st served basis. It's set to be a great event with plenty of other hand-made crafts on sale, excellent for picking up a few early stocking fillers! A massive thanks to Helen Poole, who has not only created this fab flier, but is the illustrator and designer behind the 'Pugalugs' series! She is a truly talented illustrator who has captured the spirit of Pugalugs and brought his character to life. Without her, the book would not have been possible. Helen will also be running a stall on the day, signing copies of her own children's book, 'Clara's Crazy Curls'; a delightful children's story which has already sold in excess of 8000 copies! She will also be taking orders for her amazing bespoke family illustrations which make a lovely gift. Come along and get into the Christmas spirit and meet the actual authors of 2 popular children's books." Please click on here to get a copy of the events flyer. If you can, please print it off and put it up at your work place!

Ross Noble - Tangentleman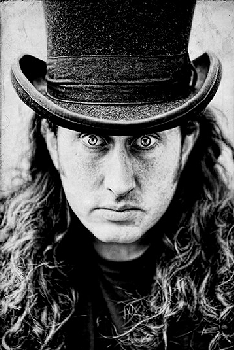 THE one and only Ross is now showcasing his talent in various locations across the UK, including his hometown, Newcastle and the legendary Hammersmith Apollo. But for fans in Liverpool, the date to put in your book is 11 December 2014, when he will be on stage, live, at the Liverpool Philharmonic! Following the debut of his critically acclaimed TV show, Ross Noble Freewheeling (Dave), which has been commissioned for a 2nd series and his 9th DVD release, so these tickets will be in high demand. Ross' on-stage presence is like no other, using his infinite imagination and plenty of tomfoolery, he is sure to have audiences in fits of laughter. As one of the most successful cult comedians of our time, Ross has established himself as a household name. He has undertaken 14 sell out tours, 8 top selling stand-up DVD releases, and ranked 10th in Channel 4's poll of the 100 Greatest Stand-Ups (2010). As well as appearing on stage Ross has appeared on Have I Got News for You (BBC One), The Graham Norton Show (BBC One) and QI (BBC One). Internationally renowned, Ross has won fans and plaudits the world over, having completed 6 smash-hit Australian tours, and performed as far afield as Singapore, Hong Kong, Montreal and Budapest. For tickets for the Liverpool show call:- 01517093789 or visit ticketmaster.co.uk. Also to keep uptodate with all the latest and for a full list of tour dates please check:- rossnoble.co.uk.
Dates of tour still to be preformed...
23 Nov.

Carlisle

08448 542 776

25 to 29 Nov.

Newcastle

01912 778 030

DECEMBER 2014

3 to 5

London

08442 494 300

9

Dublin

+353 (0)818 719 330

11

Liverpool

01517 093 789

JANUARY 2015

22

Isle of Wight

01983 868 000

23 to 24

Tunbridge Wells

01892 530 613

25

Cardiff

02920 636 464

29

Portsmouth

02392 824 355

30

Southend

01702 351 135

31

Brighton

01273 709 709

FEBRUARY 2015

1

Brighton

01273 709 709

5

Basingstoke

01256 844 244

6

Bristol

08448 871 500

7

Swansea

01792 475 715

8

Plymouth

08451 461 460

11 to 12

Northampton

01604 624 811

13

Guildford

08447 701 797

14

High Wycombe

01494 512 000

15

Salisbury

01722 434 434

17

Isle of Man

01624 600 555

19 to 21

Salford

08432 086 010