Make sure it's only wrapping paper that gets "RIPPED OFF" this festive season
WITH Christmas fast approaching, Merseyside Police is warning drivers to be vigilant against thieves seeking to ruin the season by stealing items from their cars.

Theft of items including presents from cars is a particularly prevalent during the winter months. During November and December last year 1,060 reports of items having been stolen from vehicles were received by the force.

The majority of these thefts were from insecure vehicles, with the offenders simply taking anything that was readily to hand.

Basic procedures such as locking your car and, if you are unable to take them with you, leaving items including presents in the boot or under the front seat rather than on the seats will reduce the risk of being targeted by opportunistic criminals.

Despite previous police warnings, items such as:- mobile phones, wallets, handbags, laptops, cameras, I-pods and even loose change are regularly reported stolen from cars.

To help reduce this type of crime the force has organised for a number of road shows to take place across the area. Officers and PCSOs will be at the road shows to offer crime prevention and security advice to residents about keeping their cars and belongings safe. Local businesses are also being visited by officers providing advice and support.

The 1st road shows will be taking place on Tuesday, 25 November 2014, between 8.30am and 12pm, at Tesco store on Mather Avenue, Allerton and between 1pm and 5pm, at Asda on Smithdown Road, Wavertree.

Officers will be bringing along a crime prevention car to each of the road shows to help provide crime prevention and security advice. Items such as windscreen scraper and car air-fresheners containing crime prevention advice will also be handed out at the events.

We will be encouraging members of the public to register their valuables with:- immobilise.com and mark them with ultraviolet pens with us at these road shows. Police Officers and staff are able to search this database for property on a daily basis to more easily secure convictions for theft and return items to their owners swiftly.

Posters and crime prevention leaflets are also being distributed to local businesses.

For details of roadshows in your own area please visit:- merseysidepolice.uk/vehicle-crime.

Chief Inspector Dawn McNally, said:- "This time of year people are understandably very busy rushing around and often people can forget to lock their vehicles when they are out and about. The main thing for people is to be aware that thieves see the Christmas period as an ideal opportunity to strike and know people are often distracted and may easily fall victim to opportunistic thefts as they have forgotten to lock their vehicle or have left items on display. This type of crime is opportunistic and has such an impact on the victim, particularly when expensive or cherished items are stolen. In recent years car manufacturers have made vehicle security an increasing priority with the introduction of sophisticated security and alarm systems to prevent thieves from gaining access to them. Unfortunately these systems are rendered worthless if they are not used. It only takes a few seconds to remove items on display in your vehicle and lock it. Those seconds could make a big difference. Most of these reported thefts are often from insecure vehicles, with the offenders simply taking anything that is readily to hand even loose change. Hopefully by double checking your car is locked and setting the alarm, even if you are away from your vehicle for just a couple of minutes, you will be much less likely to become being a victim of car crime and potentially having your Christmas ruined. Motorists are also reminded that items taken from insecure vehicles may not be covered by their insurance. To help reduce this type of crime the force has organised for a number of crime preventions road shows to take place across the area. More details of when and where these will be taking place can be found on the Merseyside Police website."

Motorists are being offered the following advice:-

► Most vehicle crime is preventable. It can take as little as 10 seconds for a thief to steal something from your car. If at all possible, leave nothing on view.

► Never leave valuable items in your car, including sunglasses, the removable radio cover and your Sat Nav. Do you really need all those things you keep in the glove box?

► Wipe away the Sat Nav mark on your windscreen.

► Never leave your car keys where they can be seen from the front door.

► Always close the windows and sunroof; lock the doors and activate any security devices when leaving your car unattended.

► Park with care, particularly at night or if you are leaving the vehicle for a long time. If possible, park in a busy, well-lit area.

► Never leave cash, credit cards, chequebook, mobile phones, vehicle documents or other valuables in the car.

► Never leave your keys in the car, even for a second - treat them as you would your cash and credit cards.

► Try to avoid parking your vehicle in quiet side roads where offenders are able to act unobserved and ensure all doors and windows are secured when leaving the vehicle.

► Never leave goods, clothing or even empty carrier bags or containers in the vehicle.

► Take all your belongings with you, or if you can't, lock them in the boot. Mobile phones, Sat Navs and credit cards are often stolen from glove boxes.

► Car owners should also be mindful of leaving their vehicle unattended, with the engine running, when defrosting their windscreens in the mornings during a cold snap. Not only is it an offence to leave their car unattended with the engine running on a road, it also voids insurance should it be stolen.
Appeal for information after firearm was discharged in Bootle
MERSEYSIDE Police are appealing for witnesses after shots were fired in Netherton last night, Tuesday, 18 November 2014. Downstairs windows of 2 houses in Broad Hey were damaged after an offender or offenders discharged what's believed to be a shotgun at around 10.40pm. A man and a woman who were in 1 of the houses at the time of the incident were uninjured. 2 children; a boy and a girl; were also asleep upstairs. Patrols attended and a search of the area was carried out. House-to-house inquiries have been undertaken and an investigation into the full circumstances surrounding the incident is continuing. Detectives from the force's Matrix Serious Organised Crime team are treating the incident as a targeted attack and are appealing for anyone who witnessed a male described as wearing dark clothing with their face covered acting suspiciously in the Broad Hey area to contact them. Chief Inspector Matt Boyle said:- "This was an extremely serious incident in which the offender discharged a shotgun at the front of 2 houses while people were inside one of the properties. It is only through sheer good fortune that no one was hurt. The occupants, including the 2 children, who were asleep upstairs, were thankfully unhurt, but all were understandably shocked and upset. This kind of violence and intimidation will not be tolerated by Merseyside Police and I can assure the wider community that everything possible is being done to catch the person or people responsible. I would appeal to anyone who saw anything unusual or suspicious in the area at around 10.30pm last night to come forward. People can call MSOC officers on:- 0800 230 0600 or Crimestoppers anonymously on:- 0800 555 111."

BTR LIVERPOOL LAUNCHES NEW CHARITY INITIATIVE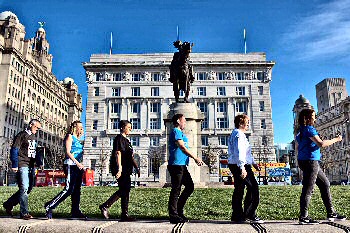 BTR Footsteps Fundraisers is a joint fundraising partnership which will bring the charities together to benefit financially through BTR's key race events over the next year. BTR Liverpool is the leading independent organisation for organising and delivering race events in Liverpool City Region.

The 5 BTR Footsteps Fundraisers official charities are:-
Radio City's Cash For Kids,
Claire House Children's Hospice,
Everton in the Community,
Jospice,
Roy Castle Lung Cancer Foundation.
The 1st event in the BTR Footsteps Fundraisers campaign is the BTR Liverpool Santa Dash, which takes place on Sunday, 7 December 2014. This is also the 10th anniversary of the UK's biggest fun run.

Runners taking part in specific BTR events will be invited to support the partnership by making a donation or raising funds for the BTR Footsteps Fundraisers. At the end of the year, all monies raised will be split equally between the five charities to help them continue their vital work.

BTR Liverpool will actively support and promote the five charities throughout the year. The charities are invited to attend each race event to provide their unique and infectious encouragement for those running and raising funds.

Runners can support the BTR Footsteps Fundraisers through the following BTR events portfolio – Liverpool Santa Dash; Vitality Liverpool Half Marathon; Port Sunlight 10K/5K/1K; Mersey Tunnel 10K; Tour Of Merseyside; and Wirral Half Marathon 10K/5K.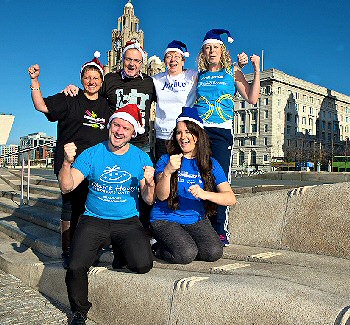 BTR Race Director Alan Rothwell commented:- "BTR Footsteps Fundraisers is an exciting and important partnership. It is an initiative we have had in the planning for some time, and it will become another positive element we can develop within the running community. Many people choose fundraising as their motivation to participate in a running event. It could be their first ever fun run; a way to build up the miles to take on their next challenge; or even an endurance race to take them out of their comfort zone. But all runners who are fundraising have a common goal, and that's to do themselves and their charities proud. There are so many worthwhile causes out there and people can find it difficult to choose just one charity to support. We feel that a partnership of five official charities will maximise people's efforts and enable those much-needed funds to reach more people who need that extra support."

Each charity has a specific focus and collectively they feel that being part of BTR Footsteps Fundraisers will strengthen their appeal within the running community.

Carole Clare, Charity Manager for Radio City's Cash For Kids, said:- "This is an exciting partnership and Radio City's Cash For Kids is looking forward to building a strong relationship with BTR Liverpool and our fellow charities over the next 12 months. The BTR Footsteps Fundraisers is a really positive step in how runners will support charities and we are thrilled to be involved."

Mark Pearson, Event Fundraiser at Claire House Children's Hospice, commented:- "It is great for Claire House Children's Hospice to be involved with the BTR Footsteps Fundraisers. BTR organise the most iconic running events in the North West and people who run for Claire House are helping us to achieve our dream of being there for every family that needs us in our region."

Denise Barrett-Baxendale, Deputy CEO Everton Football Club and CEO Everton in the Community commented:- "As a local charity firmly embedded within the Merseyside community, we are delighted to be announced as one of the Footsteps Fundraisers charities. The diverse range of the ground-breaking programmes we deliver benefit all members of our local community, from helping those living with dementia to managing the most successful disability sports programme in the world."

Pat Murphy, Director of Fundraising at Jospice, commented:- "Launching the Footsteps initiative with the Liverpool Santa Dash is wonderful, it means our charities will be profiled on a much wider scale. Over half the funds we need to continue our work to care for local terminally ill people and their families is raised the generosity of Liverpool people's donations and supporting our events."

Jeni Nugent, Running Events Fundraiser for the Roy Castle Lung Cancer Foundation:- "Running is a fantastic way to promote healthy lungs. Lung cancer affects more people in the North West than anywhere else in the UK. We can't wait to see the people of Merseyside pounding the pavements for the BTR Footsteps Fundraisers to help us raise awareness and fund our research to defeat the country's deadliest cancer."

BTR Footsteps Fundraisers sponsor forms are available from the BTR Liverpool office at 23 Hatton Garden, Liverpool City centre.

Alternatively, supporters can set up their own online fundraising page at Everyday Hero. There are a number of options available; a one off donation; start a fundraising page for an individual race starting with the BTR Liverpool Santa Dash; or to fundraise for the duration of the 12 month campaign. More details can be found at:-

► everydayhero.co.uk/event/supportbtrfootsteps

► everydayhero.co.uk/event/BTRLiverpoolSantaDash2014

Full details can be found at:- BTRLiverpool.com.