Review:- "Andrea Bocelli at Liverpool Echo Arena"
Review by Darija Ibrajeva MSc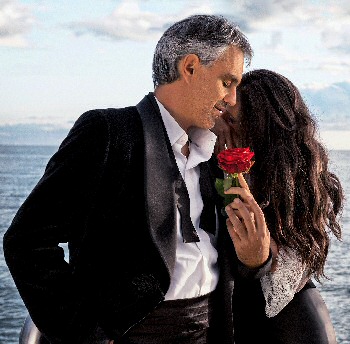 FIVE encores, standing ovations, crying audience and 2 hours passing by like 10 minutes; that's how I remembered the concert of Andrea Bocelli that took place at Liverpool Echo Arena last Tuesday, 18 November 2014. But now let me tell you everything from the beginning.

Being afraid of not finding the venue so fast (Yes, I am not the local and that was my 1st meeting with the Echo Arena), I decided to come in advance and prevent myself from any force majeure. Fortunately, I found the venue very easily; no wonder, people in Liverpool are so sympathetic that they never let the foreigner get lost. When I got there, I was amazed with the beauty of that location. In the evening, when it gets dark, it opens out onto such a breathtaking view on Liverpool and Docks that you just want to stand in peace and enjoy the moment. After few minutes of serenity, I finally remembered why did I come here and rushed inside the arena.

And here I am, so beautifully and festively dressed, I entered the arena. Pause... The arena looked so naked and basic that in the beginning I thought that I simply confused the venue and by accident had come to the sporting event or a beer festival. But I was wrong. Welcomed by a pleasant staff member I was shown my place, which was in sector F. Sector F is located just in front of the stage in the area which usually is a standing area, but this time there were chairs. Clicking heels on the grey cement floor, I ran across the arena and landed on my plastic chair. Have you ever had this feeling like something is just not right? This is how I felt that moment. I did not expect to see the biggest opera vocal star in the world performing in that venue. I understand that this might be beneficial from the financial point of view and that the gifted Andrea Bocelli has so many fans that instead of making couple of concerts at opera houses, it is more convenient to gather everyone at the huge arena and perform once, but for me it was like drinking expensive whiskey from a plastic cup or putting on a gorgeous Versace dress together with shabby shoes from a second hand shop. Maybe I don't understand something, but cold cement floor, plastic chairs and chair handles that are sticky from the spilled beer does not compute in my head with an image of an opera royal who is standing in propria persona on stage and is singing arias that make you speechless and bring tears to your eyes. Anyway, as soon as Maestro appeared on the stage and started to sing, I forgot where I was and what was around me. The only thing I saw was him; the hero of the occasion; dressed in a formal black suit with bow tie. Behind him was energetic Italian conductor Marcello Rota, the Royal Philharmonic Concert Orchestra and Liverpool Welsh Choral choir. Clenching his left fist, Bocelli performed his 1st piece, Puccini's:- "Donna non vidi mai", and the audience spontaneously exploded with applause. His voice fascinates and captivates. It is note-perfect; you want to listen him again and again.

After performing Verdi's "Di quella pira", the well known tenor gratefully shook hand of the conductor and disappeared from the stage, giving beautiful Cuban Soprano Maria Aleida the chance to shine. Dressed in a long evening dress she sang:- "Ah, je veux vivre" from Gounod's "Romeo et Juliette" and later joined Bocelli for the duet on:- "La Serenata" and Verdi's "La Traviata". All pieces were well performed and Aleida looked so harmonious on the one stage with Bocelli. By reading her face expressions, it was clear that she fully enjoys her presence on stage.

Later on stage came a guitar duo Carisma, who performed the cheerful:- "Les Toreadores" from "Carmen". Another special guest performance was the local Chamber Choir of Archbishop Beck Catholic Sports College, who accompanied Bocelli on Franck's:- "Panis Angelicus" and Schubert's:- "Mille Cherubini in coro". The audience did not skimp on the ovations and supported the locals.

To my great disappointment, during the whole 1st part of the concert I didn't get any goose bumps and could not feel the full scale of the live performance, as the sound was very flat. The acoustics at Echo Arena aren't ideally suited to an orchestra and I had a feeling that all sound stays on stage and does not fully reach our seats in sector F. However, even this didn't spoil my impression from listening:- "Aranjuez con tu amor", which has certainly become one of the highlights from the show. The song was performed by Bocelli together with a young American artist, Lindsey Stirling, who is famous for her choreographed violin performances. The piece was so strong and emotional, that I was spellbound from start to finish.

Fortunately to me and unfortunately to the event organisers, ¼ of Arena seats were empty (according to the staff member, it happened because of the high ticket prices). In the pursuit of better sound, during the intermission, I decided to take a chance and change my seat from sector F to a seat that was in lower tier. And here you go; slightly different location, different angle of the speakers and goose bumps guaranteed! The second part of the concert has begun for me with a totally different music perception.
The 2nd part of the show, in contrast to the 1st half, was a bit lighter and more mainstream. Along with the lively:- "Finiculi Finicula" and "La danza", Maestro performed some legendary Elvis Presley hits, which were welcomed by British audience with rough applause and whistles. Further applause followed as the redhead pearl, Lindsey Stirling, came back on stage, but this time to perform her own song:- "Take flight". Barefooted in a cute brown dress this weightless girl is jumping and pirouetting around; as if she is waltzing with her violin. She is playing the instrument so masterly that you want to watch her again and again. The audience is fascinated and some people even praise her with standing ovations. Stirling sighs with relief and leaves the stage. Her inclusion in the show was a triumph!

Another treasure of the show appeares just in the end of the concert. I'm talking here about Britain's Got Talent graduate and Classical Chart Number 1 Lucy Kay, who joined Maestro on:- "Can't help falling in love" and famous "Conto della terra". I must admit that I never heard Lucy Kay before, and I was pleasantly surprised when I saw her singing. Although her part in the lower register did not seem very convincing to me, her upper notes were beyond all praise. Her voice tone sounded so good in combination with Bacelli's that all their duets turned to be very viscous and tasty for the ear. Over the final song "Conto della terra" everyone was sitting mesmerised and transfixed. It was very powerful and moving performance! After this FINAL performance, Bocelli was brought back on stage by admired crowd and sang "Love in Portofino." All the flowing 4 songs were also not in the programme, and every time Bocelli finished another song and tried to disappear from a stage, the standing audience enticed him back. We had a chance to hear:- "Quizas, Quizas, Quizas", "Vivo Per Lei" and iconic:- "Time To Say Goodbye". Eventually, Bocelli says:- "Thank you" to the orchestra, quire and everyone else who was there that day, but it is clear that this "everyone else" simply doesn't want to:- "say goodbye" to the biggest opera vocal star.

The whole arena is on its feet. 2 women standing near me cannot hide their tears. Bocelli returns for his final time and sings:- "Nessun Dorma". Conductor makes his last swinging gesture, jumps, and the music stops. Bocelli's small daughter runs on stage to congratulate daddy with his success. He takes his little princess on hands and disappears from the stage accompanied by thunderous applause. This was the night that certainly left a divine aftertaste!

The concert has proven that the talent is boundless. It has no gender, nationality or physical condition. Bocelli has managed to translate his beautiful world into such a touching music. And that entire world is living inside the person who cannot see the world in our perception. He is blind since 12. How amazing and paradoxical the life sometimes can be. I think such people open our eyes to life. Bravo Andrea! It was, without doubt, a night that will live long in everyone's memory!