Review:- 'Julia Fordham at the Epstein Theatre'
Photos and review by Jo Forrest
THE British singer songwriter Julia Fordham started her career started in the early 1980's and is still entertaining a strong following. This was clearly demonstrated on Wednesday, 19 November 2014, at the beautiful and intimate venue, The Epstein Theatre. Julia Fordham performed, to a packed audience, many of the tracks off her new album:- 'Porcelain 25'. Early in her career she was the backing singer to Mari Wilson and to Kim Wilde before embarking on her own successful solo career that has spanned the last 25 years. On a very simple stage, she was joined by the pianist and a percussionist. He had approached Julia after one of her gigs in Leeds informing her that her album Porcelain had inspired him to take up percussion. From this simple conversation, Julia invited him to perform with her in Liverpool. Her new album was a huge hit with the audience.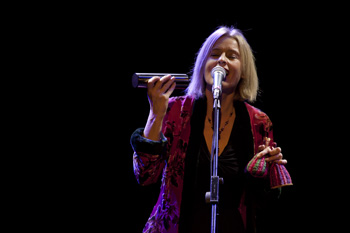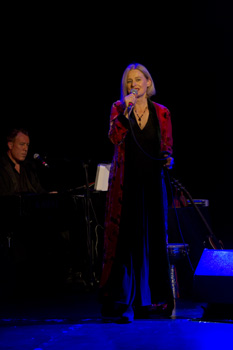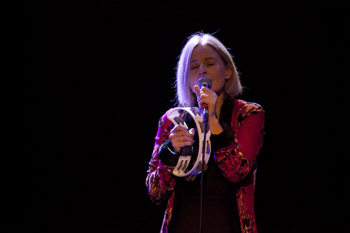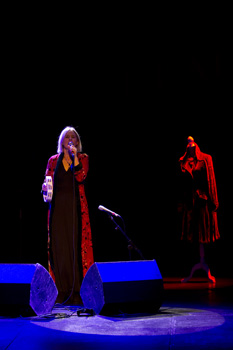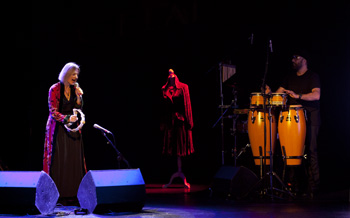 If you attended, please let us know what you thought of the performance and the venue by mailing us to:- news24@southportreporter.com.

Southport & Formby Christmas Light Switch On's to take place this weekend!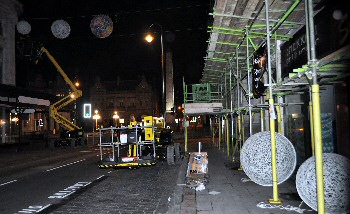 AS the last of the new decorations are put in, we took a few photos of the chaps working late at night to get them ready... One of the new editions to the festive display are some large globes, which have been painted by Southport College students and have been located above Neville Street. Neville Street in recent years has been missed out of the festive lights and one of the business owners on the road told us in passing:- "I'm pleased to see the Christmas lights down here. It is one of the main roads and it kept being over looked for many years now. I am puzzled about the globes though, as you cannot see the colours on them at night, but they do look good when light up." The Lights in Southport will get turned on 22 November, 2014. As we announced last week, Hart FM will be leading the way, also pressing the big button will be Joel Ross (formerly from Radio 1, duo JK and Joel) and Liz McClarnon who used to be in Atomic Kitten! Also Coronation Street stars Ryan Thomas (Jason Grimshaw) and Katie McGlynn (Sinead Tinker) joined by former Corrie favourite Ken Morley (King Bumble) and Kay Purcell (Carabosse) from the Southport Theatre Panto, Sleeping Beauty... If travelling in or through Southport, please note that the bus routes will be changed, with any buses that use Lord Street between the Scarsbrick Hotel and the Monument being moved to the Promenade Road. See bus stops for more information. Also that section will be blocked off to traffic from 6am. to 12pm on Saturday. Please tweet us @southportreport or send us an email to our newsroom via:- news24@southportreporter.com if you attend this year's event. Let us know what you think of it and the lights. Also if travelling in Formby, please note that the Village centre will also be closed to traffic from around 10am to 9pm. Also please also tweet us @southportreport or send us an email if you attend Formby's big switch on! This year the festive magic in Southport wont be stop when the lights go on... as from 6 December to 21 December 2014, Southport will have a traditional log cabin style Christmas Market along Chapel Street and in Town Hall Gardens, as well! Plus in Formby the magic will also continue with the Formby Christmas Nativity Play, which will be held in Formby village, on Saturday, 13 December 2014, plus many other side events throughout the build up to the big day!
Witness appeal following bank robbery in Waterloo
MERSEYSIDE Detectives in Sefton have launched an investigation into a bank robbery in Waterloo on Monday, 17 November 2014. Police were called to St Johns Road at 4.45 pm by staff at RBS who were locking up for the night, when they were threatened by 2 men. They intimidated the 3 female staff, demanded they open the safe and made off with a quantity of cash. Detective Inspector Rob Hill from Sefton CID said:- "This was an extremely frightening ordeal for the women, who have been left extremely upset and shaken from the incident. It happened at a busy time of day when people are on their way home from work. I'm appealing to anyone who may have seen something or know anything about this incident to please contact us. I'm particularly interested to hear from anyone who thinks they may have seen these 2 men on St Johns Road or on Sycamore Road around this time." The 2 men are described as white and in their 20's. Both were wearing dark clothing and what appeared to be dark scarves covering their faces. They both were wearing hoodies, 1 in grey and 1 black. Police believe no weapons were used in this incident. Anyone with information is asked to call Sefton CID on:- 01517773011 or Crimestoppers, anonymously:- 0800 555111.
Pedestrian struck on Lord Street Southport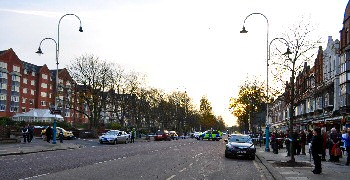 ON Sunday, 16 November 2014, at around 3pm, emergency services were called the junction Lord Street and Market Street after a pedestrian was struck by a car. The car was a silver/gray Ford Focus, that sustained damage to a wing mirror. The road was closed as a male was treated by Paramedics and an investigation of the area was carried out by Police.