Review:- "Paul Carrack at Preston Guildhall"
Written by Darija Ibrajeva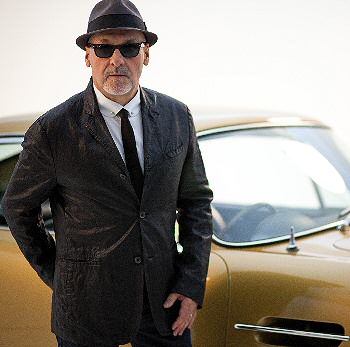 THE Man with the Golden Voice has proven once again that he still has gunpowder in the powder flasks. I bet these were the thoughts of nearly everyone who turned up at Preston Guildhall to listen Paul Carrack's concert last Wednesday, 19 November 2014.

The show has started with the performance of a gifted one-man band, Elliott Morris, who appeared on stage in a plaid shirt and immediately captured the hearts of the audience with his excellent sense of humour and absolutely virtuoso and unique technique of playing the guitar. Playing on a guitar fretboard as on the piano keys, he performed couple of songs, one of which was a very tasty remix on a famous Michael Jackson's "Billie Jean". Elliott looked very dignified on stage and gained a lot of new fans that night, who at the end of the concert lined up to chat and purchase the disk of a talented lad.

After such a triumphant warm up, on stage appeared a key feature in British pop history and the hero of that night's occasion – fantastic Paul Carrack. Wearing his grey hat, he sits at a piano and together with his band opens the show with the song called "Satisfy My Soul".

The acoustics at the Guildhall are perfectly suited for this kind of events. The pleasant voice of Paul Carrack sounded as flawless as on his CDs/ During the second song "When You Walk In The Room", I've notices that the foot of a middle-aged man, sitting near me, started to strike the ground. Since that time the feet of my neighbour from the right (or how I called him "the man with a serious face and bouncy legs") became like a barometer, which helped me to evaluate the relevance of a particular song to him. When over the songs "Ain't No Love In The Heart Of The City" and "Another Cup Of Coffee", in addition to his dancing feet he started to crane and hit his knees with his palms, I understood that these are both of his favourite songs. "One in a Million", "Eyes of Blue", "If I should fall behind" and "Stepping Stone" – these are the songs that were welcomed by the audience with special ovations. When Paul sang his famous "When My Little Girl Is Smiling", few women in the front raw stood up and supported a legendary Sheffield born singer, clapping and swaying from one foot to the other one. Watching Paul on stage, you can tell that he feels like a fish in the water; no wonder, he is celebrating over five decades in the music business.

Summing up, I can say that this was very lively, professional and very exciting concert. I think that nowadays it's very hard to find a singer who looks so energetic after uninterrupted 2 hour long live performance on stage.
Well done, Paul, it was an amazing night!
If you attended, please do let us know want you thought of this performance by emailing us via:- news24@southportreporter.com.

3 arrests in dawn raids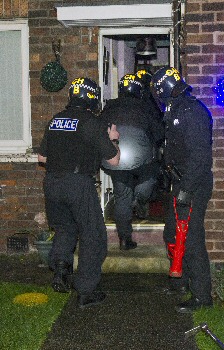 3 people have been arrested and suspected drugs and counterfeit cigarettes seized during a Merseyside Police operation cracking down on acquisitive crime at Christmas. Officers from Liverpool, Sefton, Wirral, Knowsley and St Helens executed searched warrants at 12 properties, at 7am, on 20 November 2014.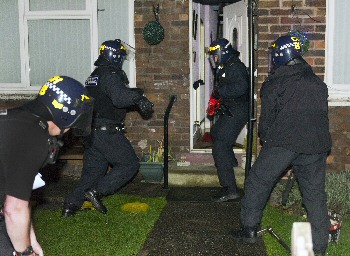 A 36 year old man and 33 year old woman were arrested on suspicion of drugs offences after cannabis and brown powder believed to be Class A drugs were found during a search of a house in Bootle.

A 24 year old woman was arrested on suspicion of theft at a house in Kirkdale in relation to an ongoing investigation into a shop robbery in Walton.

Elsewhere, during a search of a house in Litherland, around 18,000 cigarettes and a quantity of tobacco were found and will now be subject to further enquiries by the Police and Trading Standards.

A 57 year old man at the same property was issued with a caution for cannabis possession.

Footage taken by the Police as the enforced the warrant in Litherland can below.