A brilliant nightly FREE Christmas light projection show in Liverpool

IF you are looking at something to do after shopping, you might want to note that Liverpool has a massive amount of amazing things to do this Christmas, thanks to the Liverpool BID Company. Keep an eye out for the Snowflake Trail maps and leaflets for lots more information and a competition entry form when in the City Centre, this Christmas. One of the stunning things that are taking place every night is for free! This event starts at 5pm and runs until midnight, each night, up to 28 December 2014. The show is a fantastic 15 minute long projection, designed by Liverpool based Draw and Code, and is beamed onto the Marks and Spencer, on the Junction of Church Street and Church Alley. Other events include the 'Thursday Alive After 5' program, that has on Thursday 4 December, at 5pm, the Real Reindeer Parade, with Father Christmas. On 18 December 2014, the Real Reindeer Parade will also include a Blue Christmas, with the Everton in the Community group. Parades run from 5pm to 6pm, along Roe Street, Richmond Street, Whitechapel, Church Street, Parker Street, and then back to Richmond and Roe Street. Live Reindeer will be on show in Queen Square, after the parades, between 6pm and 7pm. Other events include Frost Fairs, over 10 December to 11 December 2014, at St Paul's Square. The Grotto at Rapid, running from 8 December to 24 December 2014, The Christmas Market, running until the 19 December, Liverpool Crib, running up to 3 January 2015 at the Church Street Christmas Tree. Then Holidays are coming! On 3 December, when you can enjoy the magic of the Coca-cola Truck in Church Street, followed by the Winter Arts Market, from 6 December to 7 December 2014, in St. George's Hall. Last but not least, Commercial District Carols at Christmas, 10 December at St. Nicholas Church.... But we cannot forget the Pantos as well... Little Red Riding Hood, running until 17 January 2015, at the Everyman Theatre, also from 2 December 2014 to 10 January 2015, at the Unity Theatre is Rumplestiltskin, 2 December to 10 January 2015. At the Esptein is Jack and The Beanstalk, running from 11 December to 4 January 2014, also Aladdin at the Empire from 13 December 2014 to 4 January 2015. But it aint stopping at that... O'no it isn't'... You have over 21 December to 17 January 2014 Scouse of the Antarctic at the Royal Court and, it is not a Panto, but you also have over 15 December 2014 to 3 January 2015 is Dreaming of a Barry White Christmas at the Liverpool Arena. If you attended these events, please do let us know what you think of them by emailing us to:- news24@southportreporter.com.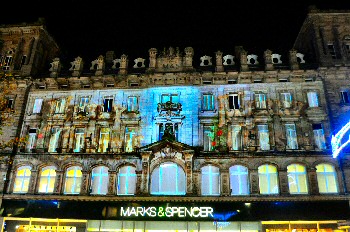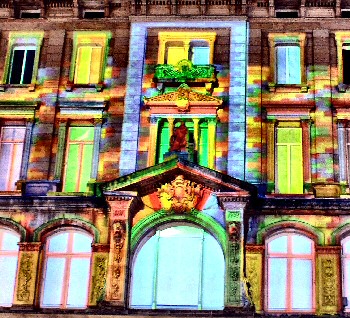 Night Time - Catering Job Advert - MJ's Restaurant - Formby
SORRY THE ADVERT FOR MJ'S HAS BEEN REMOVED BY THE EDITOR!

Due to discrepancies with information being given to us over the client's placement of the advert, we have taken an editorial decision to remove this job listing from our site until further notice. We advise our readers to look at GumTree instead!
Travel Money Bureau - Debenhams - Readers Offer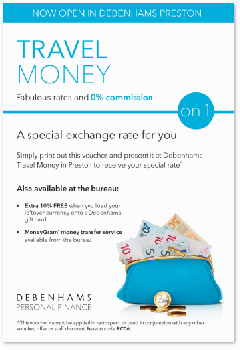 THE Travel Money Bureau - Debenhams, in Preston, are offering our readers fantastic preferential rates on all currency... They are offering our readers the most competitive rates on the high street, plus the offer to buy backs on to a Debenhams gift card, which they will then load and extra 10% on to for free.
Here are the services they offer......

► Competitive rates on selling currency.

► Competitive rates on buying your currency back.

► Offer buy backs on to a Debenhams gift card where we give you 10% extra free.

► We offer pre-paid cards for US Dollar and Euro.

► We can order currency in for you to collect if we don't have it in stock.

► Friendly Team.

The Travel Money Bureau are currently open:-

Monday, 10am to 4.30pm.
Tuesday, 10am to 4.30pm.
Wednesday, 10am to 5pm.
Friday, 10am to 5pm.
Saturday, 10am to 5pm.
Sunday, 11am to 4.30pm.
This offer can not be retrospect or used in conjunction with any other voucher, offer or staff discount.
CLICK HERE TO PRINT OFF
To get this offer quote:- RC06 or print off voucher page via link above... Offer valid to:- 1/3/2015

...ABOVE IS A PAID ADVERT...