David Gray has performed at the Royal Liverpool Philharmonic Hall
Photographs by Jo Forrest.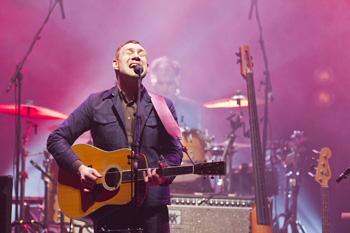 THE Singer, Songwriter, David Gray at The Philharmonic Hall in Liverpool on Monday, 1 December 2014, performing in a stunning show. It is hard to think that he was busking and playing in pubs just a few years ago in and around Liverpool, and now he is was the headline act at this amazing venue. David, unlike many who have received worldwide attention has never lost his connection to the City, and this devotion was rewarded as the 8 piece band took to the stage. From start to end, his show was full of rapturous applause from a very affectionate audience, and he seemed to appreciate this, heartfelt demonstration. It is hard to say any more, other than this was a fantastic night. Full of amazing music and with a warm friendly atmosphere. If you attended please let us know what you thought of it, by emailing us to:- news24@southportreporter.com. These are a few shots taken by Jo Forrest for us on the night!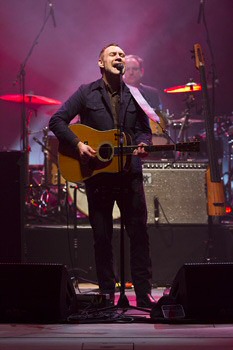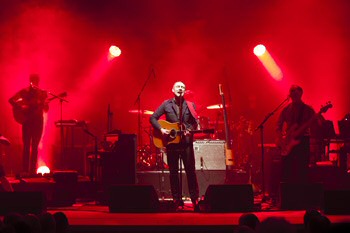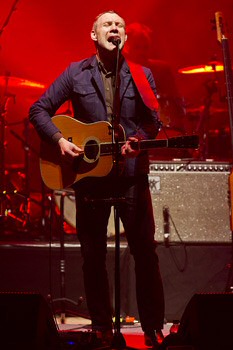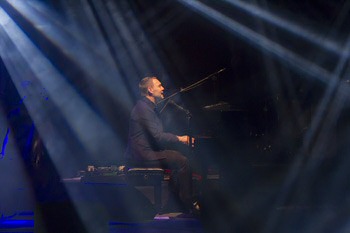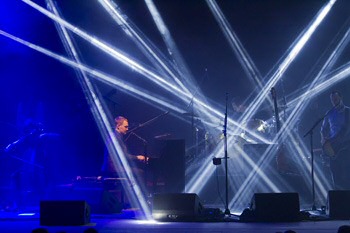 Russell Howard's Good News YouTube Channel launching in the USA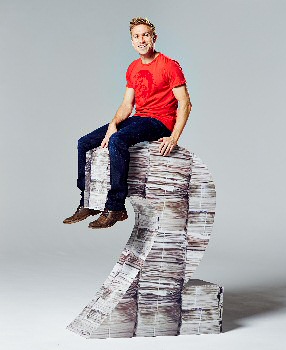 ON 5 November 2014, it was announced that a new YouTube channel will make Russell Howard's Good News available shortly after it premieres in the UK to the USA and multiple territories. this followed on from a sell out a debut tour in the USA, which was attended by fans of Russell Howard's Good News, who only had access to the show via pirated content. The US tour called:- Russell Howard's Wonderbox World tour and saw him play shows in Washington, Los Angeles, San Francisco, New York, Denver and Chicago. Following this it was decided to make the show formally available via an official YouTube channel. Russell Howard's Good News is already broadcast in the UK (BBC Two, UKTV and Comedy Central), Australia (The Comedy Channel and SBS 2), New Zealand (Comedy Central) and Denmark (TV2 Zulu). So why should we take note of this? Well this amazing show is heading to Liverpool on 17 December 2014. For more information go to the Liverpool Arena website. Sadly this show will not be available on YouTube in the UK, Australia and New Zealand, so this will be your only chance to see what is going to happen on it! Please note that under 14's must be accompanied by an adult over 18 for this event and also only 6 tickets will be sold per person.
Don't miss the Liverpool Santa Dash this Sunday!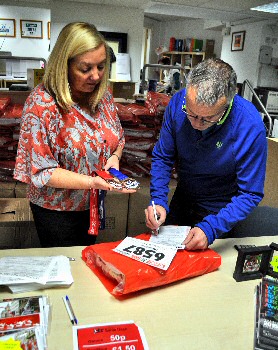 THE Liverpool Santa Dash is holding its 10 Anniversary this year, and it is set to be the biggest yet. We popped in to Race HQ on 5 December to see the race organisers, BTR Liverpool, getting the final Santa Suits ready for the race on Sunday, 7 December 2014. The Dash will start at the Pier Head, on the City's iconic waterfront, under the gaze of the Liver Birds, at 9.30am. The event is expected to have between 9,000 and 10,000 Santas, dressed in red and blue Santa suits, taking on the 5K Dash round the City Centre for what will be the City's biggest festive spectacle to date. The fun run finishes outside Liverpool Town Hall. If you are not taking part, this is an amazing event to watch as well... So turn up and show your support as this is all for charity! If you do not know the full route, it starts at the Pier Head, heads onto James Street, North John Street, Victoria Street, Dale Street, Dale Street flyover, Pall Mall, Leeds Street, Old Hall Street, Tithebarn Street, returning to Dale Street, where the Dash will finish outside Liverpool Town Hall. After the main Dash has finished, a Mini Dash 1K for children aged 12 and under. This starts shortly after 11am on Castle Street and also finishes outside Liverpool Town Hall.

This year's Dash will have a host of very special guests, include a Guinness World Record holder, Paul Simons is from Oldham and is taking part in the BTR Liverpool Santa Dash for the first time this year. Paul has the record for running the fastest Marathon runner dressed as Santa. His children, aged 7 and 4, will also be taking part in the Mini Dash.

So far the event's most senior participant is 91 year old Eddy Mountford from Wirral. Eddy recently won the Lifetime Achievement Award at the Merseyside Running Community Awards. He is taking part with a group of his family.

This year, the BTR Liverpool Santa Dash is attracting runners from across the Country, travelling from area including the South of England, the North East, Yorkshire and North Wales. They will be joined by a number of overseas participants travelling from:- America (Pennsylvania and New York), Australia, Austria, Canada, France, Germany, Iceland, Norway, Slovakia, South Africa as well as Switzerland!