Barnstondale on the move with a brand new Vauxhall Astra Sport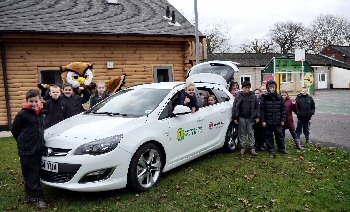 BARNTONDALE, an inclusive Activity Centre based in the heart of rural Wirral, has recently been donated an Astra Sports Tourer from Vauxhall's Grace and Favour Fleet. The car is for any transport needs the centre has, allowing Barnstondale to put the money it would have used on transport towards causes that directly benefit visitors from within the local community. Barnstondale is a registered charity. Whilst fortunate that visitor fees cover overhead costs, it relies heavily on donations and fundraising to pay for maintenance and improvement work. This new Astra is the third vehicle Barnstondale has received from Vauxhall since 2011, when the company held an employee competition looking for local charities to support. Since then the cars have been assessed each year and renewed based on the amount of travelling and work done by the charity.

Commented Cherie Denton, Community Relations Officer at Vauxhall:- "It is important to Vauxhall that we work closely with our local community and having the opportunity to support local charities is just one of the ways we do this. Barnstondale Activity Centre provides an inspirational environment to help young people develop essential life skills, which will set them up for the future. We are pleased to be able to help."

Commented Heidi Hughes, Business Director at Barnstondale:- "At Barnstondale we provide activities that cater to every visitor's needs and abilities. When school's visit, we want to make sure all schoolchildren can come; regardless of their financial situation. So that no one misses out, we have an allocation of money that is earmarked specifically to pay for children whose parents may not be able to afford their child's visit otherwise. Thanks to Vauxhall's donation, and the saving that we are making on transport costs, we are able to ensure even more children from Merseyside are able to enjoy coming to Barnstondale. This kind of help is invaluable and we appreciate Vauxhall's ongoing support."

Barnstondale offers an all encompassing activity experience, whatever the needs or physical ability of visitors. As well as being an overnight getaway destination with three large, American style log cabins, Barnstondale also hosts many groups, schools and charity organisations from across Merseyside, for away days and activity weekends. As a registered charity Barnstondale raises money to help fund places for children who would never be able to afford to visit otherwise. This allows them to experience the activities on offer such as climbing, abseiling and team building exercises. For more information visit:- barnstondale.org or call Heidi Hughes, Business Director at Barnstondale on:- 0151 648 1412.
Young volunteers set to transform Liverpool empty homes
UP to 50 young people from Merseyside will learn building and construction skills through refurbishing 10 empty homes, as part of a new scheme from the national youth charity Ambition and delivery partner Cospa. The ambitious initiative involves professional tradespeople mentoring local young people in a range of building and renovation skills. Young people will be supported to gain vocational accreditations, with access to further training, work placement and apprenticeship opportunities with local employers beyond the project. Once renovated, the Toxteth properties will be managed by Granby 4 Streets Community Land Trust and returned to the community for use as affordable housing. Helen Marshall, Chief Executive, Ambition commented:- "Strengthening communities and developing young people's skills is at the heart of this new project, which seeks to find an innovative solution to the prevalence of empty homes and high youth unemployment in the North West." The scheme is funded by the Department of Communities and Local Government and Nationwide Trust. There are more than 114,000 empty homes in the North West. Work on the derelict Victorian properties began last month and is due to be completed in March 2015.
Warning issued following bogus Police steal from Elderly
MERSEYSIDE Police are appealing for elderly and vulnerable people across Merseyside to be on their guard after a series of incidents in St Helens. The incidents relate to men posing as Police Officers have called people on the telephone and asked them to withdraw cash from their bank accounts. During the 1st, on Tuesday, 2 December 2014, a woman in her 70s, from St Helens, was called on the phone by a man who said he was a Detective Constable from Hammersmith Police. He told her someone had tried to get access to her bank account and she needed to draw the rest of the money out so that it could be checked for fingerprints! The woman went to her bank and drew out a substantial amount of cash. She took it home and almost immediately the phone rang again and the same man said there was a courier at the door to collect the money. When the victim opened the door, a man who's described as Asian was stood outside. He said he was a courier acting for the Police and took the money away. A similar incident happened the next day, in which a woman in her 80s, from Clock Face was targeted. The offender again claimed to be from Hammersmith Police and told the woman to get a taxi to the bank. The woman did this, but luckily the bank were concerned about her and only gave her £2500. When she arrived home the Offender called again and told her a courier was waiting to collect the money. When she opened the door, again a man described as Asian was waiting to take the money away. 2 other incidents have happened where a man posing as an Officer has called people and said there may be a problem with their accounts. In each case the person became suspicious and refused to give any details or hand over any money. There have been similar offences across the Country over recent months, including in the West Midlands and London, and officers from Merseyside Police are working with other forces as part of an investigation into all these incidents. Officers have also visited banks across St Helens and are working closely with them to help prevent this sort of crime. Superintendent Louise Harrison said:- "All these offences are very similar and we believe they are all linked. I would like to reassure people that incidents like these are comparatively rare but when they do happen they can have a big effect on the victims. Offenders are usually very plausible and can pose as a range of officials, not just police officers. However, any genuine official would never call people over the phone and ask them to withdraw money from a bank account. If anyone does, never give out any personal details and never hand anything over. We are also working with the banks and I know their staff are on the look out for suspicious transactions or anyone who they believe may be the target of offences such as these. The offenders are extremely cunning and tell victims not to divulge why they want the money. Being alert and getting to the bottom of these reasons could stop them becoming victims." Merseyside Police is also issuing the following crime prevention advice in relation to people who call at your door, including any people posing as officials. Also if you get contacted and a caller claims to be from the Police he/she should have a warrant card and this can be checked by calling Merseyside Police on:- 101. If the caller leaves and you are still unsure about their credibility, write down the details of the person and the registration number and type and colour of vehicle if you know it and contact us on:- 101. Anyone with information about these incidents can call detectives in St Helens CID on:- 0151 777 6013 or Crimestoppers, anonymously, on:- 0800 555 111.
Survey will help set anti crime priorities
LIVERPOOL residents are being asked to identify what crime, disorder and anti social behaviour they are most concerned about. Citysafe, the community safety partnership, is carrying out a survey which will help them set their priorities in tackling these issues over 2015. The survey can be found online. It should take no more than 10 minutes to complete. The questionnaire is completely confidential and your details will remain anonymous. Councillor Emily Spurrell, Mayoral Lead on Community Safety, said:- "We want to know what is important to our residents about crime and anti social behaviour to help us shape our community safety actions in the future. Local people's views are very important in identifying priorities so I would encourage as many people as possible to take part in the survey." The survey will remain open until Tuesday, 23 December 2014. The Citysafe partnership is made up of a number of agencies including Liverpool City Council; Merseyside Police; Merseyside Fire and Rescue Service; National Probation Service Merseyside; Merseyside Community Rehabilitation Company; Liverpool's Clinical Commissioning Group; Registered Providers; the universities; local businesses and representatives of the voluntary sector.

4 men arrested in connection to distraction burglaries in Sefton
MERSEYSIDE Police have confirmed that 4 people have been arrested in connection with a number of distraction in Sefton recently. 3 men, aged 39, 51 and 60, were arrested recently on suspicion of committing distraction burglaries committed against elderly residents in the area. A 24 year old man was also arrested on suspicion of fraud offences relating to cold calling. All 4 men were questioned by detectives and have been released on Police Bail pending further enquiries. Detectives at Sefton CID are investigating all the incidents, which have generally involved a bogus repair man or men tricking people into handing over cash after falsely claiming roof tiles were loose or damaged. As part of an on going operation to tackle this type of crime residents are being advised to be vigilant and officers are working closely with the local authority, housing associations and tenant groups. Police and Trading Standards in the area are reminding all residents across the borough to take basic, simple steps to ensure that they don't fall victim to this kind of burglary. Inspector Suzanne Demomme, said:- "This type of crime is despicable; victims of distraction burglary can suffer terribly both emotionally and physically and it can seriously affect their trust and faith in people afterwards. It is vital people remember to check the identity of any stranger who calls at their home, genuine callers will not mind waiting. Help and support is available from the police, local authorities, and utility companies so please make sure you use it. I would also ask that people keep an eye on who is visiting, or knocking of the doors, of their elderly or vulnerable neighbours. Most importantly, if in doubt keep them out! In these cases the offender or offenders have targeted mainly elderly people who live alone and keep cash in their house by posing as tradesmen. However in these cases it has clearly been a con and the caller is not a genuine Council repairman at all and there has not been any work necessary on the victim's property. These criminals are extremely callous individuals who will think nothing of stealing someone's weekly pension, someone's life savings, or treasured family jewellery, leaving their victim heartbroken at both the intrusion into their home and the loss of their belongings. I would urge everyone in Sefton to be mindful of this issue and to not only be vigilant when answering their own doors to cold callers, but also to look out for their neighbours , particularly if they are elderly or vulnerable in some other way. People should never feel uncomfortable or awkward about using their door chain first and then asking the caller to wait outside while they ether call the company they say they are from or verify their identity in some other way. We are also working with local housing groups, such as One Vision, and tenants associations to organise crime prevention awareness discussions to provide practical and useful advice. Our advice will always be that if you have any doubts at all that someone is not who they say they are, do not open the door to them, ask them to wait outside or even leave and call a friend or relative or the Police for advice." One Vision Housing working with SmartWater have now confirmed the planned introduction of forensic marking kits into their properties in the area. The high-tech security kits contain a UV fluid that contains a unique code and is painted onto valuables. If those valuables are stolen and later recovered, they can be returned quickly to the owner. SmartWater also acts as a deterrent to would be burglars, as it can easily pin them to a crime scene if they are caught with the UV fluid on their skin or clothing. Kevin Parkinson, Community Safety Manager at One Vision Housing, said:- "We have been informed about certain distraction burglaries taking place in the Sefton area and we are reminding residents to check for identification before allowing anyone access to their home. If a repair has been scheduled by our maintenance team you will have been notified beforehand, so if a workman arrives at your house unexpectedly please call us on:- 0300 365 1111. Also, in response to a number of boiler thefts from our properties, we have been marking our heating systems with an innovative traceable forensic product from Smartwater. It will allow us to trace our boilers and link criminals to the individual crime scenes." A full investigation into these incidents is still on going. Anyone with information that could help detectives with their enquiries is asked to call Sefton CID on:- 0151 777 3014 or Crimestoppers on:- 0800 555 111. To report a crime in progress always call:- 999. In a non-emergency call:- 101.

CRIME PREVENTION ADVICE

Many people who call at your door are genuine but some are not. Therefore it is vital to take precautions when you answer the door:-

► Burglars won't go to the trouble of breaking in if they can just knock and be invited in. So always be on your guard when anyone you're not expecting; a man, a woman or even a child; turns up at your door.

► Bogus 'officials' may be smartly dressed and claim to be from the Council, the gas board, the health authority or other organisations and businesses.

► Bogus 'dealers' may offer to buy your antiques, furniture or jewellery, at what seems to be a good price.

► If you want to sell something, choose 1 or 2 genuine dealers to value it or ask a friend or relative for their advice.

► Bogus 'workmen' may say that they need to come in to check something or make urgent repairs. You also need to be careful of callers who offer to make building repairs or tarmac your drive. Often they'll ask for money in advance; they may even offer to drive you to the bank to withdraw money to pay them.

► If you need any building work done, get several written quotes from reputable firms, then decide which one is best. If in doubt, talk it through with a neighbour or someone in your family.

► Genuine callers will normally make an appointment first and will carry identification with their photograph on.
► If you get contacted and a caller claims to be from the Police he/she should have a warrant card and this can be checked by calling:- 101. Don't let them in when making the call!

ALWAYS PUT THE CHAIN ON...

If someone calls at your door:-

► Check to see who it is by using the spy hole if you have one, or look through a front window.

► Always put the chain on before you open the door. (If you don't have a chain it's a good idea to get one - they don't cost much).

► With PVC doors, it can be difficult and costly to fit a door chain. Check with the manufacturer before you buy a PVC door, that a chain will be fitted.

► FIRE SAFETY - only put on your door chain as you answer the door; don't keep it on all the time as this could delay your exit in case of fire.

► Look at their clothing. Some official callers will have a uniform bearing their organisation's name or symbol.
► If you don't know the caller, ask to see their identity card. Check it carefully, and keep the chain on while you do this. Genuine callers won't mind if you close the door while you do this.

► Some public utility services (eg. water, electricity, gas) operate a password system. Contact your local branch to find out more.

► If you're still not sure, ask the caller to come back later. You can then check their story by phoning the organisation or company they claim to represent. Look up the number in your own telephone directory. Don't rely on the telephone number on their card; it may be the number of a crook's partner.

► Bogus callers sometimes work in pairs. Beware of one distracting you while the other steals your property. The best practice is not to let them in.

► Ensure your back door is locked if you are answering the door to someone you don't know.

► Watch out for anyone who says they're in a hurry. Don't let them pressure you. If in doubt, call a neighbour or friend.

► If you have any suspicions at all, don't let them in.

► If you're still not happy, phone the Police; dial 999 and tell them what's happened. And tell your neighbours!

► Always put the chain on and use the spy-hole before you open the door.

► Never let anyone in unless you are absolutely sure they are genuine.