Police lock up company bosses and celebrities for charity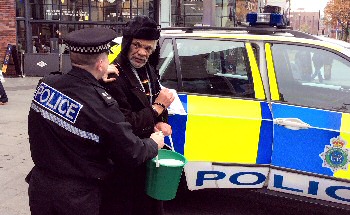 MERSEYSIDE Police Officers have locked up company bosses and celebrities for charity on Friday, 28 November 2014 and have already raised more than £12,000 for the Princes Trust.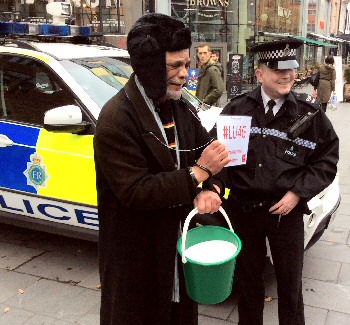 In total, 12 people spent time locked in the custody cells at Belle Vale Police Station, including:- Samantha Giles (Bernice Blackstock from Emmerdale), actor Paul Barber (Only Fools and Horses, the Full Monty and One Night in Istanbul) and Philip Olivier who's appeared in Brookside, Hollyoaks and Benidorm, amongst other things in a bid to raise as much money as possible for the Trust.
The event got underway with Paul's mock arrest in the middle of Liverpool One, much to the surprise, and delight, of the hundreds of shoppers passing by at the time.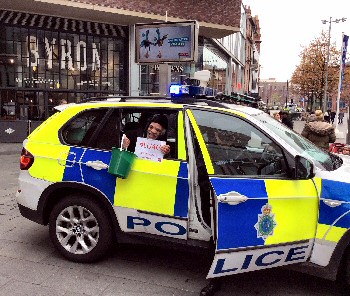 Paul and Philip Olivier spent the whole night in the cells, along with Sir Michael Bibby from the Bibby Line Group, Peter Jackson from Hill Dickinson LLP and Julie Fadden from the South Liverpool Housing Group.

The event was the idea of Inspector Paul Court, who said:- "The success of the event and the amount of money we have raised have surpassed all my expectations. We have already secured donations totalling £12,300 and I'm hopeful this figure will be even more by the time we've finished. I'd like to take this opportunity to say a huge thank you to everyone who took part and to everyone who pledged money to keep them locked up! I'd also like to say thank you to the scores of shoppers in Liverpool One whose generosity raised a very healthy £250 in the small number of minutes it took for Paul to be 'arrested'. All the people who were locked up were full of good humour, despite the testing conditions, and helped make it a hugely enjoyable and very special 24 hours for everyone involved. I know all the officers who volunteered their time to take part also found it really rewarding. The Princes' Trust is doing vital work right here on Merseyside to help some of our disadvantaged young people to have a brighter and more successful future and I know that every single penny that we have raised will make a big difference to people's lives here in our City."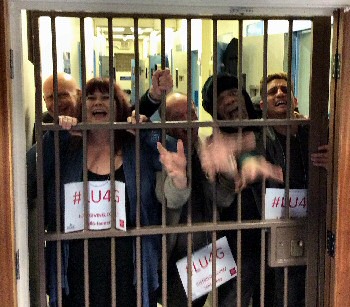 Actor Paul Barber said:- "I've previously been in the care system myself and I know how challenging it can be for kids today. I wanted to support both the Princes' Trust and Merseyside Police with this fantastic charity event."

Sir Michael Bibby, who is also the Liverpool Committee Chairman of the Princes Trust, said:- "I was really keen to support both the Princes' Trust and Merseyside Police. The police team have made an exceptional effort and it's incumbent on us to back them for such a great cause."

Samantha Giles said:- "It's been an amazing experience and it's been great to be supporting such a good cause. The Princes' Trust is doing vital work on Merseyside and I'm proud to be playing my part in supporting them."

Donations have been received at:- justgiving.com/LU4G.

Bellerive and SFX schools to be refurbished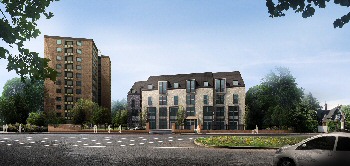 2 Liverpool schools are to be refurbished and partly rebuilt at a cost of around £13 million as part of Mayor Joe Anderson's Schools Investment Programme. The Cabinet has approved the awarding of contracts for work on Bellerive FCJ College in Princes Park and St Francis Xavier's (SFX) in Woolton. At Bellerive, construction will start on a new £5.6 million teaching and 6th form building on Aigburth Drive in February 2015, to be completed in early 2016. The work, which will be carried out by Morgan Sindall, will see a remodeling of the school campus and the main entrance moved from Windermere Terrace to the new building. At SFX boys school, £7.6 million will be spent on a brand new science block to replace the existing temporary accommodation. There will also be a new sports hall, and the music department moved to the main building. The main entrance will also be moved from Woolton Hill Road to Beaconsfield Road. The work will be carried out by Kier Construction and completed by November 2015.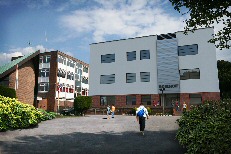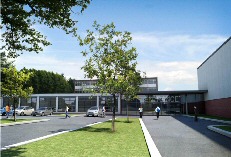 Mayor of Liverpool Joe Anderson said:- "This is a much needed investment in 2 of our schools and is part of my commitment to deliver at least 12 new schools for pupils in the City. The work which is being carried out will be a big boost for present and future generations of school children and ensure they get the most out of their learning. We are working with construction firms to make sure as much of the money is spent locally as possible and benefits the workforce in the City."
At Bellerive, 70% of the subcontracting work is expected to be by Liverpool firms, with another 15% from across the City Region. 8 apprenticeships will be created. Bellerive headteacher, Sister Brigid Halligan, said:- "We wish to place on record our sincere thanks to Mayor Anderson and his team, the contractors and architects and our trustees for helping us get to this stage. We are now determined to make sure the finished project results in the facilities our students deserve."
A target has been set for 85% of the subcontracting work at SFX to be carried out by Liverpool firms, with another 10% from across the City Region. 9 apprentices will be hired.
SFX headteacher, Les Rippon said:- "This is really good news for all at the College and the end result will be a tremendous improvement for everyone. All staff and pupils are really excited about the development and appreciate the support of Liverpool City Council."
The work forms part of the £169 million Liverpool Schools Investment Programme, devised as a rescue package following the scrapping of Wave 6 of Liverpool's Building Schools for the Future (BSF) project, and one of the Mayor's key pledges.
On the 2nd Anniversary of the Murder of Jamie Starkey, Police again ask for help!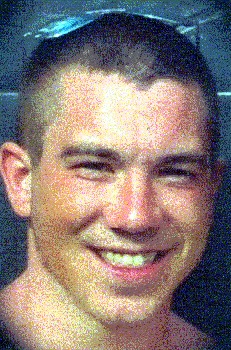 MERSEYSIDE Police are repealing for information on the 2nd Anniversary of the murder of 21 year old Jamie Starkey, in Fazakerley, Liverpool, on 2 December 2012. Jamie Starkey was shot on Higher Lane by a lone male, in dark clothing, shortly before 8pm, on Sunday, 2 December 2012. The gunman approached Jamie as he was stood by his car outside his home address. He then shot Jamie and ran off towards the playing fields. A post mortem established Mr Starkey died as a result of multiple gunshot wounds. Since the murder a total of 5 men have been arrested and questioned as part of this investigation and the weapon used to kill Mr Starkey has been recovered. Detective Chief Inspector Alyson O'Donnell, said:- "It has now been 2 years since Jamie was murdered and I am taking this opportunity to appeal once again to the community for their help with the investigation. Jamie's family have been deeply affected by his loss and are trying to face up to another Christmas without their son and brother. The message is clear, we are determined to find the person, or people, responsible for this. Someone out there knows who did this and can help them find some closure. It's not too late to search your conscience and come forward now. We firmly believe that the answers lie within the local community. I would hope that the passing of time will enable people to search their consciences and find the courage to come forward to tell us what they know. 2 years on, people may have moved from the area or may be in a different situation from then and now feel in a position to talk to the Police. If this is you, I would urge you to come forward, you could provide vital answers that we want give to Mr Starkey's family. Anyone with information can speak to us anonymously and in the strictest confidence if need be. We will ensure that any new evidence or information is closely investigated by officers and could help us make significant progress and help us find justice for Jamie's friends and family. An extensive and thorough investigation is being carried out by the Force Major Incident Team and I would appeal to anyone who witnessed the incident, or who saw anyone acting suspiciously in the area in the hours prior to the shooting to come forward. You may not think that what you saw is important but it could be a vital piece of the jigsaw for our investigation. We remain committed to finding those responsible for Jamie's death and anyone who thinks they can help should contact Merseyside Police on:- 0800 230 0600 or Crimestoppers on:- 0800 555 111."