Science Students Pledge Their Support for Cancer Research Charity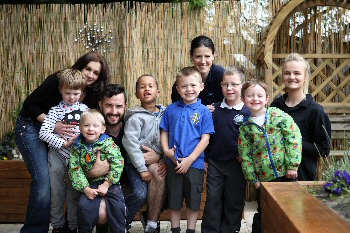 STUDENTS studying science at Southport College have selected North West Cancer Research incorporating Clatterbridge Cancer Research (NWCR), as their nominated charity for the 2014 to 2015 academic year. All fundraising monies generated by science students during the year will be donated to NWCR, the region's leading cancer research charity. The nomination signifies the start of a working partnership between Southport College and NWCR, and will provide an opportunity for Southport College students to take part in some valuable extra curricular activities alongside their classroom based learning. 9 of the students have already visited the charity's new North West Cancer Research Centre at the University of Liverpool, which was unveiled last month. The students were able to find out more about some of the research projects being carried out at the centre, visit the research labs and talk to some of the researchers who NWCR currently supports. Lynette Smith, curriculum leader for science at Southport College said:- "I am thrilled the students have chosen to work with NWCR and I'm looking forward to supporting their fundraising activities. As part of our partnership, NWCR is enhancing our students' learning by arranging visits to their specialist cancer research labs. This will provide real insight into the sorts of careers that our students are preparing for. Students who study science at Southport College are not only benefitting from our own brand new laboratory facilities, but from being associated with NWCR's leading edge cancer research too. It's an experience that will add real value to their learning, and one that they just wouldn't get elsewhere."
Over the last 12 months grants totalling £2million have supported research projects at the University of Liverpool as well as at Lancaster University and the University of Bangor. Bobby Magee, community development executive at NWCR, said:- "We're really delighted that the science students at Southport College have chosen to support us this year, and look forward to working with them over the coming months. Research is vital to our understanding of cancer, how to detect it, how to treat it and how to prevent it. Every penny raised for NWCR helps to fund world-class research into understanding of what is still the biggest cause of premature death in the North West of the UK."

The first fundraising activity planned for this year is a candy cane delivery around the college campus, as well as Christmas jumper and onesie day. Further activities are planned throughout the academic year.

People trust local businesses more than business generally
PEOPLE in the North West have a dramatically higher level of trust in businesses in their area than they do in UK business as a whole. The CBI's Great Business Debate (its campaign to increase public trust in business) is publishing a YouGov survey of over four thousand people, including 396 in the North West. It shows that, when people's feelings about businesses are determined by their direct experience, they are overwhelmingly positive but that this often fails to translate into support for business generally.
In the North West 81% of people trust 'local businesses' (firms in their vicinity, big or small, that they interact with) compared with 51% who trust business overall. That matches a pattern for the whole UK where the figures were 81% and 57%.

The CBI is encouraging individuals to recognise that contradiction and calling on businesses to go further in strengthening their engagement with the areas where they operate. It is also calling on businesses to tell the bigger story of their contribution to communities, jobs and investment more convincingly.

Damian Waters, CBI North West Director, said:- "Businesses here have a job to do using the warmth felt for them at a local level to improve feelings about UK business as a whole. When people have direct experience of companies, for example as customers or employees, it's overwhelmingly good and trust is high as a result. But opinions about business generally seem to have less solid roots. These views are more likely to be influenced by things people read or hear second hand and are a lot less positive. As part of the CBI's 'Trust In Business' campaign, The Great Business Debate, we're challenging individuals to think about the contradiction in how they perceive businesses locally and business generally. We're also calling on firms in the North West to build on the positive engagement they already have in the areas where they operate and to tell more convincingly the story of their impact on jobs, investment and taxes which is felt in communities all over the country."

In the North West 68% of people agree they are more likely to trust a business with a strong presence in their area while only 7% feel local businesses don't have a positive impact on their locality.

Other key findings for the region include:-

► 55% agree local businesses often support other businesses in the area by sourcing locally; only 9% disagree.

► 54% agree businesses in my area are proud to be part of the community; only 6% disagree.

► Creating and supporting local jobs is the main thing people in the region say:- 'local businesses' (firms in their vicinity, big or small, that they interact with) should be doing more of to build trust (62%) followed by providing good customer service (56%)

► The trust building action they want more of from 'national businesses' (firms big and small operating across the UK) is jobs 66% and contributing to the national economy 65%.

The CBI's Great Business Debate wants to hear the widest possible range of views. Anyone can go to the website to leave comments or follow on twitter:- @bizdebate.