Talks over future of Children's Centres in Liverpool
DISCUSSIONS are getting underway to look at how 66% of Children's Centre staff in Liverpool can be retained - despite the service losing 66% of its funding.

The Council has had £173 million of Central Government funding taken away from it since 2010 and needs to save another £156 million over the next 3 years, totalling 58% of its overall budget and resulting in the loss of over 2,000 jobs so far.

Mayor Joe Anderson committed 3 years ago not to look again at Children's Centre services until now, to give time for discussions about new collaborations and funding and to minimise the reduction in services. Unlike other areas, the City Council has so far retained all of its Children's Centre buildings.

Talks are now to begin around a proposal to retain 94 of the 157 full time staff posts, with some services still delivered from a majority of the current sites - and 7 registered Children's Centres located in the areas of greatest need. Staff will continue to visit children and families in their homes when extra help is needed.

The consultation will include all staff and parents and carers who use the service, explaining the proposals and considering how Children's Centres can be run differently - with a focus on the services they use, the staff who deliver them and how they can be accessed.

The Council has managed to double the budget it has available by securing £1.4 million of additional funding from partner agencies including Liverpool Clinical Commissioning Group (CCG) every year for the next 3 years.

Discussions are continuing with partners and other organisations in a bid to lever in additional funding to further increase the number of centres and staff that could be retained.

Mayor of Liverpool, Joe Anderson, said:- "Sure Start has been a great success since it began and reflects the need to support parents and children in their early years to give them the best start in life. As a former children's social worker, it is clearly inconceivable that I would choose to make these cuts, and in an ideal world we wouldn't consider closing any of them, but the Government has given us no choice by withdrawing the money to pay for them. We started this process at a point where we only had funding for four centres, but have managed to get it up to seven by securing additional cash from our partners. We will continue to hold discussions during the consultation and beyond in an effort to grow the service. We have deliberately chosen to focus the budget that we do have on funding staff posts rather than buildings, so that we can reach as many people as possible, including through an outreach service. Any change to services that people love and cherish is really difficult, but we have to do things differently in every single area right across the Council due to the sheer scale of the cuts. The only way we can increase the number of centres and staff to be able to support our very youngest citizens at a very crucial point in their lives, is to secure additional funding from partners who themselves heavily depend on these services. We are in discussions and we will keep working away right up until the last minute to see if we can secure more funding."

The methodology for making decisions over centres has looked at levels of deprivation, child poverty, geography and the number of children under five, with resources allocated on a graduated basis depending on need.

The proposal is for the retained Registered Children's Centres to be located across the City, serving the immediate area and surrounding wards:-

Central and City

► Everton Children's Centre – serving Everton, Kirkdale and Anfield

► Granby Children's Centre – serving Princes Park, Riverside and Central

► Picton Children's Centre – serving Picton, Kensington and Fairfield, Tuebrook and Stoneycroft

North

► Clubmoor Children's Centre – serving Clubmoor, Norris Green, West Derby, Knotty Ash and Old Swan

► County Children's Centre – serving County, Warbreck, Fazakerley, Croxteth and Yew Tree

South

► Belle Vale Children's Centre – serving Belle Vale, Woolton, Church, Wavertree, Greenbank and Childwall

► Speke Children's Centre – serving Speke-Garston, Allerton and Hunts Cross, Mossley Hill and St Michael's

Subject to negotiations, it is hoped some services will still be delivered from as many of the other registered centres and sites as possible. They are: -
Anfield
Dingle Lane
Fazakerley and Croxteth
Fountains and Vauxhall
Garston, Church and Mossley Hill
Kensington
Stoneycroft
Tuebrook and West Derby
Wavertree
Yew Tree
The consultation is getting underway this week, and will see one event held on each site, as well as a number of meetings for staff.

Councillor Jane Corbett, Cabinet member for children's services, said:- "Children's Centres are very dear to my heart as I helped set up the first one in the City and I know the positive difference they make to children's lives in the long term. But we are between a rock and a hard place, and in these incredibly difficult times we have to protect the frontline where children are right on the edge of care and in danger. Money is so tight now that we are having to make deep cuts to our Children's Centres which were previously unimaginable. I would like to pay tribute to all of our staff and volunteers who are doing a fantastic job supporting our youngest citizens and their parent and carers. We are committed to listening to everyone and doing what we can with the limited funding we have left to continue to reach as many of our families as possible."

To take part in the consultation, online, via email or be writing to:- Children's Centre Consultation, c/o Children's Centre Team, Municipal Buildings, Dale Street, Liverpool L2 2DH by 24 March 2015.

Following the consultation, a report with a final proposal will be considered by the Cabinet no later than June 2015.

Has Grandad got a Samurai sword?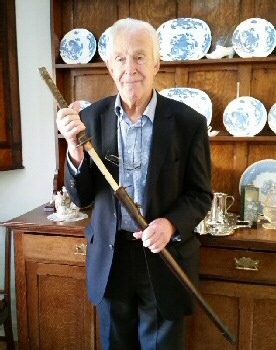 A national charity dedicated to keeping alive the memory of prisoners of war held in the Far East, in World War 2, are asking local people to hunt out any mementoes or artefacts passed down by parents and grandparents from their time in captivity.

2015 sees the 70th anniversary of the end of the Second World War in Japan and COFEPOW, a charity set up to perpetuate the memory of Far East Prisoners of War and raise awareness of the suffering they endured, is keen to track down any artefacts such as letters, photographs or diaries brought back from the Far East by prisoners of war.

COFEPOW (Children and Families of Far East Prisoners of War) was founded by Carol Cooper, the daughter of a prisoner of war who discovered her father's wartime diary advertised for sale and decided to set up a charity to keep alive the memories of Far East prisoners of war (FEPOWs).

70 years on from VJ Day, the charity wants to make sure as much precious material as possible is recorded to commemorate this important anniversary, to help recognise the enormous contribution made by individual FEPOWs. So, COFEPOW is now looking for local people who might have almost forgotten artefacts hidden away.

Says Keith Andrews of COFEPOW:- "Many of us have artefacts and mementoes stored away that were passed down by our parents and grandparents from their time in the Far East. We want to find more of these valuable artefacts to record them for future generations, and that is why we asking local people to help."

COFEPOW member Patrick Toosey from the Wirral is backing the initiative:- "When my father, Brigadier Toosey, returned from the Far East he brought back a Samurai sword from one of his Japanese captors. When I was a child, my father didn't mention the war and what he went through, but this sword is now a permanent reminder to me of his suffering."

Keith added:- "The artefacts people have are often not valuable in financial terms, but they do mean a great deal to the families of prisoners of war. Anyone interested in letting us know what they have will be helping us preserve this valuable archive material for the future."

If you would like to help or to find out more please go online.
Holocaust Exhibition comes to Liverpool City Centre
A special exhibition is to be held this year in the heart of Liverpool City Centre to raise awareness about the Holocaust. Holocaust Remembrance Day take place on 27 January each year. The date has been chosen as it marks the liberation of Auschwitz-Birkenau in 1945 with this year being the 70th Anniversary and is therefore a special event.
For the past 12 years "Fathers House", a Christian congregation based in Deeside, has been remembering the Holocaust in a unique way. They have been exhibiting in shopping centres in Wrexham and Mold and taking out questionnaires to shoppers to ask about their recollection and understanding of Holocaust. This year they are bringing their exhibition to a pop-up shop at 16 Manestys Lane, Liverpool 1 on Tuesday, 27 Wednesday 2015 and Thursday, 29 January 2015, between 10am and 4pm and will be going out to meet shoppers to ask what they understand about the Holocaust and to raise awareness about this terrible stain on humanity. Shoppers will be invited back to the exhibition to learn more and it is hoped that many others will also visit the exhibition.

The Pastor of Fathers House. Pastor Mike Fryer who graduated in Holocaust Studies at Yad Vashem, the Holocaust Museum Jerusalem in 2009, said that the questionnaires have revealed that many of those surveyed by his team had little or no knowledge of Holocaust. He said:- "Before the early 1990's Holocaust was not a subject schools taught to their students and ,therefore, there are those in our society who don't really understand the suffering of those 6 million Jews who were murdered during the years of the 2nd World War. There's even less understanding about those who survived, but who lost their families, homes and possessions and today still live with the haunting memories of the persecution the Jewish community of Europe faced."

Pastor Fryer said the murder of the Jews of Europe by shooting and gassing was the result of the teaching of hatred over hundreds of years by not only the Nazis, but many leaders in the Church and this teaching of hatred turned ordinary men and women into mass murderers and volunteer executioners. "We have to teach and raise awareness about Holocaust to prevent attitudes of hatred towards any members of our communities developing into violent and murderous actions as we have seen in Paris recently."

He said during the 2nd World War there was a prison camp in Huyton for many Jews who fled from Germany and Austria before the war and they were supported by the people of Liverpool. He says that for this reason and the fact that Liverpool people have a history of embracing the Jewish community is a great place remember the liberation of European Jewry in this 70th year.

The team from Fathers House have been working alongside Councillor Jeremy Wolfson in organising the Liverpool event. Councillor Wolfson said:- "This anniversary is an opportunity for us to reflect on the Holocaust and raise awareness not only of what happened but to try and ensure that the attitudes which led to it are not repeated. Unfortunately we have seen recently how there are still people who are prepared to perpetuate hatred towards communities throughout the world. By taking this exhibition into the City centre where there are thousands of people passing by we hope we will be able to generate a greater understanding of what happened during the Holocaust and how we can work to prevent such hatred reoccurring."

A service will take place at Liverpool Town Hall to mark Holocaust Remembrance Day which as well as the Holocaust, also commemorates genocides in Cambodia, Rwanda, Bosnia and Darfur. A service will also be held at Christ Church, Lord Street, Southport, from 1.30pm.