Liverpool's St George's hall host new evenings of folk song and spoken word.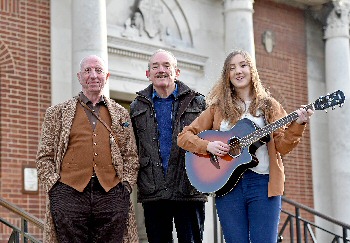 A brand new series of evenings celebrating the great Mersey tradition of folk and blues music linking with poetry, storytelling and humour is to be revived in the glorious setting of Liverpool's St George's Hall.

The 1st of 2 evenings for the:- 'Songs & Words of Folk' series have been confirmed for Thursday, 19 February and Thursday, 19 March 2015, and will be held in the 'Heritage Centre' and 'Catacomb Galleries' areas of the hall.

Both evenings will play host to a special guest of stage and screen John Gorman, famed for his years with Liverpool comedy, poetry and music trio The Scaffold, and musician Lucy Mayhew, whose lovely voice and fine guitar playing are quickly gaining a high reputation in her native Wirral.

The 2 will join author and storyteller, David Charters.
The evenings will present a wide repertoire of traditional and contemporary songs, plus brand new and original compositions, as well as captivating poetry and short stories.

The series will also feature open-mic sessions giving a platform for all aspiring singers, musicians, poets and raconteurs; offering the City's newest and freshest talent the opportunity to perform in a wonderful and prestigious venue.

David Charters said:- "We decided to call our shows Songs & Word of Folk because music, poetry, stories and, of course, jokes, can mix together in a celebration of our people of all ages, classes and faiths."

David recently staged A Dream Of Wilfred Owen, a play about the extraordinary life of Great War poet Wilfred Owen which featured performances from both John and Lucy and returns to the Concert Room at St Georges Hall in March.

Alan Smith, General Manager at St George's Hall, said:- "The hall is delighted to be able to offer the intimate evenings of folk music and poetry in the Catacomb Galleries of St George's Hall. It is a genuine delight to be able to animate these unique spaces of the hall with such traditional music and poetry delivered alongside brand new, modern and contemporary renditions and new works."

Songs & Words of Folk will rekindle the heady nights at the old Everyman Theatre and other venues, still fondly remembered from the 1960s. Tickets for the first of 2 shows in the series are on sale now priced at just £7.50, with further shows to be announced in due course.

PERFORMANCE DETAILS:-

Performance:- Songs & Words of Folk
Location:- Heritage Centre, St Georges Hall
Dates:- Thursday 19 February & Thursday 19 March 2015
Time:- 7:30pm
Tickets:- £7.50 + booking fee

For tickets call the TicketQuarter on :- 0844 8000 410. You can also visit at:- ticketquarter.co.uk or call in, into:- TicketQuarter, on Queens Square, Liverpool.
Funeral of PC Neil Doyle has taken place
THE funeral of PC Neil Doyle was held at Liverpool Parish Church (Our Lady & St Nicholas), Old Churchyard, Liverpool, on Friday, 23 January 2015. PC Neil Doyle and his wife Sarah were regular worshippers at the church, and they were married there in July 2014. The service was led by the Rector of Liverpool, the Revd Dr Crispin Pailing, and the sermon given by the Revd Canon Robert Lewis, who presided at their wedding. The Bishop of Liverpool, the Rt Revd Paul Bayes lead the prayer of commendation and give the blessing.

Dr Pailing said:- "Neil's death has been a shock to everyone in the community, and our church family has felt his loss. Although many of the worshippers will be there to say goodbye to a colleague, a friend or someone they respected, we shall also be praying for our brother in Christ."

Rt Revd Paul Bayes, Bishop of Liverpool, added:- "This terrible and heartbreaking tragedy is a very difficult time for Sarah and the family, and for all who knew PC Neil Doyle as a friend, neighbour, or Police colleague. I hope that his funeral will bring them some comfort as they sense the love and support that surrounds them. There will be many challenging moments for them in the weeks and months ahead and my hope is that their privacy will now be respected and maintained. My thoughts and prayers are very much with them at this time."

The popular catacombs tours return for 2015!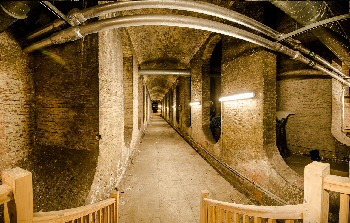 LIVERPOOL'S St George's Hall have announced the return of the popular Catacombs Tours from Monday, 16 March to Saturday, 21 March 2015, exploring the darker heart of Liverpool's most celebrated and historic building. The theatrical events sent chills down the spine of thousands of people who attended the 2 runs of tours last year. Tickets are now on sale and should sell fast.

Theatrical company Lovehistory Ltd are set to return with a whole host of actors portraying new characters and new stories from Liverpool's murderous past. Experience The Catacombs of Liverpool's Darkest History and peel back the layers of yesteryear to reveal what lies within the heart of St George's Hall's dark past.

Alan Smith, St George's Hall Manager said:- "The popularity of these tours has been incredible with over 4000 people attending and it is wonderful to see these previously unused areas animated in such a way for public use. It shows Liverpool's love of its history and its fascination in exploring its many beautiful buildings."

The promenade performances explore the court room and dark cells below the grandness of the Great Hall, where those waiting to be condemned would spend their final moments and in the shadows of Liverpool's past, spectators will encounter the characters that will tell their tormented tales and illuminate their history.

The Catacombs were previously used as billeting quarters for police and the army during transport strikes, or as a food dispensary and water store during the Second World War, the catacombs and basement galleries will now take on a new and dramatic lease of life.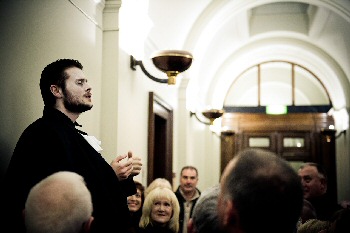 Join Liverpool's own premier theatrical performance company Lovehistory for a unique theatrical experience. Lovehistory have perfected the art of promenade theatre and the dramatic murder mystery experience with dinners within the Great Hall throughout the year and will now create some further spellbinding tours which are a must see for all ages.

Judy McLean, Creative Director of Lovehistory said:- "I was absolutely delighted to witness so many people enjoying our previous tours and it's given me the inspiration to write some further stories, for all those who came along, come back for another instalment and for all those who didn't make it, this will be opportunity to see undiscovered parts of the hall and some great theatrical performances."

See Liverpool's history exposed like never before from the dark and twisted underbelly of St George's Hall.

For further information please visit:- lovehistory.co.uk or go to:- stgeorgesliverpool.co.uk.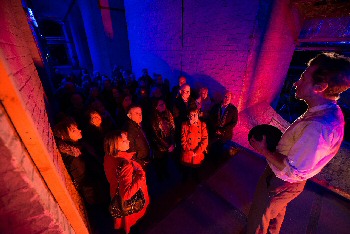 LISTING DETAILS:-

The Catacombs of Liverpool's Darkest History
St George's Hall, Heritage Centre Entrance, St John's Lane, Liverpool.
Monday, 16 March to Saturday, 21 March 2015 (Exc Thu)
Time:- 6pm, 6.45pm, 7.30pm, 8.15pm
(Approximately one hour in duration)
Tickets:- £15.00 (No booking fee)
(CapaCity 40 people per tour)
Purchase in person at:- TicketQuarter, Queen Square, Liverpool. Online at:- ticketquarter.co.uk or call:- 0844 800 0410.