Formby Food, Drink and Music Festival 2015 - Update

THE dates for this year's Formby Food, Drink and Music Festival will be the 18 July and 19 July 2015. At the moment the line-up for entertainment is continuing and it's anticipated that it will be bigger and better than last year (2014), with more real ale companies exhibiting at the event not to mention more different food outlets from around the world.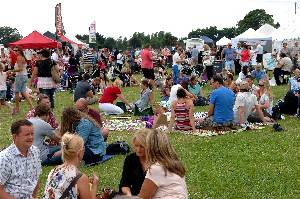 "The musical firework display will still take place on the Saturday night and this year we will also be having a headline act on the Saturday night. Full details will be supplied when this has been confirmed. The Liverpool Batala Band, who were a huge success last year will also be performing on the Sunday and we are currently in the process of lining up the Singing Disney Princess, who will also attend the event. There will be live entertainment on the music stage throughout the 2 day event and again a display arena. Traders can now apply to have a stall at the event by emailing us at:- fombyfestival@gmail.com. There will be a lot happening again this year and we are looking forward to hopefully a sunny and bright weekend" said the events Chairman, Maria Bennett.

This year Formby Festival will also be holding a competition called Battle of the Bands. We have been told that Bands/Singers will be able to register their intent to take part in this event and the heats will be held in May 2015, followed by the semi finals and the finals will take place at the Formby Festival on Saturday, 18 July 2015, when the winner will be picked.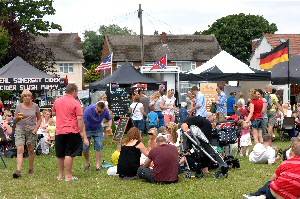 "Heats will take place in Southport, Formby and Crosby with the Semi Finals taking place in Formby. The competition is free to enter and the winners will receive a recording session in a recording studio in Liverpool. So come on all you budding bands and singers, let's see what you have got, it could be the start of something big." added Maria Bennett.
This year the fundraising will still be for Help for Heroes, but we are told that:- "The committee have decided that an additional amount will also be kept for local organisations to apply for, if they require funding for anything, thus also helping our local good causes in Formby and helping to sustain the various groups that run throughout Formby on a voluntary basis. This will hopefully continue each year."

Maria Bennett also added that:- "In 2014 just over £7,000 was raised for Help for Heroes and other charities who attend the event and we would like to thank all the people who supported the event and made this possible. We are now looking forward to seeing you all this year's festival!"
Steeleye Span to perform at The Atkinson, Southport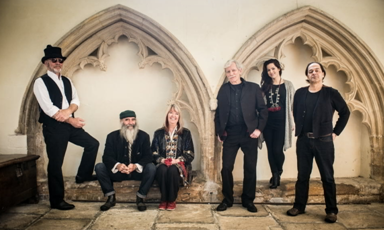 ON on Monday, 16 February 2015, from 7.30pm, the Wintersmith UK Tour hits the stage at:- The Atkinson, in Southport.

For any artist to discover new inspiration after many years is a huge challenge yet this is just what Steeleye Span achieved with Wintersmith, the 22nd studio album in a remarkable career. Born from their friendship with author Terry Pratchett: their musical interpretation of his novel provided them with a gateway to a magical world, allowing the band to explore familiar themes in the company of a new set of characters; all of whom allow Steeleye to delve into the darker side of their music.

Received warmly by both critics and audience – Wintersmith saw Steeleye return to the UK album charts – the resulting concert tour was a celebration of both the past and the present. With violinist Peter Knight making his farewell, these live shows marked a major chapter in the band's history. The reception offered to Wintersmith on its release reflected its very special nature. The album received a string of enthusiastic reviews - described as "a marriage between the written word and music that is devastatingly superb" – and garnered much media interest, seeing Maddy Prior and Terry appear on the likes of Later with Jools Holland and the BBC Radio 2 Arts Show and Simon Mayo.

2014 would see Steeleye Span release a Deluxe Edition of Wintersmith that featured a second CD containing four new tracks, two demos that featured former guitarist Bob Johnson and eight live tracks.

November 2014 and the The Wintersmith DVD was released, filmed in Salisbury, the Wintersmith DVD captured all the magic and is especially fitting as Terry Pratchett himself was in the audience and joined them on stage making it the perfect recording of a special meeting of minds.

On the 2015 UK tour, many fans old and new will get to see new violinist Jessie May Smart. Jessie is a young, vibrant talent who trained with Richard Ireland at Trinity College of Music before going onto The University of Nottingham and who's CV includes working on The X Factor and with Katie Melua. Another relatively new Steeleye Span member is composer, singer-songwriter and Steeleye lead guitarist Julian Littman. Julian has played and performed with artists from Gerry Rafferty, Charlie Dore and Dexy's Midnight Runners to Sister Sledge and Phillip Bailey. He has also appeared in an abundance of TV & Film roles ("London Boulevard", "The Life and Death of Peter Sellers", "Evita" & many more), to West End musicals such as Queen's "We Will Rock You." and "125th Street" and others too numerous to list. Julian was in Gerry Rafferty's band for some time and did some co writing with Gerry and was a good friend in his later years. Julian has also been musical director of many musicals including Godspell and Return to the forbidden planet.

To view the Wintersmith DVD trailer, please click on this link. Also to view the trailer for the Wintersmith Deluxe Edition, please visit this YouTube link:- youtube.com/watch?v=JmvrHljzqAw

For more information, news and tour info, please visit:- steeleyespan.org.uk. For tickets please visit the The Atkinson's Box Office on Lord Street, in Southport, call them on:- 01704 533333 or visit:- theatkinson.co.uk.

Kaiser Chiefs UK Arena Tour starts in Liverpool!
Written by Laura Barton and photo by Mike Burnell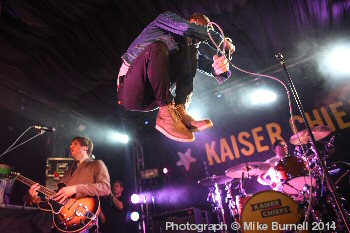 THINGS could so easily have stayed the same, as the Kaiser Chiefs are heading to a stage near you! After more than 10 years, 4 albums, platinum record sales, a volley of Top 10 singles and 3 Brit Awards, it would have been simple for Kaiser Chiefs to sit back and coast a while, to enjoy the warm glow of being 1 of Britain's most cherished bands.

But in late 2012 there came a change: the departure of founder member and drummer Nick Hodgson. Yet an event that might have derailed the band entirely instead it lit a fire that has carried the Kaiser Chiefs forward, through a period of re-evaluation and reinforcement, to create an album that is their most considered, literate, and impassioned record to date.

Education, Education, Education and War began out of frustration. The band's remaining members, lead singer and lyricist Ricky Wilson, bassist Simon Rix, guitarist Andrew White and keyboardist Nick Baines, decamped to Real World to see if they could kindle something new. In the days that followed, the sense of neutered creativity gave way to something thrilling and unleashed. By the end of that week, Rix recalls, they had "19 or 20 ideas for songs." And more importantly, Wilson says:- "We had the spark that gave us hope."

Wilson also explains that:- "At 1st the songs came from a very personal anger. But then I thought back to what I'd enjoyed writing about in the beginning, with Employment, and what I enjoyed then was looking around and writing about what I saw. And so over the next year I began to write songs about living in this country, about the thoughts that inspired in me."

The album title is a reference to Tony Blair's famed 2005 speech on the power of education:- "Education, education, education." he told the crowd that April in Sedgefield:- "then and now the key to the door of Britain's future success."

It is an album that takes the temperature of a nation 7 years into a recession, people desperate for work, debt-ridden, suspicious of corporations, big business, government, and eager for signs of compassion, understanding, hope. In the centenary year of the 1st World War, it also questions the role and importance of modern conflict, the wars waged in Afghanistan and Iraq, the diminished power of an Empire. "I'm not saying it's political, it is about the feeling of futility… about wondering 'what is the point?' Not in a way that means giving up, but in a way that raises a question I want to ask. I don't think a band has a responsibility to say anything more than love songs, but if it's in your mind more than love songs then stop writing love songs and start writing songs about what's going on in your street."

The Kaiser Chiefs that emerged from near collapse in 2012 appear regalvanaised, bolstered by the addition of a new drummer, Vijay Mistry (formerly of Club Smith) and inspired by a new sense of freedom and musical possibility. They are angry, yes, but they are also inspired and ambitious and hungry for success.
The album was recorded in Atlanta, Georgia — a move that gave the band the opportunity to view themselves from a new perspective. "In a weird way working in America has been good for us, because unlike some bands who work in America and end up sounding American, I think it's solidified how British we are." says Wilson.

They hired Ben H. Allen III as producer, impressed by his expressive work on recent albums by Animal Collective, Deerhunter and Youth Lagoon, as well as his production for Gnarls Barkley and Cee-Lo Green. They sensed he shared their hunger and ambition, while having few pre-conceived ideas about what Kaiser Chiefs should be. "He knew that we were going for it." says Wilson... "I'd go in and do a vocal take, and then I'd say:- 'Don't you think it sounds a bit…?' And he'd say:- 'What? Successful?'"

"They came really ready to prove something to the world. And the songs are really good. And that's what I'm always looking at; it's not a band's reputation or where they're at or what the budget is, it's the songs. There's a lot of interesting sounding bands in the world, but there's a distinct lack of songwriting and that means there's not as much longevity for some of these bands. These days, personally, I'm looking for bands that are hitting for the fences." says Allen.

'Hitting for the fences' is probably the most accurate way to describe the songs on Education, Education. They are gimlet-eyed bruisers, spoiling for a fight; muscular, anthemic, proud. From the irresistible swell of Coming Home to the forlorn drift of Roses, via the relentless march of Cannons, they paint a compelling portrait of the modern age - factories, labour exchanges, battlefields, there is mud on boots, homesickness, love and loneliness. They are songs charged with musical experimentation and ambition, with wurlitzers, belly laughs, guitar solos, but that never lose their emotional connection, Wilson's lyrics infused with rage, sorrow, a sense of loss.

But above all these are songs carried by the pluck and romance of hope. This is a band reformed and recharged, they say, a band that knows just what's possible with faith and solidarity and a refusal to accept defeat. "You and me on the front line, you and me and every time," runs Bows and Arrows, the album's battle cry, an anthem for both this band and these times. "We the people, created equal," it storms. "We the people, created equal … And if that's true then we're not the only ones."

So if you love this amazing band then take note as following on from the release of a new single:- "My Life" in September 2014, the band is will start a UK wide Arena Tour in Liverpool on Saturday, 31 January 2015. For more information and tickets for the Liverpool event, please go to:- echoarena.com.

Dates of all the venues' are as follows:-

Saturday, 31 January 2015, at the Liverpool Arena
Monday, 2 February 2015, at the Dundee Caird Hall
Tuesday, 3 February 2015, at the Edinburgh Usher Hall
Thursday, 5 February 2015, at the Newcastle Metro Arena
Friday, 6 February 2015, at the Wolverhampton Civic Hall
Saturday, 7 February 2015, at the Nottingham Arena
Monday, 9 February 2015, at the Plymouth Pavilions
Tuesday, 10 February 2015, at the Bournemouth International Centre (BIC)
Wednesday, 11 February 2015, at the Brighton Centre
Friday, 13 February 2015, at the London - The O2 Arena
Saturday, 14 February 2015, at the Leeds First Direct Arena

Fans can sign up to a mailing list at:- KaiserChiefs.com for all the latest updates.

Please let us know if you attuned what will be an amazing event, via emailing us to:- news24@southportreporter.com.