Letters to the Editor:- "Vote on the Local Plan"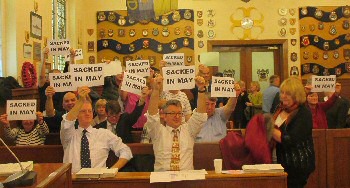 "THE action groups were not surprised at the way the vote went. Everything that happened was predicted and stated in their speeches including the fact that they had already been told which way they were going to vote before they went into chambers and this shows a total lack of respect and disregard for the petitioners, who were representing over 9,000 residents. Cllr Robert Brennan (Labour) and his colleagues regard this as democratic, we would suggest that they Google the word. (see response to email sent by resident).

This fight was always going to be played out in front of the inspector at the public enquiry, we were hoping that these Councillors would have spoken up on behalf of their residents who voted them in and not down party lines.
We can reassure you that the residents groups will be taking the full arguments and fight to the inspector and will represent the residents in front of the inspector as it is clear that our Council have chosen not to do that....."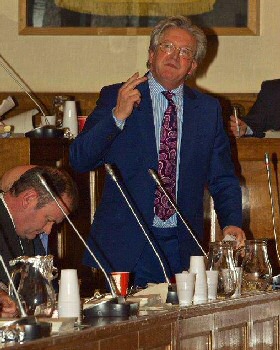 ".... It is clear that there are many holes in the Local Plan, as with all plans, it is almost certain it will come back for alteration after the public enquiry. When this happens we simply cannot afford to have the labour party whipping its Councillors in how to vote and doing this before any public discussion. This mater is to important to decide behind closed doors and just playing out a pantomime in front of the public.

They say that the action groups are peddling myths, it is they who peddle the myths and indeed everything that has been put forward to challenge the plan is taken directly from the NPPF. This document is open to interpretation although there are clear guidelines issued and to play ping pong with peoples lives and keep blaming the government is not acceptable. There are clear ways set out in the NPPF that they could use to protect the green belt and to state 'it has never been done before' is unacceptable.

We feel that the photographs attached say it all and show public feeling and the contempt the Council leader has for the residents of Sefton central.

This is why it is important that the residents use their vote in May to ensure this important issue is not played out in front of the same party puppets once again.

Below are extracts from the email sent and the response. It is clear that this is not why people vote in a local Councillor, they vote for them to represent their views, even if it is against party lines, they are representing their residents and not the party at local level." said:- FRAGOFF, Maghull and Lydiate Action Group and Aintree Village Residents Action Group.

Below is a response to email sent by resident sent to us from FRAGOFF. Click on it to make it read it in new window (tab)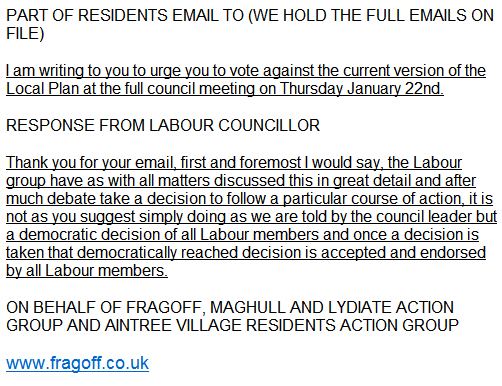 Next of kin appeal from the Liverpool Coroners' Office
THE Liverpool Coroners' Office have issued an appeal for help from the public to find relatives. The Coroners' Office want to tracing the next of kin of a 69 year old man who died in hospital on 19 January 2015. Mr Brown, was from Cygnet House, St James Drive in Bootle, died at Royal Liverpool University Hospital having been admitted in December 2014. There are no suspicious circumstances surrounding his death. Anyone able to offer further information to help the NOK be traced is to contact the Coroner Officer dealing, Clair Crilly on:- 0151 225 5064.

Countdown to Tax Return Deadline 2015
THERE is just 1 week left to send your 2013 to 2014 Tax Return to HM Revenue and Customs (HMRC) and avoid a £100 late filing penalty. If you still have to submit a return, you need to do it online and pay what you owe by midnight, on Saturday, 31 January 2015.
HMRC figures released earlier this month revealed that London was the worst region for late Tax Returns in the UK last year (with 512 late returns per 10,000 received).
The statistics also showed that men were 10% more likely than women to send a late return, while young people aged 18 to 20 were 7 times more likely than the over 65's to file late.
HMRC Director General of Personal Tax, Ruth Owen, said:- "The days are counting down to 31 January 2015. If you still have to send in your 2013 to 2014 Return, you need to take action now. The later you leave it, the less time you'll have to sort out any last minute problems."
Help and advice on filing your return is available from the GOV.UK website at:- Gov.UK/Self-Assessment-Tax-Returns or the Self Assessment helpline on:- 0300 200 3310 (open:- 8am to 8pm, Monday to Friday, and from:- 8am to 4pm on Saturday). Customers with general Tax Return queries can tweet the @HMRCcustomers Twitter feed, from:- 8am to 6pm, Monday to Friday. Tweets should not contain any personal information. Self Assessment only customers (those who are self employed, with no other source of income, no employees and who are not registered for VAT), can now opt to receive instant email alerts and electronic messages from HMRC, rather than paper communications.
To sign up for paperless Self Assessment, log onto your Self Assessment online account and follow the prompts. In future, this service will be extended to other Self Assessment online customers.
Former fugitive on most wanted list jailed for £40m Drug Plot
THE last man standing out of a 26 strong organised criminal network that plotted to smuggle up to 40 tonnes of drugs was jailed on 21 January 2015. Paul Scott, aged 32, from Vauxhall, Liverpool, was 1 of the National Crime Agency's most wanted fugitives. He was sentenced to 14 years at Liverpool Crown Court after pleading guilty to conspiracy to import cocaine. His sentence brings the total for the network to over 280 years. Scott is also wanted for questioning by the Guardia Civil in connection with the murder of UK national Francis Brennan in Alicante, in 2014. Following this Court Hearing he was then arrested by Merseyside Police Officers on a European Arrest Warrant. Scott had been on the run since 2010. He was captured in December 2014 when he and his pilot landed a light aircraft on a remote rural airstrip. Judge David Aubrey rejected Scott's claim that he had come back to hand himself in and that he just wanted 1 more night with his family. The network consisted of criminals from Liverpool and London working with overseas traffickers to import cocaine from South and Central America, along with heroin and amphetamine from Europe. NCA officers used listening devices to monitor conversations between members of the network, carried out surveillance throughout the UK, and analysed masses of phone data. Head of the network, Paul Taylor, aged 58, from Liverpool, who was sentenced to 22 years in 2011, told a criminal associate there was a stockpile of 40 tonnes of cocaine ready to smuggle inside shipments of tinned fish and wood pellets. During another recorded conversation, Scott told Taylor he and his cousin were able to provide transport for the network through a corrupt contact at a legitimate haulage firm. Greg McKenna, NCA Branch Commander, said:- "Scott was the last man outstanding in a plot to smuggle vast quantities of cocaine into the UK. Our determination to track him down and bring him to justice demonstrates our commitment to dismantling criminal networks from top to bottom." Since the investigation was launched in 2008, members of the network have been handed prison sentences ranging from one to 30 years.
The Ship and Anchor are bringing back Vinyl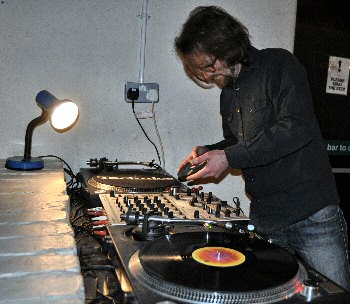 THE days of the LP and EP on the flat polyvinyl chloride (previously shellac) discs are heading back to Southport's pubs, well for now the Ship and Anchor. This is your chance to recapture the inscribed, modulated spiral groove of your child hood. Well if you are that old, like some of us. Dan Morrison from End Of Entertainment, came up with the idea to bring back this fantastic analogue sound storage medium to the pub, located on Cable Street in Southport. He told us that:- "These vinyl records still deliver fantastic sound. Sadly many tracks you find on them, you just can't get on any other system. We want this to create a buzz and a talking point, as well as an opportunity to hear past pop and rock classics, as you remember them. I'm looking for records still, so if you have any and want to part with them, please do let us know!" So, will this be bringing back the magic of the gramophone record and many lost hidden gems? Is this music to your ears? Please let us know your memories about the black discs and the tunes that were pressed onto them. Email us to:- news24@southportreporter.com.