Xarifa Underwater Hockey Club Gets Regional Gold and Silver Medals
Report and photos by Damien McNulty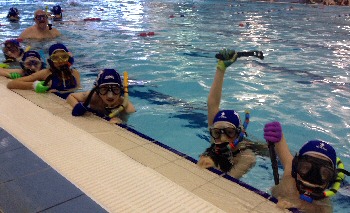 A Gold medal winning team from the North in the 1st Regional Underwater Hockey Tournament of 2015. The "Northerns" U14 regional team conceded only 1 goal in the tournament, taking 1st place in the medal table. The Under 16s got Silver Medals, but were beaten to the top position by a team from the South West. The Under 12's played 5 games in all, lost first 2, though they scored in both, but have won games 3 and 4 and drawn in game 5. Resulting in 4th place overall; so medals despite their best efforts. "The kids really put in 100%. Great support in attack and swimming back hard to defend - well done all!" said Damien McNulty Xarifa Coach, about the Northern Under 12 team. Northern teams were made up from players from Xarifa, Rochdale and Batley clubs, but includes players from Liverpool, Oldham, Manchester and Tameside.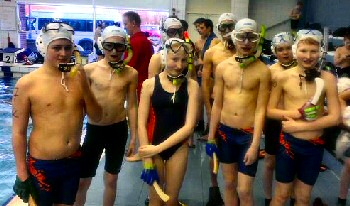 Xarifa Underwater Hockey club, based in Dukinfield Tameside, entered players into the regional tournament on Saturday, 24 January 2015. The tournament was held at Newport International Pool, South Wales. They played against teams from the south, South West and Wales in Under 12's, Under 14's and Under 16's age categories.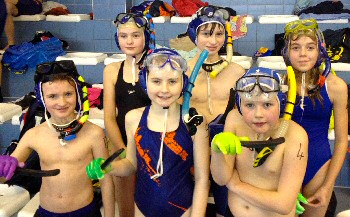 Xarifa junior UWH has been having fun at Dukinfield Pool since January 2005. Beginners can have a free trial, it's easy to have a go, but have to prove they can swim 4 lengths before being allowed to join the club. Many players have successfully gone on to play for GB squads.
Consumers in the North West could be in line for compensation after FSCS declares 4 firms in default
THE Financial Services Compensation Scheme (FSCS) could provide a lifeline to consumers in Wigan, Altrincham and Liverpool that have lost money as a result of their dealings with any of the 4 failed financial firms that FSCS has recently declared in default. The Scheme has already started paying compensation in respect of the defaulted firms. Mark Oakes, Head of Communications for FSCS says:- "FSCS was established to protect consumers when authorised financial services firms go bust. It protects your deposits, investments, home finance and insurance. If anyone believes they may be owed money as a result of their dealings with any of these firms, please get in touch with FSCS, as we may be able to help you." Since inception FSCS has come to the aid more than 4.5m people, paying out more than £26bn in compensation. FSCS is the UK's statutory compensation scheme for customers of regulated financial services firms. A declaration of default means FSCS is satisfied a firm is unable to pay claims for compensation made against it, and opens the way for customers of that firm to make a claim. FSCS is free for individual consumers to use. FSCS was set up by Government in 2001 and is funded by the financial services industry. FSCS protects insurance, investments, deposits and mortgage advice and arranging. See our compensation limits page for more details. The FSCS Initial Contact Team can be contacted on:- 0800 678 1100 or via calling:- 020 7741 4100, plus you can also send an email to them. Further information about FSCS is available on it's website.

2nd round of Marine Conservation Zone designation will leave English waters woefully under protected
CONSERVATION charities say promised network of protection "is not even close, as vital sites don't even get to public consultation", but do you agree?

The UK's leading marine charity says that it's:- "hugely disappointed" that, in the same week the Government has been warned how England's declining natural environment is harming the economy, it has failed to deliver on promises to better protect English seas.

37 sites had been proposed to go forward to a second public consultation on Marine Conservation Zones (MCZs), all identified by Government's scientific advisers as vital to plugging:- "major gaps" that currently exist in the development of a UK network. However, only 23 sites have made the final list when the consultation for potential new MCZs was launched, on Friday 30 January 2015. While MCS is keen that members of the public air their views to ensure that these sites become a reality, the charity has real concerns that English seas will not contribute a network of sites that we can be proud of in future.

The Marine Conservation Society (MCS) is supported in its criticism by the National Trust, which owns 750 miles of England's coastline. The National Trust says the underwater landscape of England's coastline must be protected in the same way the visible land is and the protection must be put in place now before it's too late.

MCS says sound scientific advice has once again been ignored with 14 important sites not included in the consultation. The charity says this tranche had been promoted as one to fill in major gaps, but instead appears to have slowed the MCZ process right down.

"We are alarmed that these proposed MCZs have been shelved, at least for the time being. We believe all of the sites are necessary to achieve the Government's stated commitment to deliver a full network. Delaying 14 sites means that a number of the UK's iconic marine places and habitats are still not adequately protected. This decision doesn't match urgent conservation needs, or indeed, the ambition of the public, who continue to demonstrate their support for the establishment of a network of marine protected areas in UK seas. Parties must recommit to a network in their manifestos and deliver this by 2016" says MCS Biodiversity and Fisheries Programme Manager, Dr Peter Richardson.

Simon Pryor, Natural Environment Director at the National Trust, said:- "Steady progress is being made to have a good network of Marine Conservation Zones around the coast of England. However, it's disappointing that we're not even ½ way to the original target of 127 that the Government outlined just 2 years ago. With good stakeholder buy in to the original network of 127 MCZs, we believe the Government should have the courage to bring forward the consultation on controversial sites, in order to work through any difficulties. Protecting the seas around the English coast must be a priority as they face unprecedented pressure. Without the protection that they deserve marine wildlife and the quality of our seas will suffer."

Both groups say that important sites missing from the consultation will leave huge gaps in the network. Studland, Bembridge, Norris to Ryde, and Yarmouth to Cowes have all been dropped putting at risk the future of the spiny seahorse, mantis shrimps and large seagrass meadows.

MCS says that all 23 sites being consulted on must be designated. These include well known Cromer Shoals Chalk Beds referred by many as the "great barrier reef of Norfolk", Farnes East which hosts an array of seabed life such as sea pens, and Newquay and The Gannel known for its crawfish, pink sea fans and migrating eels and salmon.

"It's essential that those who care about the future of our seas respond to this consultation by giving their full support for the designation of all 23 MCZ sites announced today, and call for more sites to be proposed to make up a much-needed network of UK marine protected areas." says Dr Richardson.

Last year, NGOs delivered a petition of over 350,000 signatures to the Prime Minister calling for a network of marine protected areas. And over 150 cross party MPs have signed a Marine Charter calling for an ecologically coherent network of Marine Protected Areas. Earlier this week the Natural Capital Committee, an independent advisory group, told the Government that England's natural environment decline is damaging the economy. MCS and the National Trust are urging their supporters and the wider public to take part in the public consultation by going to the Trusts website.