Improving the survival rate of cardiac arrest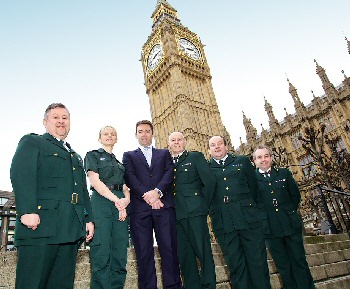 THOUSANDS of lives could be saved every year in the UK if all children were trained in basic life support, defibrillators were more readily available and screening was introduced for children at risk of heart conditions, said experts from the North West Ambulance Service NHS Trust (NWAS) to an audience of MPs.

The Trust held an event on 27 January 2015, at the House of Commons, in London, hosted by Shadow Secretary of State for Health, Andy Burnham, to get parliamentary support for improving survival rates for out of hospital cardiac arrest in the UK, which are currently around 8%.

Guest speakers from NWAS, and those whose life had been saved or who had successfully resuscitated a victim, spoke at the
event about the importance of bystanders taking action by calling:- 999, starting CPR and using a defibrillator to significantly improve chances of survival.

The life savers and survivors of cardiac arrest who talked about their experiences, including a lady who successfully performed CPR on her husband while being talked through the simple steps by an NWAS call handler, and a gentleman who was resuscitated by a lake with a public access defibrillator.

NWAS Chief Executive, Bob Williams said:- "Early intervention makes the difference between life and death so it's vital that bystanders know what to do; call:- 999, start CPR and grab the nearest defibrillator. Teaching these potentially life saving skills in schools so that children take them throughout their life is an obvious solution. Defibrillators are the only way to restart the heart in some cases of cardiac arrests, so having them as readily available as fire extinguishers would make a real difference. We would also welcome screening for children at risk of sudden cardiac arrests to prevent unnecessary deaths. We want the UK to have the best survival rates for out of hospital cardiac arrests and believe these steps would help get us there."

Numerous guests signed pledge boards in support of NWAS' aims, including MPs and Lords who fully supported the need to strengthen the links of the chain of survival to improve out of hospital cardiac arrest survival rates across the UK.

For more information visit:- @NWAmbulance or use the #CardiacSmart to see what people are saying.
Breastfeeding ambassadors graduate
A group of breast feeding ambassadors who will spread the word about the benefits of mother's milk graduate, on Wednesday 28 January 2015, in Liverpool.

The 28 new Liverpool Bambi's (Babies and Mums Breastfeeding Information Service) are joining a 1,700 strong group of mums in the City who provide information, encouragement and training to other mothers of new borns.

Figures show that Liverpool is making improvements in the number of breastfed children up in 2013/14 from 50.9% to 53.2% at birth, while at 6 weeks old it has risen from 29.1% to 31.2%.

However this still lags significantly behind the national average, which is around 74% after birth and 46% after 6 weeks.

The majority of the mums who are graduating received support themselves from the Bambi's scheme and now want to pass on their knowledge to others.

Councillor Jane Corbett, Cabinet member for children's services, said:- "Congratulations to all our new ambassadors and massive thanks for taking on this really important role. The Bambi's scheme is helping us make improvements in the number of young children who are being breast fed. It is great news that we are adding to the number of mums willing to pass on their own experiences to support others in the same situation."

Dr Sandra Davies, Liverpool's Director of Public Health said:- "Breast milk really does give babies the best start, as it is all that's needed for the 1st 6 months of life. It protects babies from infections and diseases and has many benefits for both children and mothers."

The graduation ceremony will be held at the children's play centre Kidz Fantasy Land on Edge Lane. Now a Breastfeeding Welcome scheme, with a list of more than 150 places that will accommodate and welcome families, is available at:- AmazingBreastMilk.NHS.UK.

Keeping warm is on the menu
A community café, run by a Liverpool Church, is hosting an event to help elderly and vulnerable people keep warm in winter.

The Friday Morning Community Cafe at St David's Church, Childwall, has run successfully for more than 2 years. It's success has motivated the church, working with ward Councillors Jeremy Wolfson, Ruth Hirschfield and Frank Hont, to look at opportunities to expand the community facilities.

It will now include a monthly event, on the 1st Friday of each month, for the benefit of the local community.

The 1st event takes place on Friday, 6 February 2015, from 10am to 12 noon, when helpful advice will be given out about the importance on keeping warm, especially for the elderly and infirm, and getting the best value out of the fuel used during winter time.

There will also be packs to take away for practical use to help keep warm and using resources well.

The Reverend Robert Williams, Vicar of St David 's said:- "When we decided to start the Friday café at St. David's, we did so with the vision in mind of using the church facilities as a place where people could meet socially, as well as a place that could be used as a meeting point where information could be accessed. Working together with the Childwall ward Councillors, who have given us their full support, we hope that this new resource will be supported by members of the local community and beyond."

Councillor Wolfson said:- "It is very important that we ensure that elderly and vulnerable people in our community are kept safe and warm throughout the winter; the recent cold spell has just underlined this. As ward Councillors we have fully supported the Friday café as it is a great way of providing information and support and I would encourage local residents to take advantage of it."

In future months the Friday Morning Cafe are planning to feature dementia awareness, the credit union and debt, and the practical use of computers for people in the community who are feeling excluded in their everyday life.
Brooks announced as event partner for Vitality Liverpool Half Marathon 2015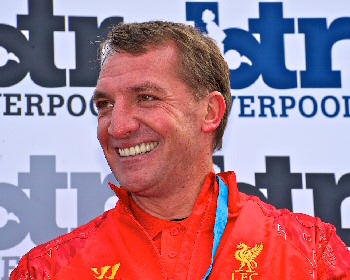 THE organisers of the Vitality Liverpool Half Marathon are pleased to announce footwear, apparel and accessories specialist Brooks as an official race partner for the exciting event taking place on Sunday, 29 March, 2015. Brooks will be providing all finishers with their very own Vitality Liverpool Half Marathon finishers' T-shirt as part of their congratulatory goody bag. And all those completing the race, will also be presented with a commemorative finishers' medal as they cross the finishing line. Sara McMahon, Events and Retail Marketing Coordinator at Brooks, said:- "Brooks are delighted to be involved with Vitality Liverpool Half Marathon. The Vitality Run Series has a close synergy with Brooks by inspiring people to be active and we believe that the partnership will be a huge success. We look forward to seeing you there on race day!" The Vitality Liverpool Half Marathon will start and finish at the City's Pier Head at the iconic Liverpool Waterfront, a UNESCO World Heritage Site. The route will also take runners past some of the City's key landmarks including Albert Dock, Museum Of Liverpool, Liverpool Cathedral, Sefton Park Palm House and Otterspool Promenade. Last year's event was the 21st Anniversary of the Liverpool Half Marathon, which attracted almost 7,000 runners representing 21 overseas countries. This year's participants so far include runners from European countries Belgium, Denmark, France, Germany, Norway, Spain and Sweden, as well as a number of runners travelling from further afield, representing Hong Kong and the USA. Race Director Alan Rothwell added:- "To have Brooks on-board as a race partner for this year's Liverpool Half Marathon is fantastic news. The event is firmly established in the region's race calendar and attracts a large contingent of runners who travel from across the world to take part." To bag your very own souvenir:- 'Brooks T-shirt', make the Vitality Liverpool Half Marathon 'YOUR' challenge for 2015 by visiting the BTR website, where registrations are open until Friday, 6 March 2015.

Other BTR Liverpool Events confirmed for 2015 so far:-

► 1 March 2015 - BTR Port Sunlight 10K/5K/Children's 1K Fun Run.
► 29 March 2015 - Vitality Liverpool Half Marathon.
► 5 April 2015 - BTR Hale Village 5 Mile.
► 19 April 2015 - Run For The 96 5K.
► 7 June 2015 - BTR Mersey Tunnel 10K.
► 5 July to 11 July 2015- BTR Tour Of Merseyside (52 miles).
► 11 September to 13 September 2015 - BTR Whistle Stop Tour Of Wirral.
► 13 September 2015 - BTR Wirral Half Marathon/10K.
► 6 December 2015 - BTR Liverpool Santa Dash.