'Canoeing for beginners' at the Royal Court Liverpool
Photos and report by Dave Evans, Bond Media Agency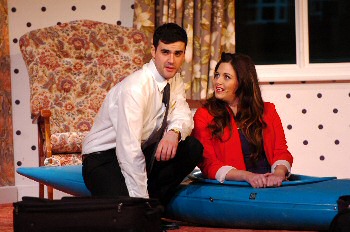 THE Royal Court Theatre, in Liverpool, looks to have another smash hit on its hands as the play:- 'Canoeing for beginners' hits the stage... This fantastic show runs until 28 February 2015.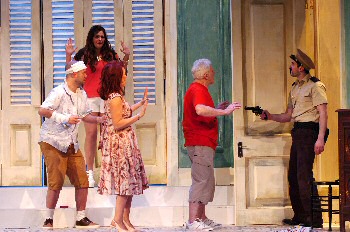 Its strap line says:- "Drowning in debt? Looking for a way out? When you are up the creek, the best thing that you can do is paddle!", but if you don't know about the play, it is all about a character called:- 'Frank'.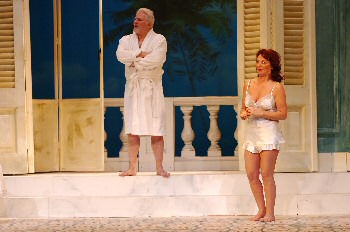 "Frank has had enough. After years of struggling to keep his head above water he's splashed out on a new canoe and departed this life from... Crosby Marina. His wife Beryl knows that Frank is in a better place. Well, not right now - because he's hiding in the shed. But soon the pair of them will be relaxing in Cuba and spending the life insurance money! It's a perfectly planned insurance scam and everything will go according to plan if they can keep it under their sunhats for a few more days. With 2 grown up kids trying to help and a persistent Policeman sticking his nose in that might be trickier than they thought!" says the Royal Court's website... So is this true that this is "see this brilliant comedy about real life and fake death", well you will have to go and find out for yourselves... The plat was written by Mike Yeaman (Lucky Numbers) and it is directed by Cal McCrystal (1 Man 2 Guvnors). To book tickets go to:- RoyalCourtLiverpool.Co.UK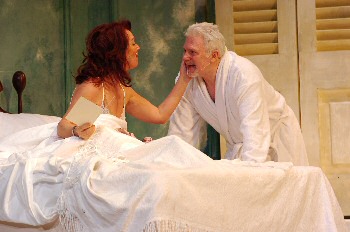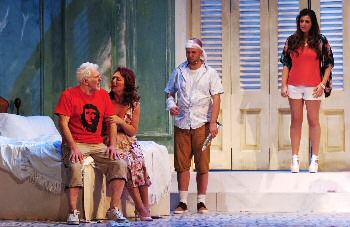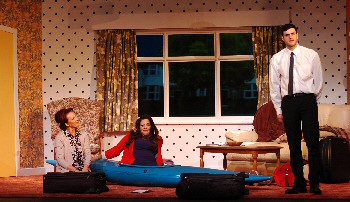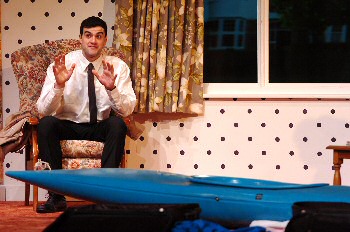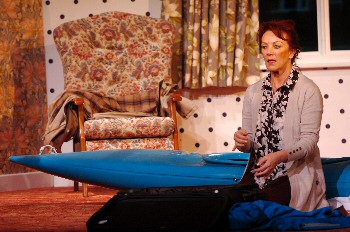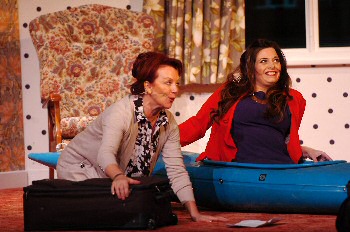 Steam Packet Company supporting efforts to complete memorial to Corporal Mike Gilyeat
THE Isle of Man Steam Packet Company is giving its support to a charity which hopes to complete a tribute to a soldier from the Island. Corporal Mike Gilyeat, known as Gilly, was a member of the Royal Military Police and a photographer attached to the media operations team based at Regional Command (South) in Kandahar, Afghanistan.

The 28 year old died when the Chinook helicopter he was travelling in crashed in 2007. 6 others were killed in the incident.

Charity Forces Support will travel to the Island in February 2015, with free ferry crossings provided by the Steam Packet Company, to help complete a memorial garden for Gilly's mum Margaret Gilyeat in Bride.

The charity was established to honour service personnel killed in recent conflicts. It provides general maintenance around the home and garden, the work the lost family member might have done for his or her family, or the jobs that have built up while the family grieves.

Forces Support has completed more than 120 projects in the last 2 years, including a garden makeover for the parents of Drummer Lee Rigby.

Regional Operations Manager Steve Richardson said:- "When we were contacted about helping Margaret complete the memorial to her son, we were delighted to get involved. It is our first project in the Isle of Man and will hopefully be a fitting memorial to Gilly. I'd like to thank the Steam Packet Company for providing free transport to and from the Island, which helped make this project possible."

Steam Packet Company Chief Executive Mark Woodward added:- "Forces Support has done valuable work for the families of fallen service personnel and when we heard about the possibility of a project in the Isle of Man we didn't hesitate in offering our assistance. I hope the memorial garden, when completed, brings some comfort to the family and friends of Corporal Gilyeat."
Backing for plans to seize vehicles caught fly tipping
THE CLA in the North has backed plans to seize the vehicles of people caught fly tipping in the countryside. The organisation, which represents thousands of landowners, farmers and rural businesses in the region, is throwing its weight behind a government fly tipping consultation, which proposes apprehending vehicles involved in the crime.

CLA North regional Director Dorothy Fairburn said:- "Fly tipping blights the countryside and is a serious issue for farmers and landowners, who are not only liable for any waste fly tipped on their land, but can also be prosecuted if they do not clear it away. It costs rural businesses up to £150million in clean up costs every year. If new powers can reduce it by as little as 2%, we are optimistic this could lead to at least £15 million of savings every 5 years for private landowners."

Miss Fairburn said she supported more power for enforcement authorities to seize any vehicle involved in fly tipping. She said:- "Fly tipping is often conducted by organised criminal gangs and we have called for culprits to be dealt with more robustly for years. We see the power to remove vehicles as a positive step forward in reducing incidences of fly tipping. These measures should come into force as soon as possible and must be backed up by the Police and Council's treating the catching of offenders as a local priority."

The consultation can be viewed online. The latest statistics for fly-tipping in England can also be viewed online.
British Transport Police seek independent Advisory Group members
HAVE you ever wanted to voice your opinions on the Policing of your local railway and station, or provide feedback on a Police Operation that you witnessed?

British Transport Police (BTP) is offering you the chance by giving you the opportunity to volunteer to become a member of an Independent Advisory Group.

BTP is looking for enthusiastic members of the public and rail staff from across the region to join its Independent Advisory Group in the Pennine Division of British Transport Police.

The role would suit people who have a general interest in railways and the railway community, in particularly those who have strong links into local communities, to work in an advisory role to provide feedback and advice on how BTP's actions are interpreted by members of the public.

The key aim of the panel is to strengthen relationships between BTP and a diverse range of local community groups.

David Rams, Pennine Independent Advisory Group Coordinator for BTP, said:- "We are keen to expand our membership of this already very successful group. We want more people to have their say in the policing of the railways in their area and are now looking for new members in Leeds, York, Newcastle, Sheffield, Chester, Carlisle, Doncaster. However we would like to hear from anyone who is interested in joining the group from other areas. We want members of the panel to have links to the diverse communities, so we can help form a bridge between these groups and BTP. The aim is for members of the public and rail staff to get involved and be a voice for the community. We want them to provide feedback to us, and to challenge us when they don't think we are getting things right. We want them to be critical and challenge existing processes to continue to build trust and confidence in us, which will have real tangible effects on our Policing and our policies."

Meetings are held quarterly and will allow a representation of local people to have a voice in the Policing of the railway. Panel members will not be paid to perform the role, but will be entitled to the reimbursement of associated costs, such as travel.

Anyone from the locations mentioned above who is interested in becoming a volunteer with the Independent Advisory Group can contact David Rams at British Transport Police via email at:- David.Rams@btp.pnn.police.uk.
An echo from the past... But did this painting inspire the Anthony Gormley's 'Another Place'?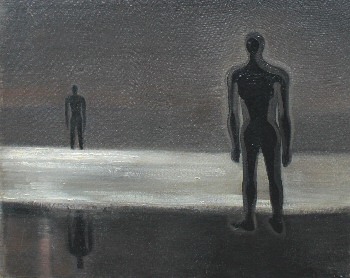 YOU would be forgiven for thinking this was an image of the iconic cast iron figures that pepper Crosby beach. But it was painted in 1960, almost 40 years before Anthony Gormley's 'Another Place' transformed this stretch of Sefton's coastline forever. This striking monochrome painting of a pair of figures facing the tide was in fact conceived by Wigan born artist, Theodore Major. It is called:- 'Watching Figures' and was part of his atom bomb series of works:- "a warning and comment on the foolishness and stupidity of modern man." Currently on display at The Atkinson, it has only been on public exhibition once before, in Sheffield in 1961. Could the young Gormley, who would have been 11, have seen it and taken inspiration? He was living in Dewsbury at the time, a mere 30 miles away. Major's daughter Mary doesn't think so:- "Both artists have been inspired in similar ways, many years apart." LS Lowry and Theodore Major - '2 Lancashire Painters' runs at The Atkinson, in Southport, until Sunday, 29 March 2015. So take a look at it and let us know what you think, by emailing us to:- news24@southportreporter.com.