Karen Potter Craven Minor JFL
Results Week Ending 8 March 2015
Under 11 Harry Cope Cup
Formby JSC White 7-2 Crosby Stuart
Formby Athletic 0-9 Redgate White
Under 11 Premier
Burscough 0-5 Trinity White
Under 11 Championship
Hesketh Colts 1-7 Redgate Yellow
S&A Blue 2-1 Formby JSC Black
Under 12 Premiership
Hesketh Colts 9-1 Formby Athletic
Formby JSC White 4-0 Trinity Blue
Under 12 Championship
S&B Yellow 1-8 Formby JSC Black
Southport FC Juniors 1-4 S&B Red
Mitch Red Warriors 0-6 S&A Amateurs
Under 13 Catherine Oldfield Cup
Southport FC Juniors 3-1 Formby JSC
Birkdale Black 6-1 Southport Trinity
Under 13
Hesketh Colts 2-3 Birkdale R
Redgate Rovers 6-2 S&A Amateurs
Under 14
Southport Trinity 1-3 Hesketh Colts
Birkdale Black 2-2 Southport FC Juniors
Formby JSC 4-2 S&A Amateurs
Under 15
Formby JSC 1-3 Southport Trinity
Redgate Rovers 0-3 The Hares
Under 16 Ken & Les Cup
Hesketh Colts 1-6 Southport FC Juniors
S&A Amateurs 0-7 Churchtown Athletic
Under 18 Gordon Hyde Price Cup
Myers 0-5 Burscough Green
Under 18 Premiership
Hudson Rangers 0-4 S&A Red
Under 18 Premiership
Birkdale Black 3-2 Hudson Celtic
S&A Blue 0-5 Redgate Yellow

Fixtures Week Ending 15 March 2015
Under 11 Premier
Southport FC Juniors v Maghull Youth
S&A Red v Formby JSC White
Trinity White v Burscough
Under 11 Championship
Trinity Blue v Redgate Yellow
S&A Blue v Crosby Stuart
Formby Athletic v Phoenix
Under 12 Joseph Jackson Cup
Phoenix v Formby JSC Rangers
Formby JSC White v Altown United
Under 12 Premiership
Birkdale United v Hesketh Colts
Under 12 Championship
Formby JSC Black v Mitch Red Warriors
Mitch Green v S&B Yellow
Redgaste Rovers v S&B Red
Under 13 Tom Galvin Cup
Birkdale Black v S&A Amateurs
Under 13
Birkdale S v Formby JSC
Birkdale R v Formby Athletic
Southport Trinity v Hesketh Colts
Under 14
North Sefton v Formby JSC
Redgate Rovers v Birkdale United
Southport Trinity v S&A Amateurs
Under 15
Birkdale United v The Hares
Southport Trinity v Churchtown Athletic
Under 16
Redgate Yellow v Jaguars Red
S&A Amateurs v Jaguars White
Formby JSC v Churchtown Athletic
Hesketh Colts v Southport FC Juniors
Under 18 Gordon Hyde-Price Cup
Redgate Rovers v AFC Liverpool
Under 18 Premiership
Myers v Town Green
Lydiate v S&A Red
Under 18 Championship
S&A Blue v Birkdale Black
Formby JSC Black v Southport Trinity
Hudson Celtic v Dynamo Rangers
Burscough Green v Redgate Yellow

Lancashire Living with Diabetes Day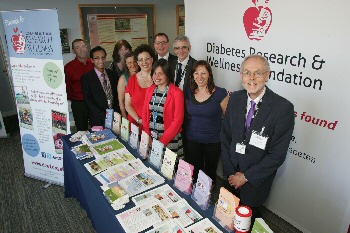 UCLAN organises 2nd annual event to bring wealth of diabetes information together in 1 place. People living with diabetes and those at risk of the disease are invited to a 2nd annual event at the University of Central Lancashire (UCLan) to learn more about coping with the condition and staying as healthy as possible.

Following the success of the inaugural Living with Diabetes Day last year, UCLan has again teamed up with the Diabetes Research and Wellness Foundation and specialist diabetes teams from Lancashire Care NHS Foundation Trust and Lancashire Teaching Hospitals NHS Foundation Trust to run the event again on Saturday, 21 March 2015.

Recent figures suggest that over 73,000 people in Lancashire were living with diabetes in 2012. It is estimated that this will rise to over 99,000 by 2030 if no changes are made.

The event is for people with both type 1 and type 2 diabetes, people at risk of developing the disease, carers or even people with a general interest in the condition, to allow them to meet healthcare professionals, exercise specialists and dieticians. Visitors can participate in interactive workshops, including how to prevent long term complications, glucose monitoring and amputation prevention.

Dr Swrajit Sarkar, UCLan associate lecturer in nutritional sciences, is organising the event. He said:- "This regional event will provide a unique opportunity for people in Lancashire to access a wealth of information and support under one roof. It will allow them to speak to visiting healthcare professionals from local specialist diabetes teams, researchers, academics and professionals in exercise, diet and nutrition. We recognise the benefits of sharing and discussing concerns and experiences with likeminded people and healthcare professionals outside of the surgery or clinic setting in a supportive, relaxed and informal environment."

Attendees can also take part in an exercise class at the end of the day, delivered by UCLan physiotherapy lecturer Colin Hayes, to learn some basic exercises that can be done at home.

Christine Elwell, Diabetes Dietitian and Diabetes Education Coordinator at Lancashire Care NHS Foundation Trust said:- "We're really pleased to be part of this important awareness raising event. As a Trust we look to support any opportunity for people to understand more about living with diabetes and developing skills that can promote health for themselves and their families. On the day we will be running a food education workshop as well as promoting the DESMOND courses that we run across Central Lancashire."

Lee Calladine, Educational Event Co-ordinator from Diabetes Research & Wellness Foundation, said:- "We are extremely pleased to be supporting and sponsoring the second Lancashire Living with Diabetes Day, and to be working collaboratively with Dr. Swrajit Sarker, UCLan and the specialist diabetes teams from across the North West. This unique event will bring together people living with both type 1 and type 2 diabetes, healthcare professionals, researchers and academics to create a day filled with helpful, informative and fun information about diabetes. We hope people attending leave feeling invigorated with new tools, skills and with an even greater understanding and enthusiasm of how to manage their diabetes so they can live life to the full."

The event on Saturday, 21 March 2015, will be held in Darwin Lecture Theatre 8.30am to 4.30pm. There is a £5.00 registration fee for the event which includes lunch and parking. All proceeds (less admin costs) will be donated to the Diabetes Research and Wellness Foundation.

To register for the event or for more information contact the Diabetes Research and Wellness Foundation on:- 023 92 636133 or events@drwf.org.uk.
Woodwards Wine Bar - Live Music News
IF you are looking for a place to go in March that has live music and a fantastic atmosphere, have you taken a look at Woodwards Wine Bar, located on Chapel Lane, in Formby Village? Woodwards is not part of a national chain and even though it is local, it has a fantastic reputation for getting high quality entertainment in. The venue regularly holds live music events, with musical styles that range from classic, pop, jazz and country, plus lots more. So keep an eye on what they have to offer, as they will more than likely have a fantastic act that will fit your musical tastes.
So what on offer for March 2015 at this local venue?
On Tuesday, 17 March 2015, (aka St. Patricks day) the venue will host the amazing:- ''Jack's Pack.'
On Friday, 20 March 2015 - Groove Bandits will take to the stage.
On Saturday, 21 March 2015, from 6pm:- 'Paul Beahan' will be performing.
On Tuesday, 24 March 2015, don't miss:- 'The Over the Hill Mob' who will also be performing at the venue.
Then on Thursday, 26 March 2015, it's the fantastic 'Open Mic with Some Other Guy'. To end the month off on a high note, the venue will host the Friday, 27 March 2015 is 'The Wickermen.'