The majority of parents in the North West are bailing their children out of debt
WITH the increase in rental prices and fewer jobs available to young people, more children are relying financially on their parents than ever before. A study by TopCashback.co.uk, has said that it reveals that the majority of parents in the North West admit to helping their children, 18 or over, out of debt in hard times. The site, who retailer pay commission to for your purchases and add it as cashback to your earnings, says that:- "more than ⅔ of parents still have their children, 18 or over, living at home without charging them rent to ease the financial strain on their kids." The research also reveals that more than ˝ of parents feel they weren't taught enough about money management by their own parents, which in turn has had a knock on effect on the way their own children manage their finances. More than a third of parents confessed they could have taught their children more about money management.

However, 64% of parents feel they've taught their children enough about managing their finances to become financially independent. 30% of parents say their children are 'savvy savers' and 14% even describe their kids as 'thrifty'.

When asked what they believe to be the most effective way of teaching children about money management, 58% of parents claim giving their children an allowance and making them budget their own spending has been the best approach. This compares to 29% of parents who've used household tasks such as grocery shopping to teach their children about money management.

Other key findings reveal that:-

► 58% of parents in the North West confess they would not trust their children with their personal credit card.

► More than half of parents believe that the best age to teach children about managing their finances is between 6 and 10.

► 55% of parents do not think their children know how to budget their finances effectively.
Witness appeal to anti-social behaviour at Bryn Station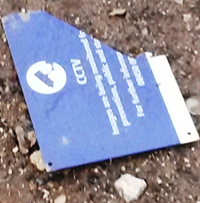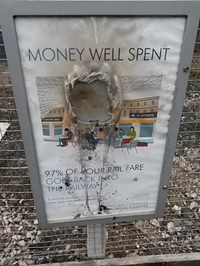 THE British Transport Police are appealing for help from the public after a recent spate of anti social behaviour resulted in damage to Bryn Station property. Bryn Station is situated on Liverpool to Wigan Line and is the nearest station to Ashton-In-Makerfield, within the Metropolitan Borough of Wigan,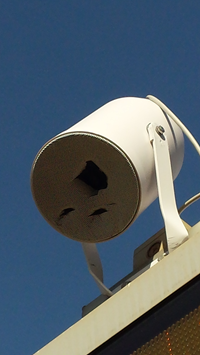 Greater Manchester. Investigating Officer PC Lee Owen said:- "Over a number of weeks this reckless behaviour has resulted in criminal damage at the station.The latest incident, on Thursday, 5 March 2015, occurred sometime between 7pm and midnight. This culminated in damage to station furniture and equipment following a recent refurbishment to platforms and overhead line equipment installation. This will not be tolerated and we are actively investigating the incident. Anyone who might have witnessed the damage should contact us immediately. Anyone with information is asked to contact British Transport Police on:- 0800 40 50 40, or text:- 61016, quoting reference:- PSUB/B11 of 11/03/15. Information can also be passed anonymously to independent charity Crimestoppers on:- 0800 555 111."
'We Stand Together' campaign has been launched
MERSEYSIDE Police are supporting the 'We Stand Together' campaign that has been launched to raise public awareness about the benefits of community cohesion and aims to highlight what different people have in common rather than their differences.

Merseyside has a long and proud tradition of celebrating diversity and campaigning for equality.

As part of the campaign a number of events have been organised to encourage communities to stand together and celebrate Merseyside Police's long and proud tradition of community cohesion and diversity.

Assistant Chief Constable Ian Pilling, said:- "These events, which are part of the national initiative, are aimed at helping to join people across the UK to celebrate diversity and demonstrate solidarity. The campaign will be making use of social media, under the hashtag #WeStandTogther, to encourage people to unite and make a positive contribution to community life in their area. Also, officers and staff will be working alongside a whole range of community groups including those that represent diverse communities to raise awareness of how to report hate crime."

There are a range of ways hate crime can be reported, including via an online reporting form. The site also provides links to organisations that can offer support and advice on hate crime related issues. The We Stand Together campaign offers opportunities for communities across the county to get involved and demonstrate their commitment to tacking hate crime.

To find out more about the events and about:- "We Stand Together" please go to the Merseyside Police website.

"If it's on show, it'll go" crime prevention car hits the road again
AS the Easter holidays approach, Merseyside Police's Crime Prevention Car will be hitting the road again from Thursday, 12 March 2015, as part of advice to drivers about keeping their valuables safe and to remind them 'if it's on show, it'll go!'. This is the 2nd phase of the successful pre-Christmas roadshows to give motorists help and crime prevention advice so they don't become victims of opportunist thieves. The car is a Hyundai which is full of crime prevention tips and visual reminders of dos and don'ts when people are parking and leaving their cars. The road shows will be taking place at 6 different locations across Merseyside over 5 days in March and officers are urging as many people as possible to come along and take a look.

► On Thursday, 12 March, it will be in Tesco Metro, Fouracre lane, St Helens.

► On Friday, 13 March, it will be located in Asda Bromborough.

► On Monday, 23 March, at Asda Broadway, Walton.

► On Monday, 23 March, it is heading to Asda Sefton Park, Smithdown Road, Sefton Park.

► On Wednesday, 25 March, the Car will be in Tesco, Hawthorne Road, Litherland.

► On Friday, 27 March, it fihishes its tour at Asda, Huyton Lane, Huyton.

Chief Inspector Dawn McNally, said:- "As the Weather starts to get warmer people are often more inclined to put their windows down and leave their cars insecure when they are out and about. Most thieves are opportunists and are always ready to take advantage when people have left their car window ajar or a door unlocked and there are valuables or items on display. These crimes can have a huge impact on victims, particularly when expensive or cherished items are stolen. Despite previous Police warnings, items such as:- mobile phones, wallets, handbags, laptops, cameras, odds and even loose change are regularly reported stolen from cars. We will also be encouraging members of the public visiting the road shows to register their valuables with:- Immobilise.com and mark them with ultraviolet pens. Police Officers and staff are able to search this database for property on a daily basis to more easily secure convictions for theft and return items to their owners swiftly. For details of road shows in your area please visit:- MerseysidePolice.UK/Vehicle-Crime or follow us on twitter @merseypolice."

Motorists are being offered the following advice:-

► Most vehicle crime is preventable. It can take as little as 10 seconds for a thief to steal something from your car. If at all possible, leave nothing on view.

► Never leave valuable items in your car, including sunglasses, the removable radio cover and your Sat Nav. Do you really need all those things you keep in the glove box?

► Wipe away the Sat Nav mark on your windscreen.

► Never leave your car keys where they can be seen from the front door.

► Always close the windows and sunroof; lock the doors and activate any security devices when leaving your car unattended.

► Park with care, particularly at night or if you are leaving the vehicle for a long time. If possible, park in a busy, well lit area.

► Never leave cash, credit cards, chequebook, mobile phones, vehicle documents or other valuables in the car.

► Never leave your keys in the car, even for a 2nd; treat them as you would your cash and credit cards.

► Try to avoid parking your vehicle in quiet side roads where offenders are able to act unobserved and ensure all doors and windows are secured when leaving the vehicle.

► Never leave goods, clothing or even empty carrier bags or containers in the vehicle.

► Take all your belongings with you, or if you can't, lock them in the boot. Mobile phones, Sat Navs and credit cards are often stolen from glove boxes

► Car owners should also be mindful of leaving their vehicle unattended, with the engine running, when defrosting their windscreens in the mornings during a cold snap. Not only is it an offence to leave their car unattended with the engine running on a road, it also voids insurance should it be stolen.
Warmth scheme ensures Southport residents don't get caught out by the cold
WHILE reports show that this winter has been one of the sunniest since records began, a warmth scheme that works across England and Wales, including Southport, has received more than 1,800 referrals this season from people in need of heating help. The nPower Health Through Warmth scheme works with a range of community organisations, charities and local authorities to assist vulnerable homeowners with the funding and installation or repair of crucial heating measures, such as boilers, in the home. Since being founded in 2000, more than 85,000 vulnerable residents across England and Wales have been referred to the scheme for assistance with heating and insulation. Elaine Midwinter, nPower Health Through Warmth scheme manager, comments:- "Warmth in the home is vital to wellbeing which is why it's important that residents in Southport whose health could be impacted by cold temperatures aren't caught out by faulty or inadequate heating systems. While Spring may just be around the corner, we encourage residents to ensure their heating systems are fighting fit to avoid being caught out by the UK's often unpredictable weather." Homeowners who have a long term illness, a low income with little or no savings and who are unable to fully fund heating measures in their homes may be able to benefit from the scheme. They do not have to be, or become an nPower customer to benefit. For more information about the scheme or to find out if you or someone you know could be eligible for help, visit:- HealthThroughWarmth.com.