MVT Open Weekend is set to be tons of fun at the Heatons Bridge Inn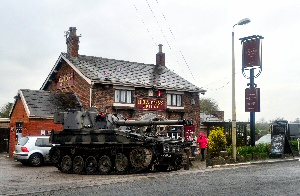 THE local Military Vehicle Trust members (MVT) will be holding another Military Vehicle open weekend at the Heatons Bridge Inn, Burscough, on 18 April to 19 April 2015. As usual, the public will be made to feel most welcome, plus there will again be no admission or other charges involved. The display will see a wide range of military vehicles on show covering most eras from WW2 onwards. The vehicles which will be attending range from Landrovers and Jeeps, through 4 ton trucks, armoured personnel carriers, right up to a Mighty Antar Tank transporter/trailer and Abbot Self Propelled Gun, if all goes to plan. Plus the group hopes to have back on show the mighty Howitzer field gun and Foden Gun crew-bus. They have become a regular part of the display over the last few years. Not only that, but the 25 pounder field gun rig, comprising the Morris Quad tractor unit, which tows an ammunition limber behind, and the field gun itself behind that! But if you have a military vehicle of your own, well MVT say that you will be welcome to:- "bring it and join us over the weekend, even if you are not members."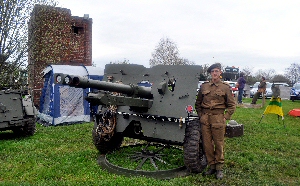 This is a fantastic display that is well worth a visit. But not only is the MTV the 'cranking-up' its activities for 2015, it should be noted that they are now holding these events twice a year, that the pub, along with more events throughout the year. its activities for 2015, it should be noted that they are now holding these events twice a year at the Inn. So do please pop in and support this local event. The Heatons Bridge Inn boasts a good range of real ales and food, all given names to reflect the military theme, so it's ideal to make a good weekend trip for the family. For more information about the MVT, please click on here now. Also if you want to travel in by train and not drive over, the nearest Station is Burscough Bridge, a main stop on the Manchester to Southport Line; that is just 0.1 miles to walk from the pub.
Pop in to see the 68th Southport National Open Exhibition
THE Southport Photographic Society are holding their 68th Southport National Open Exhibition from 14 March 2015. The opening ceremony will take place at Christ Church, Southport, at 11am, with the The Worshipful the Mayor of Sefton, Cllr Kevin E Cluskey, BA Hons opening the preceding. It will move then to the Wayfarers Arcade to 29 March 2015. Please pop over and take a look.
| | |
| --- | --- |
| | YOU CAN ORDER PHOTOS CLICK HERE TO FIND OUT HOW! |
| | |