'Striking' City Skyline, Wins Hospital Photography Competition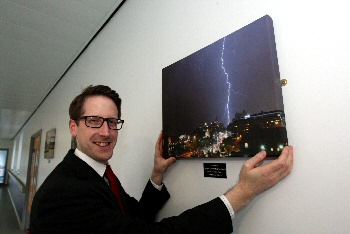 THE contest, which was open to patients, visitors, staff as well as members of the public, attracted scores of keen photographers from across the North West with 250 high quality entries submitted. Local photography enthusiast, Brian Fisher from Liverpool, took the remarkable winning shot of a night time lightning strike over the Pier Head.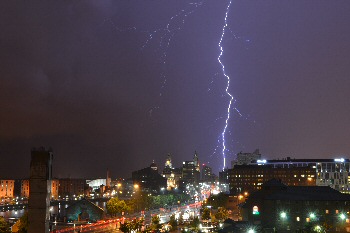 Commenting on the winning entry, 1 of the judges, Colin Lane, said:- "I was really impressed by the standard of entries, but the judging panel were unanimous in their choice of an overall winner. To capture such a dramatic image as a lightning bolt takes skill and patience, but to capture it above Liverpool's iconic skyline at night makes this a truly 'striking' photograph. I would have been delighted to have taken such a stunning photograph myself."

Mr Fisher, a keen amateur photographer who lives in Liverpool City Centre, told of his surprise at winning the competition. "I nearly missed the opportunity to take the winning photograph because I'd decided to go to bed early that night after a long week at work. But as I was gazing out of the window across the Mersey, I thought I caught sight of a tornado over on the Wirral. I rushed to get my camera and didn't manage to get any good shots, but by the time the thunderstorm started over Liverpool, I was wide awake and ready to capture it."

Brian added:- "I probably missed half of the lightning strikes fiddling with the camera and trying to learn how to capture lightning, but in the end my efforts were rewarded with this fantastic image. I'll certainly look forward to the next thunderstorm!"

50 shortlisted photographs, covering 4 categories:- nature, weather, buildings and a separate young person's category; were chosen by the judges and have been printed on canvas and put on display to positively enhance the hospital environment.

Other judges were:- Liverpool Heart and Chest Hospital's Chairman, Neil Large, Chief Executive, Jane Tomkinson, and Governor, Mike Brereton.

The three other best in category winners and competition runners up were:- Stephen Whittaker (Buildings), Alison Lomax (Nature) and Molly McPartland (Young Person's category).

To view a gallery of photographs from the competition, please visit:- LHCH.NHS.UK.
Parts stolen off a car in Southport!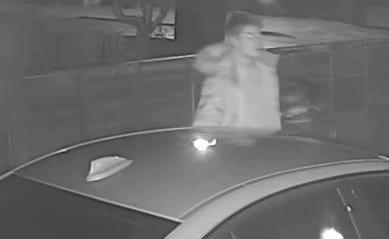 MERSEYSIDE Police have issued CCTV images of a man officers believe may have information after items were stolen from a car in Southport on Saturday, 27 December 2014. A BMW 320 car was parked on the driveway of a house on Dunbar Road in the early hours of the Saturday morning. Merseyside Police have told us that it happend around 3.20am, an offender is believed to have walked onto the drive and taken the plastic casing and covering from 1 of the electric wing mirrors before walking off again. No other damage was caused to the car. A report was made to the Police the following day and enquiries into the theft are continuing.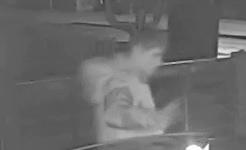 Detective Constable Paul Smith, Sefton CID, said:- "Incidents like this often go unreported, but we know they cause annoyance and upset for the victims and can also lead to unnecessary expense which many people really can't afford. I want to reassure people that we are determined to crackdown on all forms of crime in Sefton and are working hard to bring those responsible to justice. As part of our enquiries into this incident, we have issued CCTV of a man who we believe may have information which could be helpful to our investigation. I would appeal to him directly, or anyone or who recognises him, to get in touch with us as soon as possible."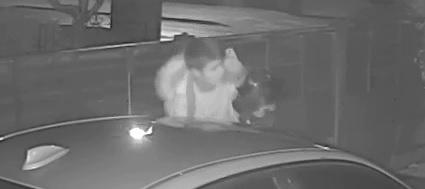 Anyone with information can call detectives in Sefton CID on:- 0151 777 3890, quoting reference:- 0514244701 or Crimestoppers, anonymously, on:- 0800 555 111.

England Learning Disability Squad has a new cricket captain!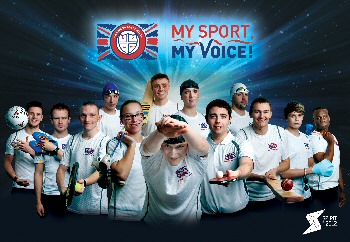 NEWLY appointed England Learning Disability squad cricket captain, Chris Edwards has spoken of his delight after being named an ambassador for a UK-wide campaign ahead of leading the team out for the 1st time in Australia. The 22 year old from Wallasey on the Wirral is 1 of 13 high performance athletes who have been selected as ambassadors for the UK Sports Association's project, My Sport, My Voice! The announcement comes as Edwards is about to about to captain England for the 1st in the Inas International Cricket Series against Australia; a 6 match series Down Under.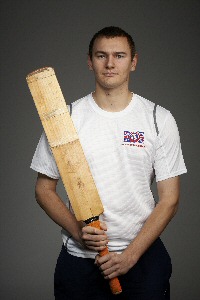 Edwards said:- "It's an honour to be selected as an ambassador for the My Sport, My Voice! campaign as this gives me a platform to promote Learning Disability Cricket and encourage other people with a learning disability to play the sport I love. The Inas International Cricket series is an exciting opportunity to not just play Australia in Australia, but to also look to beat them. This tour, like all tours is important to concentrate on just playing to the best of our ability. It is an honour to be able to play for England and travel the world playing cricket."

Thanks to funding from Spirit of 2012, a trust set up to sustain the spirit and opportunities from the London 2012 Games, My Sport, My Voice! is raising the profile of the UK's elite athletes with learning disability by providing a platform to showcase their sporting achievements and inspire others to succeed. The Athlete Ambassadors who are leading the project have all excelled in their chosen sport at the highest level and have been chosen from each country of the UK. As well as playing, Edwards coaches schools and clubs on the Wirral for Cheshire Cricket Board. Gareth Moorhouse, Marketing and Communications Manager of CCB paid tribute to Edwards. He said:- "It will come as no surprise to members of the Cheshire Cricket family that the inspirational Chris has been selected as a My Sport, My Voice! Ambassador. As England Learning Disability captain and a professional ECB Level 3 coach, Chris ignites a passion for cricket in everyone he meets. Chris is the perfect role model to support such a fantastic national initiative and we are enormously proud to call him both our colleague and our friend."

Tracey McCillen, Chief Executive at the UK Sports Association said:- "We are thrilled to be able to reveal Chris as one of our 13 Athlete Ambassadors. He is playing cricket at the highest level and has some incredible experiences to share, both in and out of the sporting arena. My Sport, My Voice! provides a platform for our Athlete Ambassadors to share those experiences, to inspire others and to raise the profile of athletes with learning disability. The athletes are at the very centre of the project and are looking forward to having their voices heard. We wish Chris and the team every success in Australia."

Debbie Lye, Chief Executive at Spirit of 2012 said:- "My Sport, My Voice! is all about creating a positive, lasting legacy from the London 2012 Games through challenging perceptions of disability through the efforts of some fantastic athletes. We are delighted to fund this project and many others which empower people to get out, be involved and feel better."

Ian Martin, Head of Disability Cricket at the England and Wales Cricket Board, added:- "I am delighted to hear the exciting news Chris has been selected as an Ambassador for the My Sport, My Voice! campaign. Chris is a wonderful leader, cricketer, sportsman and teammate and thoroughly deserve this honour. The boys are currently in Australia preparing for the Inas International series against Australia, starting next week, which is always a big challenge for an English Cricket Team taking on Australia on their home soil. The squad are looking good and have been working very hard in preparation for this tour, which will be a very important and exciting series for Chris who will lead the squad as Captain for the 1st time."
Inas International Cricket Series begins on Tuesday, 17 March 2015, in Melbourne, with the 1st of 2 Twenty20 matches before 4 1 Day Internationals. To find out more about My Sport, My, Voice! you can visit the project's website.
Letters to the Editor:- "More than just a Book Shop"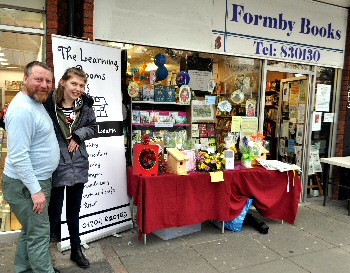 "As you know we are more than just a Book Shop, we are also a Community Interest Company, that offers support for many local artisans and small scale charitable concerns. Over the next few days we are allowing various artisans especially those from 'The Learning Rooms' to be able to sell their lovely handmade produce on the covered walkway just in front of our shop in Formby. They have made exquisite floral arrangements and cards and they are very affordable, the students all have moderate learning difficulties but this engagement with art and craft and retail really works, they are with us 11:00 to 3:00, on Friday, 12 March and Saturday, 13 March 2015. We also have hand weaved paper crafts and very clever candles... and yes books too! Plus on Friday, at 3pm, we welcome all the way from Australia, Graeme Simsion. His 'The Rosie Project' is a superb, funny, clever and different..." Tony. Beyond Books CIC, T/A Formby Books, Formby, L37 3PX.