School pupil's penguin tribute to World War One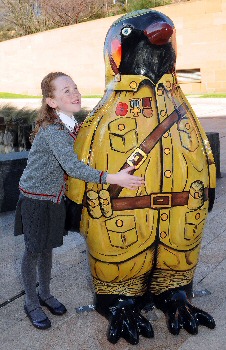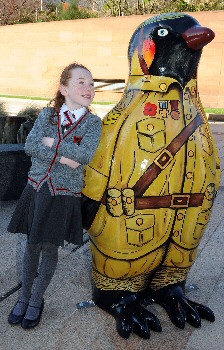 A new piece of public art dedicated to World War One has been unveiled at Liverpool ONE. The giant penguin was designed by Matilda Ashworth from Gateacre, who is a pupil at Woolton Primary School.

More than 70 children at the school put forward designs for the penguin, which was originally meant to be part of the Go Penguins Winter's Trail held in the city in 2009.

8 year old Matilda came up with the winning design, which features the penguin in uniform from the era painted with images from the battlefield and poppies.

It has gone on display on Thomas Steers Way, next to the Hilton Hotel in Liverpool ONE for five weeks before being moved to a permanent position next to the children's playground on Quarry Street in Woolton Village.

Councillor Mark Norris, Woolton ward councillor, who is also assistant cabinet member for education and children's services, said:- "When we came across the penguin we decided we had to find a way of turning it into a piece of public art. The pupils at the school really embraced the idea and Matilda's design is a wonderful tribute to the role the city played in World War One. It will be seen by thousands of shoppers at Liverpool ONE over the next few weeks before being moved to Woolton where it will be on permanent display."

Matilda said:- "I had the idea because at school we were learning about World War One as it is 100 years since it started. It looks better than I expected it to and I am really excited and happy!"

Chris Lee, Buildings Manager at Liverpool ONE, said:- "It is fantastic to see Matilda's design for the penguin in pride of place on Thomas Steers Way. We are delighted to host the penguin here at Liverpool ONE and are sure visitors will enjoy the design which honours the role of the city's soldiers during World War One so vividly."

The project has been part funded by Liverpool Mutual Homes (LMH).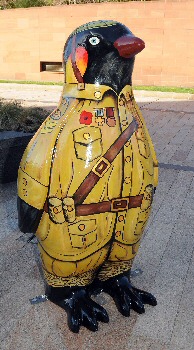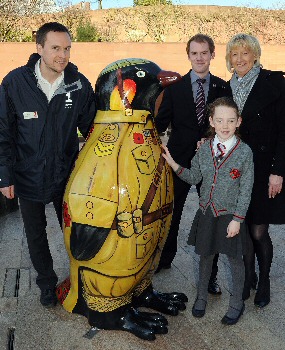 Cash Converters prepares for Mother's Day rush as Brits spend more on mum's than partners
MUMS across the North West are preparing to be spoilt this Mother's Day as people admit to spending more on their mum than they do on their lover on Valentine's Day. Also the research by Cash Converters has shown that showed that Brits spend 79% more on Mother's Day compared to Father's Day, with more men likely to buy a Mother's Day gift than a Valentine's Day present. David Patrick, chief executive at Cash Converters, commented:- "Mother's Day is always a popular time of year at Cash Converters, as we stock a huge range of potential gifts. We always used to see a rise in the sale of jewellery around Mother's Day, but more and more people are coming through our doors looking for alternative presents. Increasingly, customers are asking for tablets and smart phones to make the perfect gift, and these are very expensive if bought new." The increasing use of places like Cash Converters is extremely worrying as well. Cash Converters is the UK's number one retailer of buying and selling pre-owned goods and a financial services provider, with 224 stores in the UK and over 750 worldwide. The growth of this firm and others like it is a worrying. It shows the lack of cash within the economy.

Launch of Great Britain high street competition 2015
THE Government has launched the 2nd 'Great British High Street' competition giving Towns and Cities the opportunity to win a share of £50,000. High Streets Minister Penny Mordaunt called on communities across the country to enter the competition and celebrate their success in transforming Towns and Cities into great places to shop and socialise.

The 1st 'Great British High Street' competition last year saw 135 communities battle it out to be crowned the nation's best. Belper in Derbyshire emerged as the overall winner.

Penny Mordaunt said she wanted to see even more entries this year with communities for the first time having the chance to vote directly for their best loved high street. "High streets are a vital part of our economy supporting thousands of jobs in retail and leisure but they are also the heart of all communities providing a great place for friends and family to meet. There is so much amazing innovation happening on our high streets. We want to reward the great work that is being done to improve these crucial assets as well as showcase ideas which can be a springboard for others to try. The first competition last year was a tremendous success and I want this year to be even better."

The competition is designed to help revitalise high streets by promoting the great work that is being done and sharing good ideas across the country.

As well as the cash prize, winners will also receive dedicated support and mentoring from industry experts which could range from one to one coaching to advice on digital marketing.

The competition categories are:-

► Best city centre high street.

► Best town centre high street.

► Best market town high street.

► Best coastal community high street.

► Best village high street.

► Best parade of shops.

► Best London high street.

The nominations will come from throughout the UK and a shortlist will be announced in early August. Those shortlisted will be visited by the Future High Streets Forum judging panel made up of industry leaders from across retail, property and business. Residents will be able to vote online when shortlisted candidates are announced.

The Government is committed to reviving the country's high streets as part of its long term economic plan and is supporting local shops and businesses with a billion pound package of investment that includes targeted business rate discounts and sensible planning changes.

In addition, the Government last week gave the green light for the introduction of 10 minute parking grace period to make parking in Town Centres easier. The parking measures are a victory for drivers and 1 of a number of initiatives brought in by the government to give local shops a fairer deal.

Joanne Bamford, Belper Town Team and Great British High Street Competition Winner and Overall Champion said:- "Winning the Great British High Street has been a wonderful boost to the town, stimulating interest and encouraging new partners to work with us. Local residents are more aware of how special their town is and the publicity has encouraged visitors from neighbouring areas to make a trip to see what the town has to offer. On the back of the competition we have received enquiries from new retailers considering expanding into the town, prospective residents looking to relocate and looking for a town with a real identity to coach companies planning to visit the area. The award has provided us with a wonderful platform to promote our town and the innovative projects delivered by the partners. It has also generated a number of new ideas which we hope to implement to allow the town to continue to improve and build on the success. We would really encourage villages, town and high streets to get involved in the 2015 competition."

A renewed focus on our high streets has led to a revival in many areas across the UK with latest figures showing that year on year average weekly retail sales increased by 4.8% in January 2015. This was the 23rd consecutive month of retail sales growth and the longest period of sustained year on year growth since May 2008. Overall vacancy rates are now at their lowest level since 2010 and reoccupation rates for the high street are much higher, at 70%, than they are for shopping centres or retail parks.

Details of how to enter the competition can be found at:- TheGreatBritishHighStreet.Co.UK. The deadline for entries is Friday, 17 July 2015.
Further Information
The national competition is being run by the Future High Streets Forum. Last year's winners were:-

► City category – Norwich Lanes.
► Coastal category – Colwyn Bay, Wales.
► Market Town – Belper, Derbyshire (also chosen as overall high street champion).
► Local Centre – Barnoldswick, Lancashire.
► Village Category – Broxburn, West Lothian, Scotland.
► Town Centre – Wantage, Oxfordshire.
► London – Kingston.