Southport's new purrfect 5 star luxury hotel!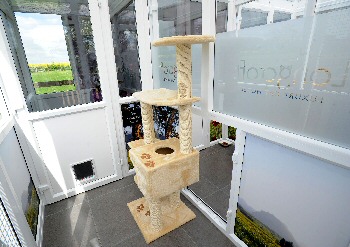 CAT owners in Southport will be delighted by the launch of an extraordinary new 5 star luxury hotel for cats. The Longcroft Luxury Cat Hotel, part of the multi award winning and trend setting Longcroft Group, will be run by Harvey Summers from the grounds of his beautiful home, situated in his peaceful and picturesque garden, surrounded by mature trees and with plenty of wildlife to keep the guests entertained. The hotel is custom built, offering 5 very spacious, individual hotel style suites, using only state of the art materials. The 5 star accommodation offers a thermostatically controlled bedroom, complete with a safe garden and play area. Each suite is sumptuously decorated and designed around the feline guest's well being and their owner's peace of mind. Every detail has been meticulously planned with guest welfare, hygiene and luxury in mind. From wrought iron designer cat beds with the softest pillows and gourmet 'A La Cat™' menu choices served on bone china, to music, personal grooming sessions and gorgeous views, the guests at this hotel are in for a treat. Feline guests will keep their owners' mind at rest with regular updates, photographs and texts whilst they are away.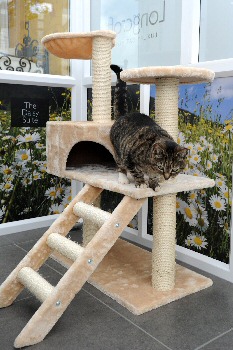 Harvey says:- "I am looking forward to offering customers a truly unique experience of looking after their cats and being able to hand them back stress free and happy. Spending time with cats is a great bonus for me, too. I enjoy pampering them and making them feel at home and relaxed, so that will be a real pleasure. It will be gratifying to grant cat owners the knowledge that they don't have to think twice about the care their pet will be receiving; it will be 2nd to none, and will al-low them to enjoy their trip to the full." It is the 8th hotel in the highly successful Longcroft Cat Hotel Group, which is the vision of Abi Purser, who opened the first hotel in 2010 in response to the poor standard of accommodation and care offered across the UK. Longcroft is the world's first five star cat hotel group.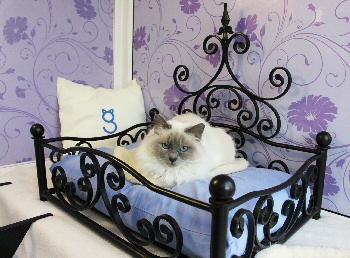 Asked what he is most looking forward to about running a Longcroft Luxury Cat Hotel, Harvey says:- "Offering the best care available to my guests. Seeing them relaxed and thriving whilst their owners are away is very rewarding. The response I have already received has been fantastic and I have bookings as far away as Christmas! I am proud to be part of the amazing Longcroft family." Leaving a much loved cat for whatever reason, because of a holiday or having renovation work done at home, can be really distressing. Harvey's aim is to put an owner's mind at rest that their pet is being incredibly well looked after whilst they are away.

Andrew Lloyd Webber's "Cats" to return to Blackpool!
London Palladium Company by Alessandro Pinna - © RUT 2015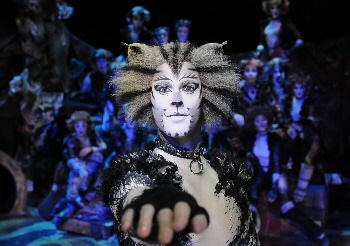 ANDREW Lloyd Webber's record breaking 2015 Olivier award nominated musical CATS is to return to Blackpool direct from its sell out season at the London Palladium in the West End.

The hit show will run at the Blackpool Opera House for a strictly limited 8 week run from 9 July 2015.

Adapted from TS Eliot's 'Old Possum's Book of Practical Cats', with an amazing musical score that includes the timeless "Memory", spectacular set designs, stunning costumes and breath taking choreography, Cats is a magical musical like no other.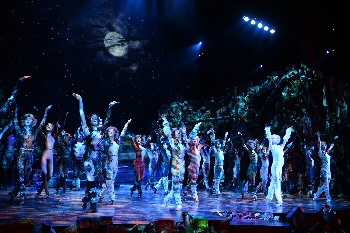 On just 1 special night of the year, all Jellicle cats meet at the Jellicle Ball where Old Deuteronomy, their wise and benevolent leader, makes the Jellicle choice and announces which of them will go up to The Heaviside Layer and be reborn into a whole new Jellicle life.

CATS has a successful history in Blackpool. It 1st came to the Opera House in 1989 for an unprecedented 6 month run. It then returned to wow audiences in 2003 as part of a national tour.

Councillor Graham Cain, Blackpool Council's Cabinet Member for Tourism and Leisure, said:- "I am thrilled to be welcoming Cats back to Blackpool. It has enjoyed huge success in the West End with a sell out run at the London Palladium so for Blackpool now to be the chosen location as the show leaves the capital is great. The Opera House is the only North West theatre and indeed, the only place north of London where people will be able to see Cats in the UK this year so we are delighted. It is also great for Blackpool that we are attracting such huge shows. Last year we enjoyed fantastic success with the 12 week run of Mamma Mia! so to be able to boast yet another amazing show for the Summer Season is an absolute delight."

1 of the longest running shows in West End and Broadway history, Cats has been seen by more than 73 million people and enchanted audiences in more 300 Cities around the world, now you too have the chance to experience this legendary musical phenomenon.

Managing Director of the Winter Gardens Michael Williams said the addition of Cats to the Opera House's already packed 2015 schedule is the icing on the cake.

Michael said:- "The Blackpool Opera House has a great history with Cats so we are thrilled to be welcoming the show back. The success of the show in London in the past year proves that there is always room to see such hugely successful shows return and we look forward to welcoming both long standing Cats fans and new ones. We have an amazing year lined up at the Opera House. We currently have the tour of Jesus Christ Superstar, this will be followed by Lord of the Dance and only a couple of weeks ago we announced the World Premiere of Last Night A DJ Saved My Life starring David Hasselhoff. To now be able to add Cats to that mix for our Summer Season is great for the venue and Blackpool."

Cats is directed by Trevor Nunn, with Gillian Lynne as Associate Director and Choreographer and designs by John Napier. Book is by T. S. Eliot with music by Andrew Lloyd Webber.

This 2015 Blackpool season of the Cameron Mackintosh and Really Useful Theatre production of Cats is presented by David Ian Productions.

Cats will be at Blackpool Opera House from Thursday, 9 July 2015 to Sunday, 6 September 2015.

Tickets priced from £20 go on sale at 10am on Friday, 13 March 2015 and are available online.

Show Times:- Opening Night, Friday, 10 July 2015 to Sunday, 6 September 2015, Tuesday to Sunday evenings at:- 7.30pm, Wednesday and Saturday matinees at:- 2.30pm. There will be NO performances 4 August to 9 August 2015.