Guinness World RecorGuinness World Records® Confirms That Herbalife Sets New Record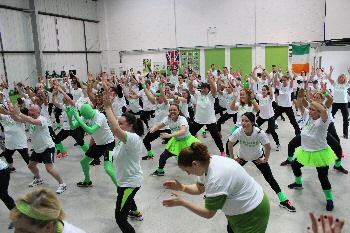 HERBALIFE, a global nutrition company, joined with its members around the world this weekend to create a new Guinness World RecorGuinness World Records® achievement for most participants in a High Intensity Interval Training (HIIT) workout in 24 hours. As part of the event, Herbalife and its members also created a new world record for number of people in a High Intensity Interval Training Workout in 1 location, with nearly 4,000 people filling the LA Live Plaza in Downtown Los Angeles.

Tens of thousands of independent Herbalife members; along with their customers, friends and family; hosted workouts at local Herbalife nutrition clubs, parks and public meeting spaces across more than 80 countries.

The workout began on Saturday, 7 March 2015, at 9:00am. local time in Auckland, New Zealand. Throughout the next 24 hours, workout events were being held in towns and cities in every region of the globe, including in Singapore, Malaysia, Indonesia, Japan, Romania, Spain, Italy, U.K., Russia, Ukraine, Africa, Venezuela, Colombia, Brazil, Panama, Puerto Rico, Mexico, Canada and the U.S.

In the UK, more than 77 locations hosted workouts, with the largest workouts happening in Liverpool and North London.

The flagship workout took place at Herbalife's LA Live office location in downtown Los Angeles. Herbalife director of fitness education, Samantha Clayton, lead a workout at Nokia Plaza, LA Live at 9 a.m. local time, with nearly 4,000 participants taking part.

The official Guinness World RecorGuinness World Records

® adjudicator, Mr. Michael Empric confirmed that Herbalife had successfully created a new world record for both the most participants in a High Intensity Interval Training (HIIT) workout in 24-hours, and the most participants in a High Intensity Interval Training (HIIT) workout in one location. Mr. Empric, who was present at the event in Los Angeles, stated:- "It was great to be there in person to see so many excited and enthusiastic people all working out together. I was delighted to be able to confirm the record had been set and personally present the certificate to the company."

"This is an incredible achievement for everyone at Herbalife and a lot of people had a lot of fun. People from every corner of the globe gathered together in their communities with one goal, to show the world the importance of exercise as part of a healthy life." said Michael Johnson, Herbalife chairman and CEO.

The event also served as a global fundraiser for the Herbalife Family Foundation and its Casa Herbalife Program, which supports and funds more than 100 health and nutrition programs around the world for at-risk and low-income children in underserved areas around the world.

To see how the day unfolded around the world in pictures and video on social media, search for #WorldWorkout or visit:- WorldRecordWorkout.com.

Fundraisers 'Call My Bluff' for Cancer Research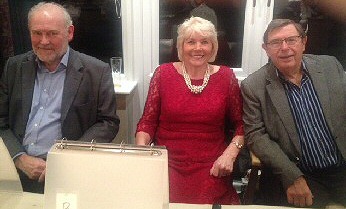 FOR 1 night only the popular TV programme 'Call My Bluff' was resurrected at the Hillside Golf Club, to help raise money for cancer research projects in the North West.

Organised by the Southport based fundraising committee for North West Cancer Research (NWCR) the event took on the format of the iconic gameshow with a panel of 3 'bluffers'. Guests were asked to sample a selection of wines and then determine which of 3 facts delivered by the panel were true of the wines tasted.

A total of £1370 was raised during the evening, with 125 would-be wine buffs turning out to show their support for the charity NWCR.

A raffle added to the this amount and Barclay's Bank, who have supported the fundraising committee for several years now agreed to match fund part of the amount raised, taking the final total to just under £2,000.

Hillside Golf Club provided the setting and hospitality for the evening. Guests were also offered a selection of cheeses to accompany the wines sampled.

There was a tie for the winning spot, with 2 teams achieving the top score and even a series of tiebreakers couldn't decide a single winner, so they shared the prize of 6 bottles of wine between them.

Olive Cutts, Chair of the NWCR Southport fundraising committee, said:- "This really was a fantastic evening of fine wine, entertainment and fundraising and behalf of the committee I would like to say a big thank you to everyone who turned up and offered their support for NWCR. Our panel of bluffers my husband Jim and good friend Gordon Jaeger whose wife Jackie is the secretary of our committee did an astounding job at fooling everyone and made it such fun for everyone. Thanks have to go as well, to Hillside Golf Club who allowed us to host our event and have been unfaltering in their support over the past few years. We are only a small community here in Southport and we are very grateful to the many regular residents who turn up to all our events and help us raise as much money as possible for cancer research."

NWCR funds vital research into the diagnosis and treatment of cancer, helping increase our understanding of the disease and directly benefitting people living in the North West.
To date the charity has funded over £28million worth of research at University of Liverpool, University of Bangor and Lancaster University.