Fishing Industry Takes To Twitter To Celebrate The Diversity and Sustainability Of The UK Fleet
TV chef, food columnist and Great British Bake Off Winner John Whaite, is backing a Twitter campaign urging consumers to embrace the breadth and variety of sustainable fish available over the counter and caught by the UK fishing fleet.

The campaign dubbed #CatchOfTheDay is being run by the National Federation of Fishermen's Organisations (NFFO), the body which represents fishermen's groups, individual fishermen and producer organisations in England, Wales and Northern Island, to champion the diversity of the UK fishing fleet and encourage consumers to be more adventurous with their choice of fish, trying species outside of the 'seafood staples' of cod, haddock and salmon.

The campaign is calling for the fishing industry, chefs, producers and fish lovers in the UK to share their 'Catch Of The Day' photos on Twitter from 16-20 March with the hashtag #CatchOfTheDay.

This initiative is being launched as part of the NFFO's ongoing efforts to raise awareness of the growing variety of sustainable species in UK waters and the important strides which have been made by the industry, particularly in the last 10 years, to improve gear and catch methods to in turn, boost stock levels. According to the latest ICES (International Council for the Exploration of the Sea) statistics, there has been a 50% reduction in fishing pressure across all commercial stocks in the North Atlantic since 2000.

In 2013, 624,000 tonnes of fish were landed in the UK, generating a £718m economic contribution from the industry. 52% of people in the UK eat seafood at least once a week, though 62% rarely strayed away from trying alternative species, due to not knowing how to prepare it and not liking the look of it.
As a result of the findings, celebrity chef and food columnist John Whaite has worked with the NFFO to create a series of recipe cards to encourage consumers to consider cooking with sustainable species of fish, proving they are just as versatile as the 'seafood staples', whilst supporting the work of UK fishermen. Consumers are then being urged to try John's recipes and tweet photos of their finished dishes with the hashtag #CatchOfTheDay. John said:- "There is a huge variety of fish available from UK waters and it's such a shame that people don't embrace this more. Cooking with different kinds of fish brings variety to our diets and also introduces us to new tastes and dishes. As an ingredient, fish is incredibly versatile and there is nearly always a sustainable alternative to any species. #CatchOfTheDay is all about celebrating the hard work of the UK fishing industry and celebrating the incredible range of species available from our waters. I really hope people will be inspired by the recipes I've created and will try some different kinds of fish!"

Tony Delahunty, Chairman of the NFFO said:- "The idea behind #CatchofTheDay is to give individuals the opportunity to recognise the fishing industry and its contribution to UK life through one simple tweet. We hope it will be a fun way of getting across a serious message not only about the importance of the industry in providing a healthy, sustainable food source to a growing population, but also its inherent commitment to ensuring its future through sustainable methods."

To get involved in #CatchofTheDay, tweet your photos with the hashtag during the week 16 March to 20 March 2015. Visit the NFFO website for further information:- nffo.org.uk.
Illegal filling station shut down in Lancashire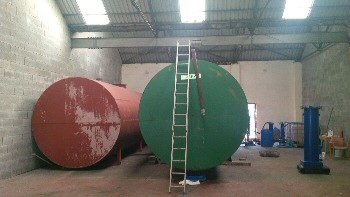 A diesel laundering plant and illegal filling station, capable of evading £14.5 million in duty a year, have been dismantled by HM Revenue and Customs (HMRC) in the Darwen area of Lancashire. HMRC officers, accompanied by Lancashire Constabulary, searched commercial premises and discovered the laundering plant on 10 March 2015. It is suspected up to 26 million litres of fuel per annum could be laundered to remove government markers, with the diesel then sold on to unsuspecting motorists as legitimate road fuel. Pat Curtis, National Oils Co-ordinator, HMRC, said:- "Fuel laundering is a dangerous activity. We believe that fuel was stored, laundered and sold from this property without any safety precautions, endangering motorists buying fuel there. You may think buying illicit fuel is a bargain, but you have no idea what you're getting, and you can be sure that you are lining the pockets of criminals. Each year £480 million is lost to fuel fraud in the UK, money that should be funding public services. We ask anyone with information about this type of activity to contact us on the Customs' Hotline on 0800 59 5000."

2 mixing tanks; each with a 71,000 litre capacity, 12,000 litres of suspected laundered fuel, a fork lift truck and other equipment were seized during the operation. Investigations are continuing. Detective Sergeant Tim Brown from Lancashire Police said:- "This joint investigation demonstrates how we work together with partner agencies such as HMRC to disrupt and dismantle criminal activity on this scale. Let me be clear, the laundering of red diesel is illegal and this type of activity can go further with those involved often being linked to other organised criminality. We will target those involved and need the public to work with us and ask them to report anything suspicious to us."

Over 17,000 troubled families turned around in North West
THE Communities Secretary has hailed the life changing impact of the Government's Troubled Families programme, which has now turned around more than 105,000 of the hardest to help households in England, including over 17,000 in the North West.

Eric Pickles told MPs that 105,671 complex families had benefited from the support provided by local authority teams by February, putting the programme firmly on track to achieve the Prime Minister's goal of turning around 120,000 by the end of the parliament.

As well as getting children back into school, putting adults in employment or on a path back to work and cutting youth crime and anti-social behaviour across the whole household, the new figures showed that the programme had already saved taxpayers an estimated £1.2 billion, from a maximum government investment of £448 million.

The average gross cost saving to the taxpayer per troubled family was £12,000, more than twice the average cost of the programme's intervention at £5,493, according to a new report which studied costs and benefits across seven areas. In Manchester, for every £1 invested in the programme, £2.20 in gross benefits have been realised.

Pickles praised the role of councils in the programme, who have now had payments-by-results made for over 90 % of the families the Prime Minister pledged to turn around. He also made clear that the success of those in the programme; who have an average of 9 serious problems each including debt, drugs and domestic violence; showed that no one was beyond help.

Communities Secretary Eric Pickles said:- "The Troubled Families programme has been a triumph and I am proud that we will deliver the Prime Minister's ambition to turn around the lives 120,000 of this country's hardest to help families. It has worked because it has been bold and unafraid of getting tough with those who need it most. It has also provided a long term solution by tackling the root causes of the very complex problems these families face. This innovative approach has not only saved the taxpayer over a billion pounds but had life changing results for the families involved by giving them a hand up when they needed it most."

Chief Secretary to the Treasury Danny Alexander said:- "The success of the Troubled Families programme in turning around the lives of more than 105,000 families so far while saving taxpayers an estimated £1.2 billion in the process is proof that we can do more with less. It shows that by working together at local level, public services can deliver better results for the most vulnerable people. That's why we've already expanded it into the next Spending Review period, and I look forward to seeing the principles underpinning this life-changing programme extended across public services to help more people with multiple and complex needs."

Head of the Troubled Families programme Louise Casey CB said:- "Behind these figures are real people in every part of the country whose lives have changed for the better. Families with nine serious problems each were never going to be easy to turn around, so all credit to the councils and other services who have committed to this programme, the many hundreds of frontline staff who have given their all to these families and most of all to the families who have had the courage to change and given themselves and their children a better chance in life than they had before."
Fact file:-

Further information:- The Troubled Families programme applies to England only. Local authorities are paid up to £4,000 on a payment by results basis for turning around troubled families. The government's £448 million 3 year budget for 2012 to 2015 is drawn from 6 Whitehall departments who all stand to benefit from the public sector working more effectively with troubled families.

Troubled families are defined as those who:-
► Are involved in youth crime or anti-social behaviour.

► Have children who are excluded from school or regularly truanting.

► Have an adult on out of work benefits.

► Cost the public sector large sums in responding to their problems.
'Turned around' means that:-
► All children have been back in school for a year when they were previously truant or excluded.

► And youth crime and anti-social behaviour has been significantly cut across the whole family.

► or an adult in the home has moved off benefits and into work for three consecutive months or more.

The figures from local authorities on progress within the Government's Troubled Families programme [attached] have been collated from the latest quarterly returns submitted to DCLG's Troubled Families team from all 152 upper tier local authorities in England in February 2015. These do not constitute official statistics.

There are 117,910 families targeted under the government's Troubled Families programme. For rounding purposes, however, the target is usually referred to as 120,000.

The Benefits of the Troubled Families Programme to the Taxpayer report gives detailed examples of savings that have been made and costs that have been avoided for many parts of public services in 7 'exemplar' local authority areas as part of the Troubled Families programme.

The Understanding Troubled Families report showed that families within the programme have an average of nine different serious problems including health and mental health, domestic violence and debt.

At the Spending Round 2013 it was announced that the Troubled Families programme would be expanded to work with up to 400,000 more families from 2015 onwards.