Children's TV presenter leads choir harmonising for shoppers at Pyramids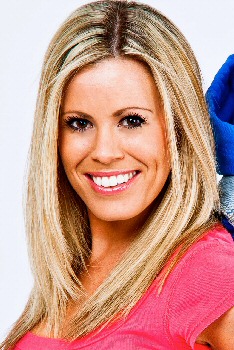 A PEOPLE'S choir led by a children's TV presenter and singer who once sang backing vocals for Westlife is bringing its golden harmonies to a Birkenhead Shopping Centre. Heswall actress, presenter and performer Emma Nowell, who supported the Irish musical icons during her time as a professional backing singer which saw her also rub shoulders with stars such as Kylie Minogue, Jennifer Lopez and Robbie Williams, formed the PopVox Choir a few years back with the aim of putting a smile on people's faces. The fun and friendly musical outfit has since thrilled audiences at a host of venues across the Wirral, Liverpool and North Wales and is set to perform at Pyramids Shopping Centre on Saturday, 14 March 2015 to help people get in the mood for Mother's Day.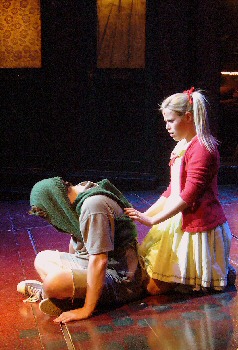 Since graduating from The Liverpool Institute for Performing Arts with a 1st Class BA (hons) in Acting, 31 year old Emma has had a star studded show business career during which she has also worked with big names like former Dr Who Colin Baker and Sean Williamson from EastEnders. Best known for being one of the regular presenters on the pre-school television programme Hi-5, which is screened every day on the Cartoonito channel and has been seen on ITV 1 and ITV 4, Emma also has theatre and film appearances on her long lift of professional credits.

Explaining why she decided to strike a new chord by starting the PopVox Choir she said:- "I really enjoy leading the PopVox Choir, which I formed 4 years ago. The idea for it came to me when I decided to use my professional experience and love of music to create a contemporary fun and friendly choir for adults. Singing is fantastic in so many ways. It boosts health, self confidence and makes you feel great. Through the power of song everyone leaves PopVox with a smile on their face. We have about 60 members in the choir whose ages range from mid-20's to their 60's and although most of them are ladies at the moment I am anxious to recruit more men. Our members come from a variety of backgrounds but lots of them are teachers or nurses. We meet every Monday evening from 7.30pm at Heswall British Legion Club in Pensby Road and work towards various live appearances. Most recently we have performed at The Floral Pavilion in New Brighton, the Secret Gardens of Oxton, the Liverpool Marathon, Port Sunlight Summer Extravaganza, the Erddig stately home in North Wales and St George's Hall in Liverpool. There are no auditions and no termly fees so whether you find yourself singing into your hairbrush, belting along to your favourite songs, or have previous musical experience PopVox caters for all abilities and levels. Singing has been proven to be extremely good for your health and there are many benefits of being part of a choir." ...continued...

...continued... Shortly after graduating from college, an early career highlight came for Emma when she played Linda in the smash-hit musical Blood Brothers, both in the West End and on the UK tour, taking the stage with singer and actress Linda Nolan.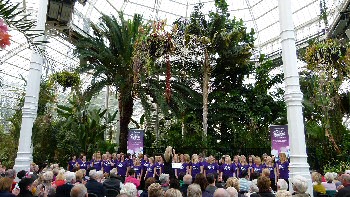 She then went on to gain roles in feature films, including Stacey in Rollin with the Nines and Suzy in Rise of a Footsoldier, both directed by the BAFTA-nominated Julian Gilbey.

As a singer, Emma has been a backing vocalist for various music industry artists, performing on Top of the Pops and The Eurovision Song Contest. She recalled:- "During my career I've been lucky enough to work with or meet some really big show business names such as Kylie Minogue, Jennifer Lopez and Robbie Williams. I met most of them during my time as a backing singer at various awards nights like the 2004 Top of the Pops at the MEN Arena in Manchester where I backed Westlife as they performed their hit song Queen of My Heart. In 2003 I was a backing singer for the Liverpool group Jemini at the Eurovision song contest in Latvia. Each Christmas I like to appear in local pantomimes. Over the past few years I've worked alongside stars such as Sean Williamson, who played Barry in EastEnders, Colin Baker of Dr Who fame and Ruth Madoc from comedy show Hi De Hi."

After finding fame as presenter of the children's TV show Hi-5, Emma went on to travel the world starring in the spin off theatre production Hi-5 Surprise at venues including the Parade Theatre Sydney, London's Hammersmith Apollo and for the Royal Family at their palace in Abu Dhabi.

She has continued to work in children's television and has filmed King Ding for Tomorrow's Child, hosted her own weekly show on Fun Kids Radio and co-hosted with CBeebies presenters at the Lollibop Festival in London's Regents Park.

Her latest project is to co-write and record an album of pop music for pre-school children called a Song a Day with her fellow Hi-5 presenter Luke Roberts.

Alongside professional credits Emma also runs the choir and vocal coaching at a number of Merseyside schools and also provides private one-to-one singing tuition on the Wirral. Emma added:- "We're all really looking forward to singing for the shoppers at Pyramids, especially as will be the day before Mother's Day and we'd love to give some mums a special treat. We'll be doing 2 performances, at 1pm and 2pm, and both sets will include a good mixture of pop songs."

Jan Dowd, 48, joined the choir after seeing them perform at a pub restaurant in her home town of West Kirby just over 3 years ago. She said:- "I was there having lunch when they came in and decided that was what I wanted to do, so I took one of their leaflets and later joined."

Jan, who works for a recruitment consultancy, added:- "Although I'd sung in school choirs when I was younger this is my first pop choir and I'm really enjoying it. I've had lots of fun and met some fabulous friends and when you go along to rehearsals you come away feeling ten times better than when you went in. I'm really looking forward to singing for the shoppers at Pyramids."

Derek Millar, Commercial Director for Pyramids Shopping Centre, said:- "We pride ourselves on bringing a varied programme of entertainment to the Pyramids to complement the centre's fantastic mix of shopping opportunities. The PopVox Choir, led by its very talented founder, is a brilliantly entertaining local group which is fast gaining a reputation across a wide area for musical excellence and we are delighted to have them performing for our customers."
For more details about the choir go to:- PopvoxChoir.co.uk.
For more information about Pyramids Shopping Centre events go to PyramidsBirkenhead.com or go onto the centre's Facebook page or Twitter account @PyramidsSC to find out more.