Paddle Steamer Waverley sailings from Liverpool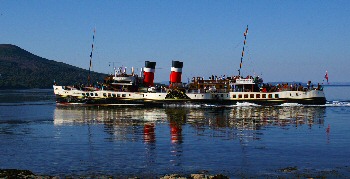 BOOKINGS are now being taken for cruises aboard the famous Paddle Steamer Waverley for her sailings from Liverpool for 2 days only in 2015.

The paddle steamer's 1st visit to Liverpool was in 1977, her 1st ever public sailings outside her home waters of the Clyde, to mark the Centenary of the opening of Llandudno Pier.

2015 marks the 40th year that Waverley has sailed in preservation. Sold by Caledonian MacBrayne for £1, Waverley has been operated by a charity since 1975, and preserved as a heritage asset for the benefit of the communities around the UK, creating an economic impact and connecting communities. Incredibly, she has had a longer career in preservation than she had as a commercial enterprise!

Waverley is now the world's last sea going Paddle Steamer, will sail from Liverpool on 1 September 2015 and 2 September 2015.

On Tuesday, 1 September 2015, the Waverley will retrace the route of the original paddle steamers, steaming down the Mersey and along the North Wales Coast, past Colwyn Bay. You can spend the afternoon ashore in the Victorian Town of Llandudno or stay onboard to cruise along the spectacular Angelsey coast.

On Wednesday, 2 September 2015, you can visit Llandudno or stay onboard and cruise round the Northern Coast of Anglesey to Holyhead, enjoying spectacular views of the Great Orme before cruising round Puffin Island to the vast sandy stretches of Red Wharf Bay.

Andy O'Brian, Waverley's Captain said:- "We are very much looking forward to bringing Waverley to Liverpool once again. We are grateful for the continued support of the Cruise Terminal and Mersey Docks and Harbour Company to allow Waverley to return to Liverpool and look forward to welcoming residents of Liverpool and beyond, onboard Waverley."

Waverley has excellent onboard facilities including a restaurant serving hot and cold snacks, 2 bars, heated lounges and a souvenir shop.

Tickets for the cruises start at:- £33 for adults, there are concessions for senior citizens, children under 18 are ½ fare and under 5's travel free. For more information and to book online visit:- WaverleyExcursions.Co.UK. You can also book by calling Waverley's office on:- 0845 130 4647.

Quick Fact File:-

► Waverley is the last sea going paddle steamer in the world.
► Waverley is operated on a charitable basis by Waverley Steam Navigation Co. Ltd.
► Waverley was built on the River Clyde in 1947.
► A major restoration project returned the ship to her original 1940's style.
► An independent study found that Waverley contributes over £3m to the Scottish economy.
► Waverley has sailed in preservation for 40 years.
► Waverley was nominated by the Sunday Times as one of the Top 3 Nostalgic Journeys in the World.
► Waverley has a Scottish Tourist Board 4 star tour accreditation.
► Originally built to sail only between Craigendoran and Arrochar in Scotland, Waverley now sails right around Britain offering regular trips on the Clyde, the Thames, South Coast of England and the Bristol Channel.
► She carries around 130,000 passengers annually.

A Canadian, An Opera Singer and a Cockney walk into a Comedy Club...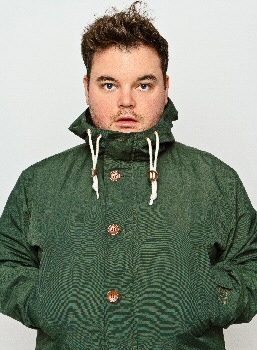 PETER White is now a comedy veteran, but shot to fame in his native Canada after he was named 1 of the Top 5 "up and coming" comics after performing for less than a year! He's gone on to be a bonafide international headliner and comedy star with his own hour long TV special on Canada's CTV. With a string of award nominations and appearances at the prestigious Just For Laugh's international comedy festival in Montreal, we feel blessed that we've been able to bring one of the worlds top acts to you in Grimsby.

Lloyd Griffith is surely the only comedian in the country who's a tremendously funny comic plus ex-footballer and ex-opera singer; true! Lloyd is widely regarded as as one of the most natural, brightest and original comedians on the circuit and his act has indefinable wow factor. He's also becoming a TV regular with appearances on BBC3's Sweat The Small Stuff, BBC Radio 1s Live Lounge Comedy. In short, you'll never see another act quite like this again so never was the cliché 'too good to be missed' more true.

Paul Ricketts is an award winning comic and has an air of likeable edginess about him with an indefinable air of rock n' roll. Since 2005 this lovable cockney he's been entertaining audiences across the UK and beyond with his own mix of sharp observations about life with cultural and satirical subjects intermingled with strange tales of ordinary madness. Sometimes silly, serious or surreal, sometimes autobiographical, political or near the knuckle; but always hilarious!

Your MC for all the above is Southport born Damion Larkin, 1 of Britain's most promising comedy talents, renowned for being a spontaneous and lovable host.

All line ups above are subject to change, but don't worry, as they will only replace them with someone just as funny, for the latest show by:- "Laugh Out Loud Comedy Club", at the Atkinson, Southport! Doors open at 7.30pm and ther show starts from:- 8pm. Tickets are:- £12.50 in advance, £15 on the door, plus you can also get a Season Ticket for just £40 that cover you for 4 shows! Call on:- 01704 533 333 or go to:- TheAtkinson.Co.UK for more booking information and also to read more about the Laugh Out Loud Comedy Clubs.

The Laugh Out Loud Comedy Clubs have now developed a very successful track record of bringing the best of the best comedy acts on the current club scene and breaking new talent on the cusp of stardom, so you will not be disappointed with this latest cast... Previous they have had:- Jason Manford, John Bishop, and Sarah Millican to Southport!

Each night they run will have 4 comedians:- 3 side splittingly funny acts and a Compere. Wherever possible there'll be comedians off the telly from such shows as BBC2's 'Mock The Week', 'Shooting Stars', Channel 4's '8 Out of 10 Cats', BBC1's 'Michael McIntyre's Comedy Roadshow', 'Have I Got News For You', 'QI', and 'Paramount's Live at The Comedy Store.'