Get your LightNight Liverpool events programme on here and on the event's official site
ARE you ready for 100 events across Liverpool City Centre on just 1 night? LightNight, Liverpool's a 1 night Arts Festival, that returns again to illuminate the City for a 6th consecutive year. The event takes place on Friday, 15 May 2015, from 4pm to late, when thousands of visitors will explore and celebrate the City's world class cultural offer late into the night.

On Monday, 30 March 2015, the full events line up has been released online and on here, plus so has a printed festival guide, which is available to order by post, or from participating venues in the lead up to the festival.

Using the theme Looking to the New World, over 100 organisations are joining forces to offer special free events for all ages from mass dance workshops, exhibitions and walking tours, to light installations, science demos, dress up photo booths and concerts.

For the 1st time a festival hub will be setup at:- LJMU Rodney House on Mount Pleasant where audiences can go to pick up the programme, learn more about the events and purchase tote bags and badges to support the festival.

As well as openings at major venues including:- Tate Liverpool, Liverpool Cathedral and St George's Hall, many independent galleries and spaces will also open up to the public, including one-off open studios at 104 Duke Street, Fünf Studio and Road Studios. Liverpool Small Cinema will be open with screenings of short films (60 seconds or less) to show off the new space and The Well (a new non-profit creative community space) will open with a hands-on interactive light projection working with Between the Borders.

Just some of the festival highlights include:-

Liverpool Philharmonic open for the very 1st time on LightNight to celebrate their 175th Anniversary. An ensemble of members of the RLPO will perform compositions which might have been heard by concertgoers in the 1840s, back when the organisation was founded.

LOOK/15 - Exchange, the Liverpool International Photography Festival, launches with special exhibition previews and parties on LightNight; including Anna Fox party at Tate Liverpool and after show at Constellations.

Merseyside Maritime Museum open late with music, dance and poetry surrounding major new exhibition Lusitania: Life, Loss, Legacy commemorating the sinking of the passenger ship Lusitania during the 1st World War on 7 May 1915.

Merseyside Dance Initiative (MDI) takeover Liverpool Town Hall with the Big Dance Pledge where people of all ages and abilities can take part in a dance workshop and watch performances through the evening.

LIPA is also involved for the 1st time this year, with a showcase of student work entitled:- 'Follow the Moths' a trail of light installations including a glowing giant glowing cocoon suspended from above, a 3D moth eye light box, and light shows on the side of the building.

FACT will present a light projection by artist Erica Scourti in Ropewalks Square until midnight, which explores ideas of memory and erasure in relation to technology and our mental health.

Everyman Theatre open late with a collaborative event with LJMU. 'Life on the Ocean Wave' sees the 'top deck' theatre bar and balcony brought to life with music, deck games and high class cocktails celebrating the glamour and elegance of travel on board the liners.

Deep Hedonia takeover St George's Hall Concert Room with an eclectic programme of AV performances that seek to challenge our perception of the past, present and future.

Dominic Beaumont from Everyman Theatre said:- "Light Night is always a highlight of the City's Cultural Calendar and we're excited to be part of it once again. The new Everyman gives us a platform to be able to put on a number of different events for people to explore, watch and be part of and we hope people will come and enjoy the games, music, debates, performances and cocktails that will be part of Light Night at the Everyman. We're lucky to have a City with so much to offer culturally and Light Night is a great way to share your favourite places with people as well as a chance to discover new ones for the first time."

Lucy Cattell from National Museums Liverpool said:- "We're really excited to be taking part in LightNight 2015, not least because we've just opened a brand new exhibition at Merseyside Maritime Museum about the Lusitania. We're sure that LightNight visitors will enjoy this exhibition along with many other activities taking place at the Maritime on 15 May 2015. People can also pop up to William Brown Street, where The Walker Art Gallery will be open late too. The Gallery's new Only in England exhibition; which has already received nearly 20,000 visitors since opening in February; features more than 100 humorous yet melancholic images documenting ordinary English life by British photographer Tony Ray-Jones, including new prints selected by esteemed photographer Martin Parr."

A LightNight audience member from 2014 described LightNight as:- "By far the most exciting, original and magical event in the City's Cultural Calendar"

Click on here to download the guide from us or go to:- LightNightLiverpool.Co.UK Also a printed festival guide is available to order by post, or from participating venues in the lead up to the festival.

City to go Quackers for Charity!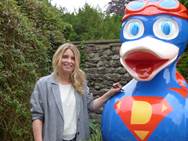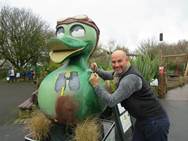 LIVERPOOL City Centre will be invaded by an army of giant ducks this summer; in a bid to support cancer patients.

EACH towering 7 feet high, a trail of 20 'pop up' sculptures celebrating 'Liverpool Fists' will pepper the City Centre this May and June 2015, to thrill visitors during the 1 Magnificent City programme.

Launching on the City's annual arts extravaganza; Light Night, on Friday, 15 May 2015, the event, run by AquaDucked, aims to raise awareness for Macmillan Cancer Support.

Nesting at specific locations across Liverpool City Centre, including the Commercial District, Liverpool ONE and Albert Dock, the ducks will be on show for public display until the 9 June 2015, after which they will be entered into a celebrity gala night auction taking place in July.

Following on the success of previous trails such as Go Superlambananas (2008) and Go Penguins (2010), the Liverpool Duck Trail will entertain visitors for major events such as Sound City, the 3 Queens 175th Anniversary and climaxing with two charity duck races at Liverpool's International Mersey River Festival, on Sunday, 7 June 2015.

Each duck is themed on an event in history that Liverpool was the first to achieve; for example, the 1st motorised municipal fire engine, the 1st woman to top the pop charts (Lita Roza), the 1st major under river tunnel (Mersey tunnel) and the World's 1st purpose designed public park, plus it's still here today, in Birkenhead.

Ducks will be sponsored by local businesses, with the aim of raising money for Macmillan Cancer Support. Local artists and community groups will be asked to submit designs and paint the ducks, bringing to life their 'Liverpool 1st' themes in a fun and creative way.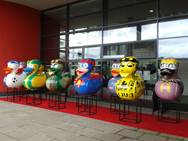 In 2014, 11 of the ducks featured in a Lancashire Duck Trail, 8 of which were designed by celebrities; including fashion designer and co-founder of Red or Dead Wayne Hemingway, actress, television presenter and former model Linda Lusardi, Coronation Street's Jane Danson, comedian, actor, Dave Spikey, actress and singer Jodie Pregner and Emmerdale's Emma Atkins.

Barry Cole, founder and Managing Director at AquaDucked comments:- "I am really looking forward to the duck trail and races in Liverpool and I am delighted with all the help provided by some great people in the city who have helped in the hosting of this event. It is knowing that my mother's memory can be the catalyst that will help someone else stricken with the same disease, get the same care and attention that she received at the end of her life."

Tracey Crosbie, Events Manager for Liverpool BID Company, which is supporting the event, said:- "The Duck Trail is going to be a brilliant event for all the family and will help kick start an amazing summer of events in the city centre. The fact that its celebrating Liverpool Firsts means it's an event that will not just entertain but educate visitors and locals alike, while at the same time raising money for a cause which affects us all."

You can find out more about AquaDucked's Liverpool Duck Trail online.
"Sweet Success" as Wirral Waitress wins national competition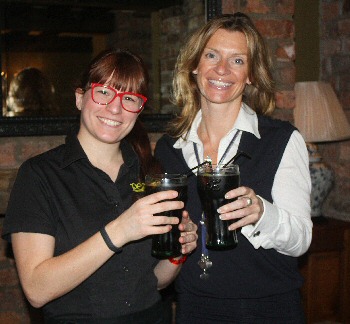 A waitress at a Bromborough restaurant, on Dibbinsdale Road, Bromborough, Wirral, has been named as the joint winner of a national competition organised by an Italian restaurant group. 31 year old Nuria Gozalbes Sanchis, who lives in Eastham, won the Pesto Italian Restaurant and Coca Cola 'Go Large!' incentive competition by beating Pesto's other 300+ nationwide employees to achieve the joint highest large drink sales as part of a special promotion for the drinks brand. Nuria, who has worked at Pesto at the Dibbinsdale Inn for almost 2 years, accepted her £150 gift voucher prize from Pesto co-owner Sara Edwards this week. She comments:- "I'm so excited to have won this competition. My boyfriend and I are doing our house up at the moment so the prize will come in very handy." The other winner was 27 year old Georgia Koukouvitaki from Tarporley who works at Pesto Cabbage Hall. Sara Edwards, Co-owner of Pesto Restaurant adds:- "Nuria and Georgia both did exceptionally well with our 'Go Large' launch against some very tough competition from other employees from as far afield as Sutton Coldfield and Widnes and, at the end of the 3 months of the competition, were clearly the joint winners... We'd like to congratulate Nuria on her hard work and hope she enjoys her well deserved prize!" Pesto at the is situated o and to book or for more information call:- 0151 334 9818.