Homeward bound for swans in Southport
SWANS return to marine lake in good health after mass RSPCA rescue to save over 40 birds. A bevy of 20 swans are to be released back into the wild on 31 March 2015, after falling seriously ill at Town's Southport Marine Lake. Last month, the RSPCA was called to the lake after local group Southport Swan Rescue raised the alarm about the welfare of over 40 swans. The RSPCA worked tirelessly with the local community to embark on a 3 week long monitoring and rescue operation, including working with other groups such as the Merchant Taylors School Rowing Club who went out in their boats alongside the RSPCA water rescue team to try and help catch some of the sick swans. 41 swans were brought into RSPCA care and sadly several succumbed to their illness before they were able to be saved. 30 swans have been released back into the wild after being return home, to the Marine Lake. Derek Hampson, the RSPCA animal collection officer who rescued the swans, said:- "This rescue was no mean feat due to the sheer number of swans falling ill over several weeks but I am just very pleased that so many of the swans have made such an excellent recovery in our care. I dread to think what would have happened if we hadn't intervened when we had as the birds were extremely poorly. They came in weak and emaciated but now they have a new lease of life after being nursed back to the very best of health by the amazing staff at Stapeley Grange Wildlife Centre. Releasing them tomorrow will be really rewarding for me, having been there since the beginning, and I can't wait to see them fit and well and back in their natural habitat."

Although there were no conclusive results, we know that it was not caused by lead poisoning. It is thought the swans may have been suffering from a bout of necrotic enteritis, caused by toxins produced by bacteria in the environment. A poor diet would have also contributed to the condition of the 41 swans admitted to Stapeley Grange. Lee Stewart, manager at Stapeley Grange, said:- "Southport Marine Lake is overpopulated with waterfowl on a site where there is no natural feed and so the birds have therefore become reliant on food from members of the public which is clearly an issue. It is really important for people to remember to feed ducks and swans the correct food. Feeding the ducks and swans is a lovely day out for some people but traditionally this involves feeding them bread. Bread is really bad for water birds as it is a form of junk food that can lead to malnutrition. We generally advise people to feed birds fresh greens such as cabbage and spinach and more grain-based foods such as wheat, corn or bird seed as this is closer to their natural diet. However in this case, during the winter months, overfeeding from grain left by well meaning members of public may have contributed to the outbreak of disease as this is where the toxins build up when on the ground."

The RSPCA is a charity that relies on public donations to exist. To help us care for animals and birds like these swans, please text:- "HELP" to:- 78866 to give £3 (texts cost £3 plus one standard network rate message).
Local Photographer Awarded International Qualification
A Lancashire based photographer, Matthew Nichol LBIPP, has received recognition for his Architectural photography after being awarded a Licentiateship by the British Institute of Professional Photography (BIPP).Matthew has always been interested in the aesthetics of modern architecture and his architectural photography began as studies for oil paintings which eventually developed into the work itself. Now as a professional photographer for the last 6 years specialising in architectural photography, Matthew uses his passion for architecture, construction and the built environment to produce high quality photographic images for a range of clients covering all aspects of the built environment from photographing luxury homes to commercial construction projects. When asked how he felt about achieving his LBIPP, Matthew said:- "I am very happy to have been awarded my BIPP qualification and the process has been a great opportunity to continue to improve my work." BIPP President, Roy Meiklejon FBIPP, stated:- "BIPP qualifications are among the most rigorous in the world. Qualification with the BIPP requires hard work, determination, commitment and lots of creativity." As the qualifying body of professional photography in the UK, BIPP requires any photographer going for qualification to follow strict criteria and provide a substantial portfolio of commissioned work, together with supporting information about themselves as a professional.

Charity wastes no opportunity to make savings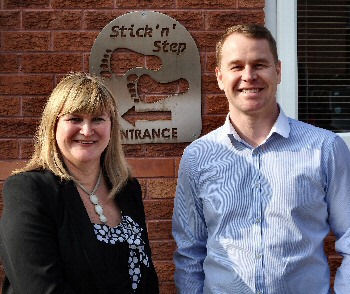 LOCAL waste collection company B&M Waste Services has pledged to support children's charity Stick 'n' Step by assisting with its waste disposal costs at its addresses in Wallasey and New Ferry. The support has been offered after it was made apparent that some children who attend Stick 'n' Step also benefit from the services at Claire House Children's Hospice, 1 of B&M Waste Services' nominated charities.

B&M Waste Services is a family run business based in Wirral. The company takes pride in supporting local charities, and giving back to the local community has formed a big part of its ethos over the years. Until now, B&M Waste Services has been providing a commercial waste and recycling disposal service to Stick 'n' Step at its centre in Wallasey and its charity shop in New Ferry. As a charity that relies entirely on grants and community and business support to fund its £350,000 annual running cost, Stick 'n' Step is always exploring opportunities to streamline costs. The new support from B&M Waste Services is expected to help the charity make an annual saving of almost £3,000, which is about the annual equivalent of one child's place at Stick 'n' Step.

Stick 'n' Step provides specialist conductive education and support services to 70 children with cerebral palsy and their families and carers across the North West of England and North Wales. Conductive education is a non medical based developmental aid, which promotes independence for those with conditions like cerebral palsy, and is not offered by the NHS. It helps young people to learn new skills such as head control, moving around independently, sitting unaided, walking and more. At Stick 'n' Step children learn for themselves how to do all of these things, whilst making friends and having fun. Elsewhere, parents can expect to pay around £3,500 per child, per year for Conductive Education. At Stick 'n' Step, it's free.

Commented Neil Curtis, MD of B&M Waste Services: "We could see that Stick 'n' Step is doing fantastic work and we know how important it is that their offering remains free of charge, to allow more families to use such an invaluable service. It is with gratitude for the great work that Stick 'n' Step does that we have offered our support. We hope our support will make things a little easier so that the charity can free up some funds to continue with the good work that it is doing."

Commented Clare Ashworth, a fundraiser at Sick 'n' Step:- "Support comes to us in different forms, each of equal importance. We always welcome the varied and new ways in which businesses think to help. Staff volunteers, promoting our cause and donating goods and services are just some ways they do this. B&M Waste Services has offered us a significant solution to help keep our running costs down and this kind of support is invaluable."

For more information about Stick 'n' Step, and how you can help, visit:- SticknStep.org or call the Centre on:- 0151 638 0888.
For more information about B&M Waste Services visit the firms website at:- BagnallAndMorris.com.