Thousands brave tough weather conditions for the 22nd Liverpool Half Marathon
Photographs with thanks to Paul Francis Cooper.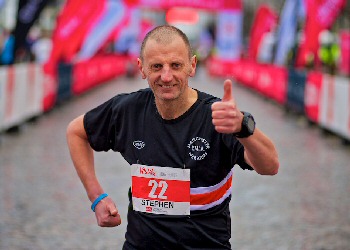 MORE than 5,000 runners took to the City's streets on Sunday, 29 March 2015, for the Vitality Liverpool Half Marathon. The runners gathered at UNESCO World Heritage Site, Pier Head Liverpool, before setting off on a challenging 13.1 mile scenic course, taking in key Liverpool landmarks along the way. 1st staged in 1994, the event has gone on to become the North West's biggest Half Marathon.

The Vitality Liverpool Half Marathon, organised and delivered by BTR Liverpool, is now part of the Vitality Run Series of eight specially chosen race events across the country. The Liverpool race brings the 1st year of the Vitality Run Series to a close. This is year 1 in a 3 year sponsorship agreement with Vitality.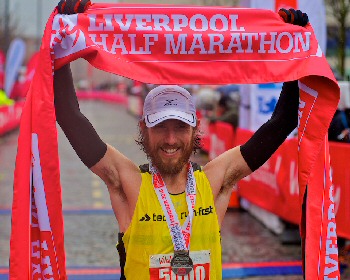 The race was won by Paul Martelletti from London in 1:08 (chip time), making this his 3rd win in the Vitality Race Series after also taking honours at Brighton and Bath.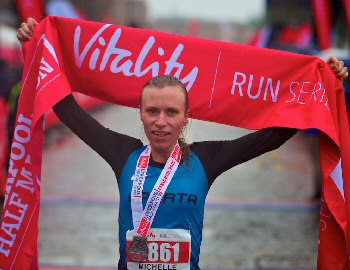 The 1st female home was Michelle Poulsen, from Denmark, in 1:21:04 (chip time), setting a new female course record by taking off 1 minute 50 seconds off the previous record set in 2013.
The event had a real international flavour with participants travelling from 15 overseas countries joining runners from across the region and country.

The international runners represented:- Belgium, Denmark, France, Finland, Germany, Ireland, Italy, Isle of Man, Hong Kong, Malaysia, Norway, Poland, Spain, Sweden, and the United States of America; these included almost 100 runners from the Isle of Man, 35 from Ireland, and 20 from Spain.

The headline event attracts a cross section of runners, from those tackling their very 1st Half Marathon, charity runners, and those chasing a time.

49 year old Stephen Symons, from Salford, has taken part in every Liverpool Half Marathon since it started in 1994, with the 2015 event taking his tally to 22 medals. His annual participation in the event was challenged in recent years when he suffered a brain haemorrhage in November 2012. However, with the help of his family, Stephen made it round the course in March 2013 to retain his record. Stephen runs for Manchester YMCA Harriers.

It was also a Hen party with a difference for 28 year old Kerry Purvis from Runcorn and her team of Hens. A runner with local club Plodders, Kerry and partner Paul marry on Easter Sunday. It's a busy five weeks for bride-ro-be Kerry, who will also be taking part in the Paris Marathon, Run For The 96 5K, and London Marathon.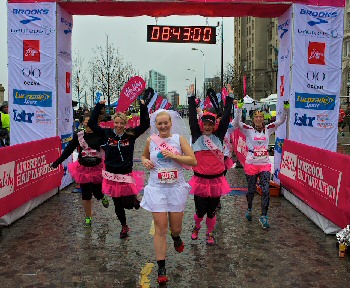 The field of 5,029 runners took in key sights along the way, including UNESCO World Heritage Sites the Liverpool Waterfront and Albert Dock, as well as attractions the Museum Of Liverpool, Liverpool Cathedral, Sefton Park Palm House, and Otterspool Promenade.

All finishers were presented with a bespoke medal, commemorative Brooks T-shirt, and a goody bag. The event also had support from Lucozade Sport, Virgin Active, Ocean, Laureus and The Telegraph.

BTR Liverpool is the leading independent organisation for creating, managing and delivering headline race events in Liverpool City Region. Its portfolio of 9 other race events includes the:- Liverpool Santa Dash, Wirral Half Marathon, Mersey Tunnel 10K and Tour Of Merseyside.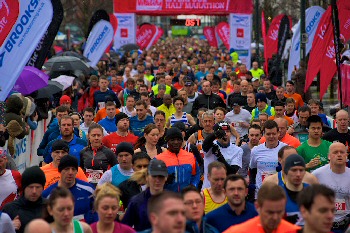 BTR Race Director Alan Rothwell commented:- "We welcomed over 5,000 runners who gave their all in challenging weather conditions. They dug deep and there were lots of smiles as they crossed the finish line which is always a real pleasure to see. It's what our races are all about. This was the 22nd Liverpool Half Marathon and it couldn't have gone any better, we're absolutely delighted. We are thrilled to have the support of title sponsor Vitality for a further two years, and this will play a vital role in growing and developing the event for future runners. Well done to the runners, and a special mention must be made about the volunteers and spectators who all helped to make it such a marvellous day."

Vitality Run Series CEO, Neville Koopowitz, commented:- "The Vitality Liverpool Half Marathon is the biggest Half Marathon in the North West and we're delighted to be part of it. Liverpool is such a vibrant City and, after being named the 4th friendliest City in the world, it was certainly evident with the fantastic support from the crowd. It was a fantastic event and we hope it inspired more people to get active."
The race was the latest event in a year long joint fundraising partnership between BTR Liverpool and its five official charities. The BTR Footsteps Fundraisers initiative will bring the charities together to benefit financially through BTR's key race events over a 12 month period by encouraging participants to fundraise and support them.

The 5 BTR Footsteps Fundraisers official charities are:- Radio City's Cash For Kids, Claire House Children's Hospice, Everton in the Community, Jospice, and Roy Castle Lung Cancer Foundation. More details can be found online.

The next race for BTR is the Hale Village 5 Mile event this coming Easter Sunday, 5 April 2015, find out more at:- BTRLiverpool.com.

Results:-

First 3 Male Finishers (chip times)

► Paul Martelletti - Run Fast - 1:08:00.
► Tom Charles - Trafford AC - 1:10:01.
► James Toohey - Liverpool Running Club - 1:11:23.

First 3 Female Finishers

► Michelle Poulsen - Sparta Copenhagen Denmark - 1:21:04.
► Charlotte Mason - City Of Yoke AC - 1:22:20.
► Alex O'Brien - Liverpool Running Club - 1:22:31.

BTR Liverpool confirmed events still to be held in 2015:-

► 5 April - BTR Hale Village 5 Mile.
► 19 April - Run For The 96 5K.
► 7 June - BTR Mersey Tunnel 10K.
► 28 June - BTR Kids' 1K/2K/3K Race Series.
► 5 July to 11 July - BTR Tour Of Merseyside (52 miles).
► 11 September to 13 September - BTR Whistle Stop Tour Of Wirral.
► 13 September - BTR Wirral Half Marathon/10K.
► 6 December - BTR Liverpool Santa Dash.

Disney Magic to set sail to the Mersey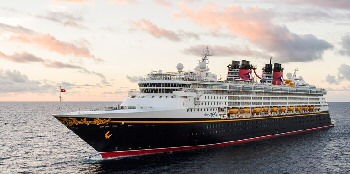 1 of the USA's most popular cruise lines is heading to Liverpool on its 1st ever trip to the British Isles. Disney Cruise Line has announced that in 2016 one of its fleet it will be coming to Britain for the 1st time and Liverpool is 1 of just 2 English destinations it will sail in to. Disney Magic will call into Liverpool on Friday, 27 May 2016 and Sunday, 12 June 2016. The distinct vessel can carry around 2,700 passengers, and the 2 City visits are expected to have an economic impact of around half a million pounds.

Liverpool's Cruise Terminal Manager, Angie Redhead, explained how this has come about:- "We have been meeting with Disney Cruise Line for a few years at industry events, and in the early days their focus was on deploying ships within Florida and the Caribbean but over time, as new ships entered their fleet, their interest in possible British Isles deployment grew. Working in partnership with our port colleagues in Scotland and Ireland, we were able to encourage and suggest that a British Isles itinerary would be very well received by UK cruise passengers. The British Isles has a wealth of world class destinations within easy reach of our ports, with great facilities to ensure a seamless experience for each and every cruise guest. In discussions with Disney, I presented a broad and eclectic mix of great experiences that guests could enjoy during their time in Liverpool, ranging from cultural landmarks, fascinating heritage to spectacular countryside just a short hop away, as well as an assurance that the City of Liverpool would greet them with open arms with our famously friendly welcome when they call here. This year looks set to be another fantastic year for cruising in Liverpool with some of the world's newest and most contemporary ships ever to sail in British waters calling here, and of course the three Cunard Queens making history on the Mersey in May. So it's good to know 2016 is already looking strong, and the visit of Disney Magic will be one of the highlights of the summer. We look forward to welcoming their ships, passengers and crew and showing them everything that Liverpool has to offer."

Facts about Disney Magic:-

The ship boasts 11 expansive decks.
It is 984 feet in length and 106 feet wide.
It weighs 84,000 tonnes.
It can comfortably hold 2,700 passengers and 950 cast and crew members.
It has 10 different eating areas/restaurants.
There are 5 pools on board and 2 nightclubs.

The liner will embark on a 12 night cruise from Dover and will sail to:- Invergordon, Kirkwall and Greenock, then onto Newcastle, Liverpool and Dublin. She will also call in at:- Le Havre in France, as well as Guernsey in the Channel Islands.

All of these, except Kirkwall, are 1st time ports of call for Disney Cruise Line.

Bookings for the new itineraries is available and details can be found on the:- 'Itineraries and Ports' 2016 page of:- DisneyCruise.com.
CH1ChesterBID bags City Centre finish for Chester Half Marathon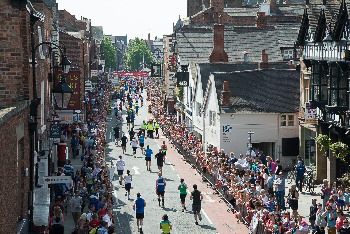 THE CH1ChesterBID Company has agreed a landmark deal with the Chester Half Marathon to keep the race's finishing line in the City Centre. For the last 3 years the race has featured a grandstand finish outside of Chester Town Hall and the Cathedral, but the future of the current route was in doubt, due to the added expense of a City Centre finish. The deal with CH1ChesterBID will keep the existing route in place, ensuring that City Centre retailers have the chance to benefit from the extra footfall the event delivers.

Rita Waters, Chief Executive of the CH1ChesterBID Company, said:- "The Chester Half Marathon is an iconic event for the City, attracting thousands of participants and spectators to Chester every year. In 2014 more than 70,000 people were in the City Centre on the day of the race; the busiest Sunday of the year by far; so we simply had to make sure it stayed in the heart of the City in 2015; our 1st year as a Business Improvement District. It's a fantastic opportunity for us to showcase everything that Chester has to offer before, during and after race day, and we're confident that many of the BID businesses will benefit from this fantastic new partnership. This year's Chester Half Marathon takes place on Sunday, 17 May 2015, and is set to sell out again, with organisers expecting more than 7,000 runners and 10,000 more spectators. We're delighted that CH1ChesterBID Company have agreed to support the Chester Half Marathon for 2015. When we took over the event in 2012, 1 of the 1st things we felt important to do was switch the route to a City Centre finish because it's a huge attraction for many runners and it creates a fantastic atmosphere. The added expense of finishing in the City centre combined with reduced funding this year meant we had to consider other options, but this agreement means we can keep our grandstand finish in the heart of the City and that's tremendous news for everyone."

For more information about CH1ChesterBID visit:- ch1ChesterBid.Co.UK.
Freeze has just announced more names for 10th Anniversary celebrations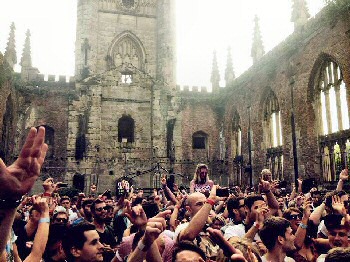 LIVERPOOL'S Freeze has grown in tandem with the City's continued resurgence, charting their unique course across the vibrant electronic music spectrum. 2015 is all about the party expanding its vision across a wider range of music, curetting a series of shows which embrace electronics' wide spectrum and beyond.

Crazy P are one of the UK's most loved electronic acts, with their latest album, Walk Talk Dance Sing coming out on My 11th. Theirs is a lovingly crafted mix of disco, pop and dance infused with real heart and soul; the guys are making a very welcome return back to The Bombed Out Church after last year's sensational show. And they are not alone; revered house DJ and producer Tensnake; and creator of the classic Coma Cat; joins them, making a rare foray to Liverpool. Ewan Pearson is one of dance music's seminal contributors and continues his prolific production work, as well as select DJ sets; and Psychemagik continue to create sensational edits, beautiful production work and transcendent mixtape journeys as part of the burgeoning reputation, as well as their party rocking DJ sets. Weval plays live and Freeze resident Jemmy joins them.

Back to the May Bank Holiday on Sunday, 3 May 2015, the seminal producer Bonobo opens up Freeze's 10th Anniversary season. His DJ set will showcase his vast range of influences and inspirations to incredible effect, bringing his incredible live production which will further enhance this very special show. Bonobo is joined by Gilles Peterson, one of the UK's most dedicated DJs, broadcasters, producers, compilers, record label boss and an avid record collector. Joining the dots between soul, hip-hop, house, Afro, Latin, electronica, jazz and more and makes a very welcome return to the City.

Then on Saturday, 23 May 2015, the seminal Young Turks label brings a sublime showcase Liverpool. The prolific and enigmatic producer and remixer Jamie XX headlines, one third of the brilliant XX and one of the UK's most creative forces as a solo artist. With his immense body of work including everything from curating film soundtracks to creating ballet scores, to hosting shows on 6 Music, he remains a captivating DJ who brings a whole new dimension to Freeze. The sublime Spanish DJ John Talabot joining him, plus Italian synthesist Lorenzo Senni (live), Bristolian beats maker Kotown and a special guest to be announced.

The 4th party of the opening 10th Anniversary series brings together 4 iconic names on Saturday, 13 June 2015. Todd Terje, fresh from the success of last year's acclaimed It's Album Time, has specially curated this show. Given the rare times Todd performs live in the UK, this will be a brilliant party showcasing not only his live skills, but the people he has handpicking to join him: Greg Wilson, Gerd Janson and Prins Thomas form a quartet of irrepressible talent across the house, disco and electronica spectrum for what is already shaping up to be one of the parties of the summer.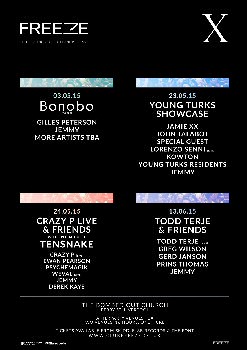 For full information click on the picture above to see the latest flyer for the event and also to keep up to date with the latest news for this event go to:- ClubFreeze.Co.UK.