Louise puts her best foot forward in Memory if Granddad
Photographs of Louise have been taken by Valerie Hamill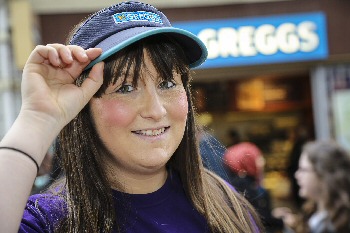 A Wallasey woman who lost her beloved granddad to kidney disease is running a charity race and raising money to fight the condition. Louise Sheehan is assistant manager of Greggs in Pyramids Shopping Centre, Birkenhead, and only started running last year, inspired by her fitness fanatic husband Chris. Now the 29 year old is taking on a 5k challenge in aid of Kidney Research in memory of her granddad Harold May who passed away when she was young.

Louise, who lives with Chris in Wallasey, said:- "I've been inspired to raise money for this charity as I always remember how ill my granddad was when I was a kid. Whenever we visited him we had to be careful as he was always wired up to dialysis machines. It was hard because when you see your granddad you want to run and hug him but we couldn't. He was constantly in and out of the Royal in Liverpool and when we saw him at home he had to have all these special drinks and special meals. I lost my nan when I was seven, then both my dad's parents and then my granddad when I was nine so it was a really tough time for us as a family. It was particularly hard for my mum as she is an only child."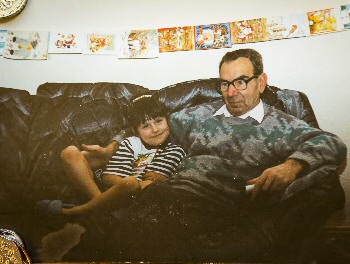 Louise, who has worked in the Birkenhead Pyramids' store for 7 years, has been married to Chris, also aged 29, for 3 years although the couple have been together since they met as 14 year olds at Wallasey's Oldershaw School.

Chris is a keen runner, clocking up regular 10k or half marathon runs for Claire House and encouraged his wife to take up the sport too. She said:- "I decided I wanted to get fit so I started running with him and we go for jogs around Central Park or down on the prom. Chris raises a lot of money for charity so I thought I would too and I did my first 5k in March at Port Sunlight. It went okay and I managed a personal best time of 39 minutes so I'm hoping to beat that this time and do it in half an hour."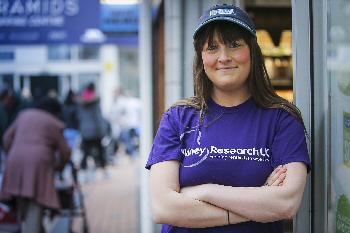 Louise will be joining fellow fundraisers on the start line for the Hillsborough 5k run held at Stanley Park on April 19, and Chris will run alongside his wife for the event. She said:- "I have said that he can leave me behind if he wants but he's very good and he'll stay with me; although he's an Everton fan so he'll be wearing a blue T-shirt and I'll have a red one!"

Commercial Director for Pyramids Shopping Centre, Derek Millar, said:- "I wish Louise every success in her next running event and am sure the staff and customers of Greggs will get behind her and help her raise funds for this very important cause."

The race is a new and accessible event in memory of the 96 Liverpool football fans lost in the Hillsborough tragedy and will raise funds for Everton in the Community and the LFC Foundation as well as whatever causes the runners are championing themselves.

The 5k event will take place at the end of the 96 mile Hillsborough to Anfield run which has attracted hundreds of entrants and raised thousands of pounds over recent years. To sponsor Louise pop into the Greggs store at Pyramids Shopping Centre.

Charity calls for volunteers for Southport collection
A leading bowel cancer charity is looking for volunteers to help at a local collection. Beating Bowel Cancer has booked a collection in Southport Town Centre on:- 13 June 2014 and is looking for volunteers to help raise vital funds by shaking a bucket for bowel cancer. Beating Bowel Cancer works to save lives from the UK's 2nd biggest cancer killer and all money raised from these fundraising events will be used to help raise awareness of bowel cancer and support patients and their families coping with the disease. Regional Community Fundraiser for the North West, Rachel Thomas, said:- "We are looking for people to give up just a few hours of their day to help Beating Bowel Cancer make a real difference to bowel cancer patients and their families." Anyone interested in helping at these fundraising events should call Rachel on:- 07825 910943 or send an email to:- Rachel.Thomas@BeatingBowelCancer.Org. Bowel cancer is the UK's second biggest cancer killer because many patients are diagnosed too late. Each year more than 41,000 people across the UK are diagnosed with bowel cancer. However, if diagnosed early over 90% of cases could be cured. For more information about Beating Bowel Cancer, including ways you can get involved in fundraising for the charity, visit:- BeatingBowelCancer.Org or call:- 08450 719 300.
Blue Air's 2nd service from LJLA gets underway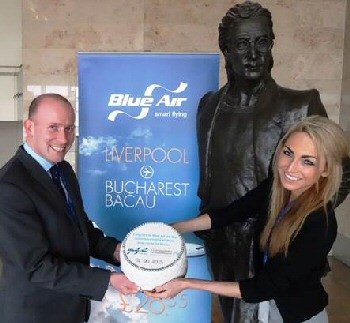 MANAGEMENT at Liverpool John Lennon Airport (LJLA) last night celebrated the start of Blue Air's 2nd service from Liverpool with the airline's first departure to the City of Bacau in North East Romania. This latest service comes just over three months after Blue Air commenced operations at LJLA, with their 3 times weekly flights to the Romanian capital Bucharest, which started in December 2014. Flights to Bacau operate twice weekly and take Blue Air's operation at Liverpool to 5 departing flights per week. Situated in the historical region of Moldavia, at the foothills of the Carpathian Mountains, Bacau is one of Romania's cultural centres with a state theatre, museums and a symphony orchestra. Attractions include the famous churches of northern Moldavia with their colourful paintings, which have been listed by UNESCO as a World Heritage Site. Staff marked the occasion at the Airport in the usual way with a special celebratory cake.
Victoria Burrows, Chief Executive Launches UK Heart Safe Awards 2015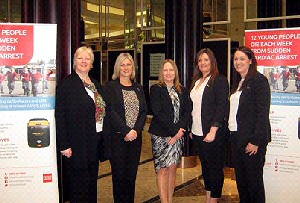 HAND on Heart have launched the:- "UK Heart Safe Awards" at the Midland Hotel in Manchester, on 2 April 2015. The Awards are run in conjunction with headline sponsor Physio Control, the event will recognise the achievements of individuals and organisations across the UK, in their efforts to become heart safe. Hand on Heart is a registered charity that has 3 main objectives which are:-

► To raise awareness of Sudden Cardiac Arrest (SCA) in young people.

► To provide or fund defibrillators for schools.

► To educate young people about SCA and train them in Basic Life Support and to use defibrillators.

This year the event has moved to the Midland Hotel (Hand on Hearts charity partner.) We are aiming for this year's events to be the biggest and most successful to date. For more information about nominations attending or attending or sponsoring the awards, please visit our website:- UKHeartSafeAwards.Co.UK. Victoria Burrows said:- "This will be my first awards evening as Chief Executive of Hand on Heart. Previous evening have been a huge success, and I am looking forward to this year's events being even better. I would encourage everyone to consider nominating and joining us on the evening to celebrate the UK's leading Heart Safe individuals and organisations."