New PCs have just join the Lancashire Police Force
NEW Police Constables have been officially sworn into Lancashire Police. 32 officers were welcomed into the force at an attestation ceremony at Lancashire Constabulary's headquarters. A further 14 will be attested at another celebration on 19 May 2015.

Clive Grunshaw, Lancashire's Police and Crime Commissioner, said:- "1 of my key priorities is to protect frontline Policing in the county, maintaining a 24 hour service across every inch of the County. I am delighted to be able to welcome this latest group to Lancashire Constabulary. All of our new officers have done exceptionally well to make it through the recruitment process, and I now wish them the best of luck as they embark on their initial training. They should be very proud of themselves. It has been several years since Lancashire Constabulary has been able to open up recruitment externally, and the demand the force received from people wanting to join was phenomenal. The roles these new officers will play in Lancashire will be vital; they will be responsible for keeping the public safe, upholding the highest standards of honesty and integrity and representing Lancashire Constabulary in our communities. I am sure they will all be a real asset to the force."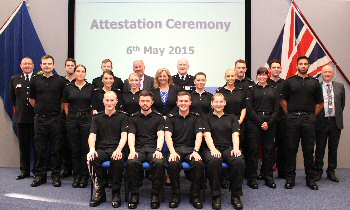 The ceremonies form part of a legal progress and the new recruits, who are from all over Lancashire, are presented with their warrant cards during the attestations, meaning they are allowed to make arrests.

Following the events, the PCs will continue with their training for 5 months. They will then complete a public order training course before entering into the tutor phase, during which they will shadow officers for 10 weeks.

After successfully completing a 2 year probationary period, which will include the new recruits passing an additional three development courses at the Constabulary's headquarters, the new PCs will achieve a Level 3 Diploma in Policing. They will 'graduate' in April 2017.

The force welcomed a further 59 new officers during 2 attestation ceremonies in January 2015. The Commissioner added:- "I wish all of the new PCs all the very best for the future."