Ben can now travel safely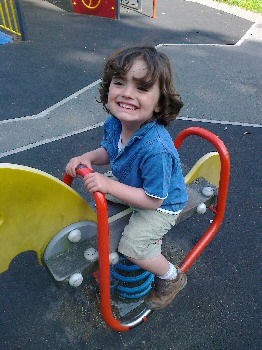 A Southport boy will be able to travel safely in the car without endangering the lives of himself and his family thanks to a new specialist car seat. Benjamin Pitchford-Emmett has autism as well as learning difficulties and is waiting to be assessed for ADHD. He needs a new specialist car seat as he had outgrown his previous seat.

The family needed the new car seat but could not find funding for the £665 purchase so they turned to leading UK children's disability charity Newlife Foundation for help. Thanks to Newlife's partnership with The Morgan Foundation, the equipment has been ordered.

Ben will no longer be able to escape from his car seat climbing around the car and distracting the driver. The 5 year old has been socially isolated, but he will be able to attend appointments and enjoy days out with his family whose quality of life will improve.

The new car seat will enable me to drive Ben home safely, mum Judith commented. "He will be able to fit in the new seat and I will be able to get him out of it comfortably. I need to take three other children on a regular journey, so Ben needs to be secure. When we take delivery of the new car seat it will be a lot less stressful all round."

The Morgan Foundation is working with Newlife to ensure more children with disabilities and terminal illness get the right equipment at the right time. This includes wheelchairs, buggies and walkers for mobility, specialist car seats and beds for safety and a range of other disability equipment including communication aids, walking frames, portable hoists and seating systems.

A Morgan Foundation fundraising golf day and gala dinner in support of Newlife held last year raised £450,000 to provide vital specialist equipment specifically for families across North Wales, Merseyside, West Cheshire, North Shropshire and parts of the West Midlands.

Steve Morgan, chairman of The Morgan Foundation, said:- "Having a vital aid like this means Ben will be able to travel safely and join in more activities with his family. Everyone who took part in our golf day or attended the gala dinner has helped; and will continue to help; make a real difference."

Newlife Foundation for Disabled Children is a national charity which works extensively with families across the region and has funded in excess of £12million of disability equipment for under 19's in the UK since 2005. £331,334 of this has been in Merseyside.

Newlife CEO Sheila Brown added:- "As local authority budget cuts continue to bite, more and more families are turning to charities like Newlife so their children can get vital equipment for everyday life. Having the support of The Morgan Foundation is an enormous boost for Newlife. We look forward to helping to transform more lives across The Morgan Foundation catchment area. Anyone struggling to access equipment through their statutory services should call our Newlife Nurse Helpline to discuss their individual situation."

For further information about The Morgan Foundation visit the website or call:- 01829 782800.

If you would like to find out more about Newlife Foundation for Disabled Children and how to access its services, call the Newlife Nurse Helpline on:- 0800 902 0095 (free from UK landlines) or alternatively you can also go to:- NewlifeCharity.Co.UK.
17 Year Old in custody for Formby Shooting
A teenager in connection to the Formby Shooting, has been remanded into custody by the Youth Court within South Sefton Magistrates Court, in Bootle. The 17 year old male, from Formby, is due to appear at Liverpool Crown Court on 4 June 4 2015, charged with possession of a firearm with intent to endanger life.

UK working 2 days longer to pay tax in 2015
TAXPAYERS in the UK are working 2 days longer on average in 2015 than in 2014 before they stop paying taxes and start earning for themselves, warns ACCA (the Association of Chartered Certified Accountants). Tax freedom day; calculated annually by the Adam Smith Institute; falls on 31 May 2015.

The date at which tax freedom day arrives has been steadily rising and the overly complicated nature of the UK tax system; especially with the sheer number of indirect taxes that exist; means UK households are now left with less money and are paying more to the government. This is despite 5 years of raises in personal allowance.

Chas Roy-Chowdhury, ACCA head of taxation, said:- "The rises in the personal allowance have created a huge amount of fiscal drag. More and more people are being caught in the 40% tax bracket. At the end of the 1980's, only 500,000 people were paying the higher rate of tax, now that is more than 4 million people. So despite all the Government hype on increasing the personal allowance we are actually 2 full days worse off this year before our income is ours to keep. Despite large cuts to the public sector the government is needing more and more money to keep public services going, a bill that has to be paid for by all UK taxpayers. Individuals are well within their rights to take steps to legally reduce their tax burden. ISAs are the perfect example of one method they can use."

Other steps include:-

► Claiming all benefits and allowances:- Taxpayers' money is ploughed into a wide variety of state benefits so make sure the state is giving you what you are owed.

► Use gift aid:- As a UK taxpayer you are entitled to claim gift aid for any charitable donations, so that the charity receives the full donations tax free. Higher rate taxpayers can claim the difference between the higher rate of tax and the basic rate on the total value of your donation.

► Check tax codes:- Be tax aware and make sure your tax code is correct. Some people may be paying too much tax; without knowing it. If a tax code is incorrect, the wrong amount of tax and deductions will be made. If you think there is a problem with your tax code, contact HMRC.

► Consult a chartered certified accountant:- Tax is confusing, so when it becomes too complex always consult chartered certified accountant.
Charity launches free diabetes passports for schools
SCHOOLS are being encouraged to adopt a new diabetes 'passport' to help drive up standards of care for pupils with the condition. Launched by the InDependent Diabetes Trust (IDDT), the booklet is available to teachers across the country in a move to help schools meet new legislation and improve diabetes care.

The Parents Passport for Schools has been designed to provide a means by which parents can formally let schools know how to manage their child's diabetes and in turn support schools to comply with special educational needs (SEN) regulations, as well as informing teachers about the condition.

It comes following the introduction at the beginning of the current school year of a legal duty for schools in England to support youngsters with long-term health conditions, including Type 1 diabetes.

Martin Hirst, chief executive of the charity, said:- "Children with diabetes deserve to have their needs looked after while at school, but unfortunately we are well aware of the difficulties that children with diabetes and their parents face in everyday life when managing the condition. One area that proves particularly problematic is managing the condition at school. With this in mind, IDDT has produced a new, free booklet, the Parents Passport for Schools. IDDT hopes that the passport will prove to be a valuable tool for families with a child with diabetes, teachers with a child with diabetes in their class, school nurses and SEN co-ordinators."

IDDT has produced similar documents for use in hospitals and also in care settings, such as residential care, with more than XXX copies distributed in total. The passport contains a wide range of information on how a child's diabetes is managed, including:-

► Dealing with high and low blood sugar levels.
► Food and mealtimes.
► Insulin administration and blood testing.

Under the Children and Families Act 2014, schools need to have a medical conditions policy in place, along with an individual healthcare plan for any children with Type 1 diabetes.

IDDT, an International charity based in Northampton, has over 35,000 members and works across the globe helping families and people with diabetes to manage their condition and live positive, healthy lives.

The charity provides information booklets and other support, such as collecting unwanted insulin to help adults and children in developing countries who cannot afford the insulin they need for survival.

To order copies of the Parents Passport for Schools call:- 01604 622837 or email:- martin@iddtinternational.org.