Get involved in designs for major new cancer hospital for Merseyside and Cheshire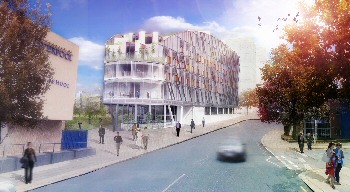 PEOPLE from Merseyside and Cheshire with experience of cancer are being invited to help design the region's flagship new specialist cancer hospital at an event on Tuesday, 26 May 2015.

The Clatterbridge Cancer Centre NHS Foundation Trust, which provides the region's specialist cancer service as well as carrying out groundbreaking research, is set to open a major new hospital in the heart of Liverpool in 2018. It will become the region's main cancer hospital providing state of the art radiotherapy, chemotherapy and other anti cancer therapy, inpatient wards, outpatients and daycase services.

The Clatterbridge Cancer Centre is currently developing detailed designs for the new hospital, which will be built next to the University of Liverpool and Royal Liverpool University Hospital.

And it is inviting people across the region with experience of cancer; whether as a patient, relative/carer or other capaCity (e.g. an advice or support service); to get involved by giving their views at an event next week. People with insight into making buildings accessible for those with additional needs including dementia and disabilities are also very welcome.

The Transforming Cancer Care event will ask people what factors are important to them in the design, layout and facilities within the new hospital. Staff from The Clatterbridge Cancer Centre will also be keen to hear people's views on cancer services and how to give patients the best possible experience of cancer care.

Helen Porter, Director of Nursing and Quality at The Clatterbridge Cancer Centre, said:- "This is a once in a generation opportunity to transform cancer care for the 2.3m people in Merseyside and Cheshire. We're developing a fantastic new hospital that will provide state of the art cancer care and we would like patients, carers and others with experience of cancer to help shape the design of the building and the services we provide in future."

The Transforming Cancer Care event is at 1pm, on Tuesday, 26 May 2015, in Wirral Postgraduate Centre, on the Clatterbridge Health Park, Clatterbridge Road, Bebington, Wirral, CH63 4JY. To book your place, please contact Pam Kelly on:- 0151 552 1823, advising of any special needs.