Southport's New Pay and display meters are now being installed!
Photographs and video by Patrick Trollope.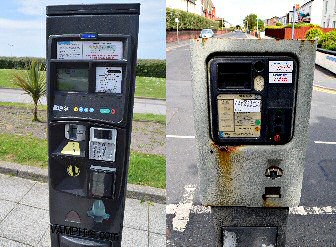 Above Southport's new and old parking meters.
FOR a very long time now, the old Pay and Display meters have been a bane of motorists' lives in Southport, because they do not take new coins and also having no alternative ways to pay. This problem is slowly being changed as new meters that allow card payment, contactless payment, as well as taking all new coins are currently being installed in and around the Town.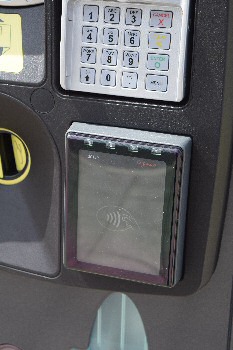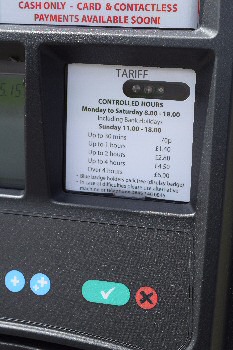 One of Southport's new meters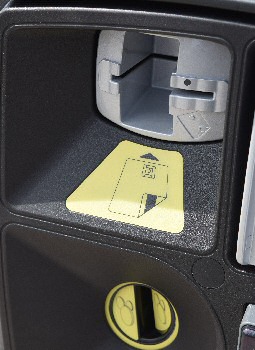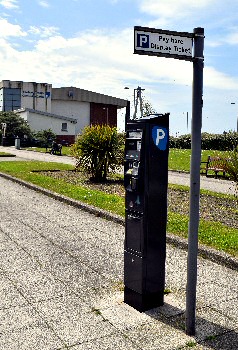 Later in the year a pay by phone system will also be introduced. But many businesses have questioned the Pay and Display system as they still feel it is slowly destroying the Town, and they want free parking for an hour to be given and only then payment should be taken. We took a look at St Ives in Cornwall, Bath and also Bristol to see what they do out parking.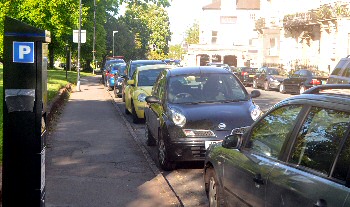 Britstal on road parking ('pay' and display)
Bristol has had huge problems in some areas with parking and by the Clifton Suspension Bridge the parking is a big issue for businesses and residents, but it is also a massive concern for tourists until recently. On a sunny afternoon we arrived next to the bridge in the middle of May. With sun shining, at 1st it looked as if it was going to be a parking night move, but we were surprised to find, on the main road, a parking space, and going to the meter a welcoming sign above said:- "Free 1 hour parking." On a major road and in the heart of a tourist area, mixed with residential and shopping, this was a huge surprise! In St Ives the meter was broken, but payment was able to be taken via a quick call to an automated system. The call did take a bit of time to do, but it was better than getting a ticket. In both locations we asked residents who said that the parking issues, thanks to far better signage and more innovative ways to pay, has hugely helped the economies.
One of the problems in St Ives is returning to the car. It is a massive climb up to the main short stay car park, so popping up to pay extra on the meter would be a huge issue, but the phone top up makes that a far easier thing to do. That then enables people to enjoy the many small businesses and attractions the Town has to offer.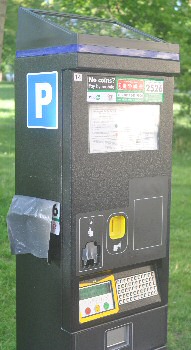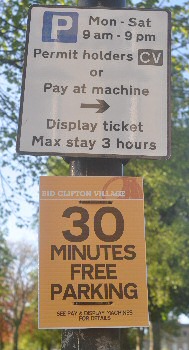 Bristol signage and mashine.
In Bristol, the way they now run the parking means that visitors and residents alike are not fighting for parking and those visiting the shops can also benefit. One resident told us that:- "This has been a huge problem for some years now, but the introduction of the new system means we are able keep the flow moving far better than before. We still require a short stay car park, but for now this is working well."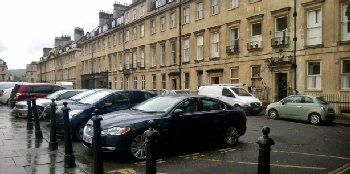 Bath Pay and Display on road parking.
The other location was Bath. Bath is a major City with very narrow roads and not a huge amount of areas to put car parks in. Of course parking is not cheap, but they still have found a way to fit in 13 car parks and even 3 Park and Ride services, making it a far more car friendly City and thanks to the good public transport on street parking spaces far more easily to found than in most Cities. But like Southport, Bath is not good at sign posting, making it hard to find the car parks and also hard to find out whether the length of stay and/or return is limited. Most areas of Wiltshire are served by pay and display car parks, both off-street (surface) and multi-storey. So we tried to find place like Southport, that runs mostly on tourism.
Just down the road from Bath is Bradford on Avon, with a population of about 9,326, not nearly as big, but it was the closest we could find on out trip, with a main road running through it's centre, next to a large urban area and a major City. It is nestles into a river valley in the Cotswolds, and is often dubbed the 'mini-Bath' of West Wiltshire. This Town you would expect, with extremely narrow roads and lack of space between all the historic buildings that street / short stay parking would be very expensive, but in fact it was the cheapest, with up to 1 hour set at:- £0.40, up to 2 hours at £1.20, and up to 3 hours £2.10. Compare that with Southport which starts at around 60p to 80p for up to 1 hour, and say on average 2 to 4 hrs at around £2.80! Interestingly, Liverpool's street parking tends to be slightly cheaper than Bath for Pay and Display, but like for like they are very close. With in those areas, most residents and businesses we talked to thought parking was far better, except in Bath where better signage is required. This was a very unscientific test mind and we love to know more about those areas, but as a visitor we found parking in those areas tended to be far less problematic than in Southport or even Formby!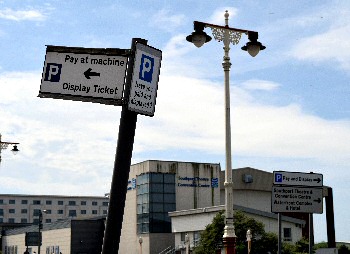 If you have any ideas on how we can improve parking in and around Merseyside, especially in Formby and in Southport, please do let us know. Also if we have got our facts wrong about St Ives, Bristol, Bath and Bradford on Avon, again please let us know your views on this topic and set us straight; or perhaps you know of another area with effective parking schemes and wish to share the information.
Email us to:- news24@southportreporter.com and let us know!
Estimated population sizes for comparison. Southport has a population of around 90,336 and St Ives has a population of around 11,226. Bath has a population of approximately 83,992, Bristol has a population of around 428,200 and Liverpool at around 467,000.