Music Teacher Wins BBC Music Day's Unsung Hero Award for 'The Oakley Rangers'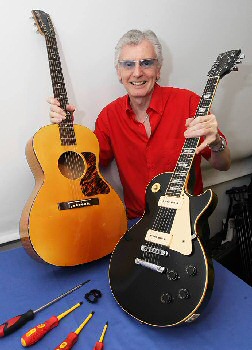 ON his Radio 2 show today, Steve Wright announced that a writer and music teacher who was born and raised in Liverpool is to receive a BBC Music Day Unsung Hero Award.

Paul Balmer is one of the five recipients of the BBC Music's inaugural Unsung Hero Award for work in their community with music. Although he now lives and runs his youth music group; 'The Oakley Rangers'; in Corby, Northamptonshire, it was in Liverpool where his passion for music developed. Paul says:- "As a traveller, I've been on the road for as long as I can remember, but growing up in Liverpool is where I really learnt to love music. I had the privilege of meeting lots of inspiring people throughout my childhood including some fantastic music teachers who took me to music festivals all over Europe. This unique experience is what shaped who I am today."

Every Saturday, for the past 7 years, Paul Balmer has run a free youth music group from a local community centre as an approach to channelling young people's enthusiasm and energy into creative music. The Oakley Rangers receive free 'rock school' style music lessons in exchange for regular community service. Over the years Paul has taught over 100 young people with many going on to pursue careers in the music field.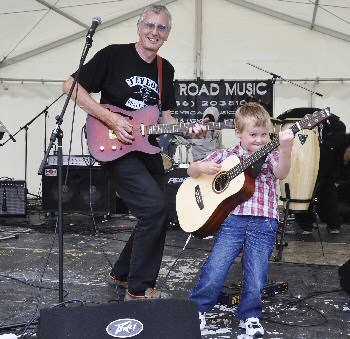 The Unsung Hero Award was launched as part of this year's 1st ever BBC Music Day on Friday 5 June, a nationwide celebration of music aiming to bring people together across communities and generations through their love of music. The day will be reflected across BBC programmes with numerous events and concerts taking place in towns and cities in England, Northern Ireland, Scotland and Wales. BBC Music Day's Unsung Hero has been a UK-wide search for individuals who have made or are continuing to make a big contribution to their community through music. People around the country were asked to nominate someone who has had a significant impact in their community in this way

Paul said he was thrilled with the achievement:- "I'm delighted to have won the Unsung Hero Award. Our music group has been going for almost eight years now and we've had round a hundred talented young people through our doors. It's fantastic. I launched this music group because of the growing number of complaints about young people in the area. I saw an opportunity to do something constructive with them so I took it. It's worked really well. Not only do the kids get to do something they are passionate about, but they also pay back to the community by litter picking, planting trees and playing concerts for local charities."

Bob Shennan, Director of BBC Music, said:- "Honouring music's Unsung Heroes is a core part of what BBC Music Day is about, celebrating people, like Paul, who make a valuable contribution to their community through music. Paul is clearly a person who inspires and gives confidence to young people, being the driving force behind the Oakley Rangers for the past seven years, and I'd like to congratulate him on his efforts."

From all the nominations, a BBC panel compiled a shortlist from which the five winners were chosen. They will receive a BBC Music VIP Pass, giving them and their friends tickets to a BBC Music event from a selection which includes the BBC Proms In The Park, Radio 2 Live In Hyde Park and BBC Music Awards.

BBC Music Day is presented by BBC Music, the corporation's strongest commitment to music in 30 years; comprising an ambitious wave of new programmes, innovative partnerships and ground breaking music initiatives.

Paul is the fourth BBC Unsung Heroes Award winner to be announced. In his shows earlier this week, Steve revealed Denise White (Northern Ireland), Hannah Brine (London) and Mary Bell (Scotland) received the Unsung Hero Award. The final recipient will be announced by Steve Wright on his show tomorrow.

All of the recipients are invited to Glasgow on Friday, 5 June 2015, to be in the audience of 'The One Show' which is coming live from the BBC Music Day celebrations at Pacific Quay. And later that evening at Glasgow City Halls they will be guests of honour in the audience for Radio 2's 'Friday Night is BBC Music Night', a special gala concert hosted by Ken Bruce and Katie Derham, featuring the BBC Scottish Symphony Orchestra with an incredible line up of artists - pop legends Lulu and Deacon Blue, Radio 2 presenter and jazz pianist Jamie Cullum tenor Noah Stewart, violinist Jack Liebeck, Bhangra artist Jaz Dhami, Scottish folk star Claire Hastings, and harpist Catrin Finch. This show will also be simulcast live on Radio 3, Radio Scotland and the Asian Network.

City looking ship shape for another maritime spectacular
LIVERPOOL is gearing up for another weekend of maritime spectacles as one of the City's most popular annual events returns. The FREE Liverpool International Mersey River Festival in partnership with Wild Thang branded clothing and merchandise experts starts on Friday, 5 June 2015 and runs until Sunday, 7 June 2015. Liverpool's waterfront will be awash with ships, stages and activities to suit all ages. Just some of the weekend highlights include:- Tall Ships, yachts and canal boats; many of which will be open to the public to explore.
The return of the Royal Navy and Royal Marines Village to Graving Docks which includes helicopters, recruitment vehicles and diving tanks and unarmed combat and weapons displays. As part of this the Sea Cadets will be performing their field gun window ladder semaphore and club swinging displays. Also the following will be taking place:-
► International Canoe Polo Tournament.
► Brouhaha Homecoming Parade at 11am on Sunday.
► A model boat display and art exhibition in the Cunard Building.
► 2 air displays per day from the Yakovlevs.
► Flyboarding and wakeboarding demonstrations along with have-a-go water sport sessions.
► The popular Raft Race on Sunday where some participants will end up high and not so dry.
► Maritime themed street theatre and get involved workshop sessions.

On top of the usual activities, Liverpool will also play host to the first ever Northern Boat Show with a stunning line-up of power boats, cruisers, narrow boats and sail boats exhibited featuring some of the biggest and most popular brands in the marine world. The land-based part of the exhibition is free to all visitors, but there will be a £5 entrance fee for the pontoon access. Tickets are available at:- NorthernBoatshow.Co.UK or from the Tourist Information Centre located at the Albert Dock. And of course Music on the Waterfront which this year is working in partnership with Albert Dock Liverpool, is back and bigger than ever with three stages; the main stage at the Pier Head, the Making Waves stage at the Mann Island Basin and the Hartley Quay Stage, on board Tall Ship Morgenster.

The weekend of music kicks off on Friday as the city plays host to the first BBC Music Day. The Main Stage will see BBC Radio 6Music DJ Craig Charles bring his trunk of funk back to the waterfront with live music starting from 4pm and running until 11pm. Craig will be joined by special guests throughout the set.

Saturday's Main Stage, from 1pm to 8pm, is hosted by Smooth Radio and includes acts such as Collabro, Sam Bailey and a special appearance by David Gest and Kym Marsh. Ian Prowse will take to the Tall Ship stage and popular Liverpool Signing Choir will perform at Mann Island Basin.

Bay TV's Jay Hynd and Ellie Phillips will host Sunday's Main Stage from midday to 7pm, and will provide the perfect lazy Sunday afternoon sound track. With 'Home Grown' as the theme Rebecca Ferguson, The Hummingbirds and KOF are just some of the acts set to wow the crowd. Mezzo-soprano Danielle Thomas and the Royal Marine Band of Scotland will perform on the other stages which will see acts on there from midday to 5pm on Saturday and Sunday.

For full details of the programme, visit:- LiverpoolIOnTheWaterfront.Co.UK.

Assistant Mayor and Cabinet Member for Culture, Tourism and Events said:- "It's been a busy couple of weeks for our World Heritage Waterfront and we're still riding high on the massive success of the Three Cunard Queens weekend, so it feels like great timing for yet another maritime celebration! We know there is a real appetite for events which have a focus on the River, and once again we expect tens of thousands of visitors to spend time at the Pier Head and the Albert Dock making the most of the free activities on offer. This year's event is going to be kicked off in fantastic style as Liverpool is the host City for the 1st BBC Music Day and there's a real buzz around seeing Craig Charles perform once again in front of a home crowd. It's clichéd, but there really is something for everyone across the 3 days and I encourage as many people as possible to come along and experience this fantastic event for themselves."

Peter Cronin, Director of Development and Marketing, Albert Dock Liverpool, said:- "Albert Dock Liverpool is proud to support Culture Liverpool in delivering a fabulous itinerary of waterfront activity by sponsoring Music on the Waterfront; part of the International Mersey River Festival taking place in June this year. This year's action-packed festival will continue to foster links between Culture Liverpool and Albert Dock through this internationally acclaimed festival."

This year's International Mersey River Festival forms part of One Magnificent City, a 7 week programme of activities celebrating Liverpool's internationally renowned maritime history and transatlantic links. It began on Friday 15 May with the cultural celebration that is LightNight and will run until the weekend of the 4 July when Liverpool will host the UK's biggest Independence Day celebrations under the banner Transatlantic 175. Throughout the seven weeks various activities will be held which mark the 175th anniversary of Cunard.

For more information visit:- OneMagnificentCity.Co.UK or follow @OMCLpool on Twitter and One Magnificent City Liverpool on Facebook. Up-to-date details can also be found at:- Cruise-Liverpool.Com, @cruiselpool or Liverpool Cruise Terminal on Facebook.
Witness Appeal following shooting in Stockbridge Village, Merseyside
MERSEYSIDE Police are appealing for witnesses following an injury shooting in Stockbridge Village on Monday, 1 June 2015. Shortly before 1.30am Officers were called to Boydell Close following reports that a 31 year old man had been shot in the leg. Merseyside Police said that:- "It is believed that the victim had been arguing with 2 men on his doorstep and during the argument was shot by 1 of the men, who then ran off. The victim sustained serious wounds to his leg, which are consistent with being shot with a shotgun, and he was taken to hospital where his condition is described as serious. His injuries are not believed to be life threatening. The scene has been cordoned off for forensic examination and house to house inquiries will be carried out. High visibility patrols have been stepped up in the area to reassure the local community. The investigation is in its early stages and at this stage the motive for the shooting is unknown, although it is believed that this is a targeted attack. Detectives are appealing to anyone who may have information about the shooting to contact them." Anyone who can help the Police with their investigation in to the shooting can contact the specialist Matrix team on:- 0800 230 0600, or Crimestoppers anonymously on:- 0800 555 111.