Liverpool's Art School restaurant raises the bar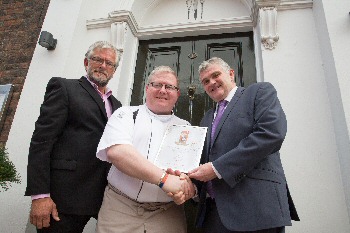 LIVERPOOL'S Art School Restaurant has received the highest award from 1 of the Country's leading food and drink quality assessment schemes. The restaurant; which was launched less than a year ago; scored a prestigious 94% to achieve the 'Highest Quality Assured VisitEngland Taste Accreditation' from Taste Northwest; which promotes the national quality assessment scheme throughout the region.

The Art School Restaurant is among only 8 eating places across the city area to have this formal recognition of quality. Now chef patron Paul Askew has joined Marketing Liverpool in a call for others to team up and raise the bar even further for Liverpool's growing food and drink culture.
Taste accreditation is independently assessed for VisitEngland by Quality in Tourism. The criteria is based on quality of food, use of locally and regionally sourced seasonal produce and ingredients, as well as excellent customer service. The Art School Restaurant was also scored on exterior impressions, interior facilities and décor, cleanliness, hospitality and service efficiency, food presentation and imaginative creative dishes. "We're pleased to showcase eating places, like the Art School Restaurant, that offer great food combined with an inviting environment and a commitment to excellent customer service; an all round winner for food lovers. The Art School Restaurant represents all of this and we are excited about adding our mark of food and service quality to Paul Askew's already recognised achievements. It encompasses everything that Paul is about as an outstanding champion of North West produce and a benchmark for the current generation of chefs." says Mark Loynton, managing director of Taste Northwest.

Paul Askew, a Fellow of the Royal Academy of Culinary Arts and chair of the Liverpool Restaurant Association, launched the 50 cover Art School Restaurant last September after building a reputation as head chef and catering manager for the Liverpool Philharmonic and chef director at Liverpool's 'hope street hotel' and 'The London Carriage Works'.

He is renowned for his commitment to using North West produce and suppliers. His insistence on the finest high quality, locally sourced ingredients forms a key element of his menus.

Paul's commitment to food tourism earned him last year's 'Outstanding Champion and Pioneer' title from the Liverpool Food and Drink Awards as well as a special industry achievement award from 'Northern Restaurant and Bar'. Paul said:- "This newest accreditation is an honour that reflects the pride we take in our craft. People can easily underestimate what is produced in our region, but we have world class ingredients to work with and, coupled with great service, these help us to deliver a quality dining experience with absolute confidence."

Chris Brown, chief executive of Marketing Liverpool, presented the award and called for their 'city region' to team up and build on the recognition of the1st 8 'highest quality assured' accreditations. "Paul's early influences were in South East Asia, the Middle East and United States, but his total belief in the North West now showcases the best that this region has to offer and illustrates his approach to real food, integrity of ingredients, flavours and presentation. The VisitEngland Taste Accreditation Scheme is extremely useful for consumers to identify restaurants, cafés and pubs that promote quality. I hope that others will support it and share our enthusiasm to drive up standards even further across the region."

Almost 1,200 people every week are being put at risk of losing their home in the North West
ALARMING new figures from housing charity Shelter have revealed more than 1,200 people in the North West were put at risk of losing their home every week in the last year.

In an analysis of statistics from the Ministry of Justice, the charity identified how many people are at risk of eviction and repossession as well as the 'home threat hotspots' across the North West where people are most likely to face the risk of losing their home.

Manchester topped the list in the North West with as many as 1 in every 66 homes under threat of eviction or repossession, followed by Rochdale (1 in 68), Salford (1 in 76) and Knowlsley (1 in 76). And these shocking figures are borne out by the sheer number of people visiting the Shelter website looking for advice on repossession and eviction, with 360,000 unique visits in the last year alone.

Bill Murdoch, 52, lost his job as a bus driver after suddenly losing the sight in 1 eye last year. Things started spiralling downwards when he missed two payments on a loan secured against his home, and he contacted Shelter for help. "I'd always done my job with a smile on my face but once I lost my sight, it was over. The bills started to mount up and, even though we'd had been making the payments without fail for years, the loan company told us they were going to take away our home. Coming on top of losing my sight and my job, stressed doesn't begin to describe how I felt when our home was under threat. I have never been more terrified than I was on the day the court order came. The only thing that gave me hope was when I contacted Shelter who helped us through the court process. If it wasn't for that, we'd have lost everything."

Nadeem Khan, helpline adviser for Shelter, said:- "We're hearing from thousands of people who have suffered in silence while they struggle to keep up with their rent or mortgage, and come to us in desperation when the court papers finally land on their doormat. It's natural to feel helpless in the face of mounting bills, but getting expert advice as soon as you start having trouble with housing payments can really help you see the light at the end of the tunnel, and keep the threat of losing your home at bay."

Alison Mohammed, Shelter's director of services, said:- "These staggering figures show just how many people are fighting to keep their families in their homes, after dealing with the double blow of welfare cuts and a drastic shortage of affordable housing. We're doing everything we can to give advice and support to anyone who faces losing the roof over their heads, but the government must also play its part by putting a stop to further cuts to the safety net, which helps ordinary families stay in their homes."

Shelter helps 4 million people a year fight bad housing and homelessness through its online, helpline and face to face services. For free, expert advice from Shelter visit:- Shelter.Org.UK/Advice or call the helpline on:- 0808 800 4444.
8 new Liverpool based artists and organisations chosen for this year's 'Hannah Directory'
IT has been announced that 8 new organisations and artists will be celebrated in this year's publication of the 'Hannah Directory', including the artist led Liverpool Small Cinema, the art collective Re-Dock, digital media educators Defnet Media and artist of public space Neil Winterburn. This annual publication showcases the best creative projects, groups and individuals in the North of England and with a multiple inclusion, Liverpool will be well represented.

The directory takes its name from the suffragette Hannah Mitchell (1872 to 1956). Seeking to share the values of democracy and civic duty that Mitchell fought for, the Hannah Directory showcases independent organisations working in innovative ways.

The directory aims to connect and share these projects in the hope that others may be inspired and learn from their successes. Make the most of the directory's launch (8 June to 14 June) by joining the DoESLiverpool community for a celebration night on 10 June, downloading Neil Winterburn's Hannah Festival hologram and of course picking up a copy of the directory.

This year's directory has been designed by the Manchester based Textbook Studio. Formed in 2011 and based at Islington Mill, the small design studio is led by John Newton, Vicky Carr, and Chris Shearston.

The publication is distributed in Towns and Cities across the North including Manchester, Liverpool, Leeds, Sheffield and Newcastle.