Liverpool's Art School restaurant raises the bar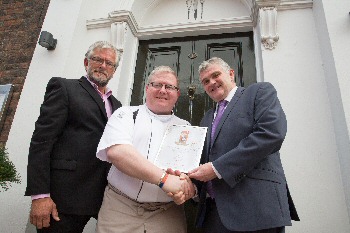 LIVERPOOL'S Art School Restaurant has received the highest award from 1 of the Country's leading food and drink quality assessment schemes. The restaurant; which was launched less than a year ago; scored a prestigious 94% to achieve the 'Highest Quality Assured VisitEngland Taste Accreditation' from Taste Northwest; which promotes the national quality assessment scheme throughout the region.

The Art School Restaurant is among only 8 eating places across the city area to have this formal recognition of quality. Now chef patron Paul Askew has joined Marketing Liverpool in a call for others to team up and raise the bar even further for Liverpool's growing food and drink culture.
Taste accreditation is independently assessed for VisitEngland by Quality in Tourism. The criteria is based on quality of food, use of locally and regionally sourced seasonal produce and ingredients, as well as excellent customer service. The Art School Restaurant was also scored on exterior impressions, interior facilities and décor, cleanliness, hospitality and service efficiency, food presentation and imaginative creative dishes. "We're pleased to showcase eating places, like the Art School Restaurant, that offer great food combined with an inviting environment and a commitment to excellent customer service; an all round winner for food lovers. The Art School Restaurant represents all of this and we are excited about adding our mark of food and service quality to Paul Askew's already recognised achievements. It encompasses everything that Paul is about as an outstanding champion of North West produce and a benchmark for the current generation of chefs." says Mark Loynton, managing director of Taste Northwest.

Paul Askew, a Fellow of the Royal Academy of Culinary Arts and chair of the Liverpool Restaurant Association, launched the 50 cover Art School Restaurant last September after building a reputation as head chef and catering manager for the Liverpool Philharmonic and chef director at Liverpool's 'hope street hotel' and 'The London Carriage Works'.

He is renowned for his commitment to using North West produce and suppliers. His insistence on the finest high quality, locally sourced ingredients forms a key element of his menus.

Paul's commitment to food tourism earned him last year's 'Outstanding Champion and Pioneer' title from the Liverpool Food and Drink Awards as well as a special industry achievement award from 'Northern Restaurant and Bar'. Paul said:- "This newest accreditation is an honour that reflects the pride we take in our craft. People can easily underestimate what is produced in our region, but we have world class ingredients to work with and, coupled with great service, these help us to deliver a quality dining experience with absolute confidence."

Chris Brown, chief executive of Marketing Liverpool, presented the award and called for their 'city region' to team up and build on the recognition of the1st 8 'highest quality assured' accreditations. "Paul's early influences were in South East Asia, the Middle East and United States, but his total belief in the North West now showcases the best that this region has to offer and illustrates his approach to real food, integrity of ingredients, flavours and presentation. The VisitEngland Taste Accreditation Scheme is extremely useful for consumers to identify restaurants, cafés and pubs that promote quality. I hope that others will support it and share our enthusiasm to drive up standards even further across the region."