Photos of Sir Paul McCartney live in Liverpool, UK
Photographs by by Jo Forrest.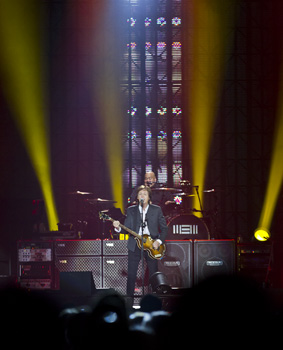 WHAT an amazing night! Sir Paul McCartney may be a household name, but that does not stop him from delivering a few surprises.... With booking lines have been inundated with people wanting to buy tickets many months before the show, you knew this was going to be a night to remember and boy o' boy was it! On Thursday, 28 May 2015, at the Liverpool ACC, Sir Paul took to the stage to deliver a show that left the packed out venue begging for more! The show took the audience on what was described as an "epic journey" through his days from 'The Beatles' through to his solo work, including his 2013 album. "Epic" was an understatement, as he played hit after hit. Each 1 just as good as the 1st time I remember hearing them. It was not just the music that was unbelievably good, the lighting was outstanding as well! With shows like this, he sets the bench mark extremely high, but Sir Paul has influenced the course of modem music, like no other and he is still doing it, and inspiring others in the process. That is probably why he is so loved by fans from all over the world. That influence could be felt when waiting to go in, with different languages being spoken all around. Sadly I could not stay in for the full show, as it was to crowded, but I'm honoured to hear and see what I did! Also from what I was told by those who could stay, it just got better and better! These are a few photographs taken by me at what I feel was an outstanding show. If you attended it, please do let us know if you agree or not, by emailing us.