Did you see John Barrowman MBE, live at the Philharmonic Hall?
Photographs by by Jo Forrest.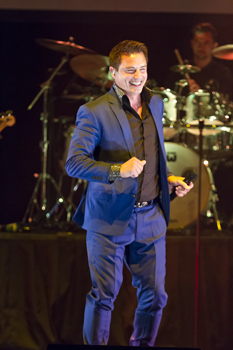 JOHN Barrowman is arguably Britain's most iconic Sci-Fi actor and is best known in the UK for his role in the BBC science fiction dramas Doctor Who and Torchwood, as Captain Jack Harkness, but other know him as a talented singer. On 19 May 2015, as part of his 'You Raise Me Up' tour, he preformed at the Liverpool Philharmonic Hall. This was just 1 of the venues on his 16 date tour in support of his new album entitled:- 'You Raise Me Up.' The show was choreograph to perfection by him and his songs did not disappoint his audience. Jo Forrest was at the event and took these fantastic photos for us. She said:- "John was fantastic. It is not surprising that he is considered to be Britain's best all-round entertainer by many in the industry, not just his fans after seeing his show!" If you attended, please let us know what you thought of his performance by emailing us to:- news24@southportreporter.com.