Commissioner visits social enterprise to see how it is helping ex-offenders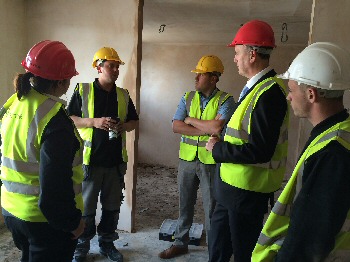 LANCASHIRE'S Police and Crime Commissioner has visited social enterprise Jobs, Friends and Houses (JFH), in Blackpool, to see how it is working to keep ex-offenders from returning to a life of crime. Clive Grunshaw met with the project's CEO Steve Hodgkins and programme manager Matthew Idle who told the Commissioner how former prolific offenders had turned their lives around after being supported by JFH. JFH's main focus is on property development. The business buys properties and trains ex-offenders to renovate them to a high standard before they are rented out. In the future, it will also have its own property management branch. All employees are offered full training via adult apprenticeships at Blackpool and Fylde College and accommodation. They are paid the living wage and are given a pension scheme to ensure they plan for their futures and enjoy a rewarding career.
Mr Grunshaw met with some of the employees who have benefited from being part of the programme.
Liam, who has been in and out of prison for several years and had issues with alcohol and drugs, said JFH had changed his life. The 26 year old, who is now on a 4 year apprenticeship in plumbing, said:- "When I got out of prison I decided to move to Blackpool because I wanted to think about my recovery. I love life now. I live in a recovery house that Steve provided for us and I am just trying to save a bit of money so I can move on when the time is right. This is the longest I have been out of prison and it is great knowing that at the end of the month, I have worked for my money. It means I can start to creep up the ladder and buy nice things for myself."

Scott, who is now working as an electrician with FJH after completing a prison sentence, said being part of the team had given him more confidence. The 34 year old added:- "If I listen to my own head, it tells me I am worthless, but I have a team supporting me and now I am at the point where I want to change. The massive thing for me is working for a company that helps with the recovery side of things."
FJH currently has 6 properties and 25 paid staff, as well as volunteers. The project has a 0% reoffending rate for those it has worked with. As well as providing jobs and homes, JFH also offers a complete 'wraparound' service, helping its employees give up addictions and supporting them with mental health issues. The workers are then taught how they can fill their free time with productive activities that do not involve drink and drugs.

Mr Hodgkins said:- "These are people who have caused a lot of problems in the past. We are dealing with broken people and we are trying to fix them. It is hard work and it has never been done before, but we are already seeing some great results. The key thing to this working is the people. The reason this hasn't been done before is that nobody trusts the people we work with. But having the Police on board reassures the wider community. Our employees are inspired that they can have a career and somewhere nice to live when before they had nothing. We find that these people did not know how to live outside of prison. But we offer them meaningful employment, accommodation and friendship so they can get back on track."

Blackpool Council received £128,700 from the Commissioner in 2014/15 to provide substance misuse services. Some of this money was given to JFH to help run the programme. The Commissioner added:- "This is life changing stuff. I was really impressed by all of the work I saw and the renovations to the properties were just stunning. The feedback I have had about this project is really exciting; it is providing a new and innovative way of tackling crime and reoffending. Steve, Matt and the team have shown so much commitment and it is working really well. This fantastic project is a shining example of how by having the right support for offenders, they can become valued members of society."

Clive Grunshaw, the Lancashire Police and Crime Commissioner is responsible for:-
► recruiting the Chief Constable and holding him to account for the work of the Police.
► setting and updating a county wide Police and crime plan.
► meeting and consulting residents about crime and anti-social behaviour.
► setting the Police budget and agreeing the Council Tax precept that goes towards funding the Police in Lancashire.

The Commissioner's Police and Crime Plan includes four priorities.
These include defending front line policing, protecting vulnerable people, tackling crime and re-offending and championing victims' rights.

For more information about the work of the Lancashire Police and Crime Commissioner visit:- Lancashire-PCC.Gov.UK.

New report says tobacco companies should be forced to pay the cost of reducing smoking
MORE than 120 public health-related organisations have joined Action on Smoking and Health (ASH) to call on the Government to impose an annual levy on tobacco companies. The money raised would pay for evidence based tobacco control and stop smoking services. This could save thousands of lives in the North West over the next decade, reduce the number of people living in poverty and save the NHS badly needed money.

Smoking Still Kills, an ambitious 5 year tobacco strategy, is being launched the week after the Chancellor announced that the Department of Health would have to make £200 million of savings from its budget for non-NHS services to come from cuts to council controlled Public Health Budgets.

Andrea Crossfield, Chief Executive of Tobacco Free Futures said:- "Every day 35 people die from smoking related illnesses. At the same time hundreds of young people take up smoking storing up a burden of ill health and premature death for the future. As this report makes clear we must go further and do more. I urge the Government to waste no time in publishing a renewed strategy and to resource this through a levy on the tobacco companies that have spent so many decades profiting from ill health and early deaths in our poorest communities in the North West."

Deborah Arnott chief executive of action on smoking and health said:- "The NHS faces a £22 billion funding gap by 2020 which the NHS five-year forward view makes clear can only be bridged by a radical upgrade in prevention and public health. Otherwise there will be major cuts in services. To cut local authorities' Public Health Budgets at this time would be pinching pennies to waste pounds. The government has already consulted on a levy on the tobacco industry to pay for the damage it does; the time to go ahead is now, with the money raised used to fund prevention and public health."

Kyle Sanderson, 43, from Heywood in Greater Manchester said:- "I started smoking when I was 14 years old because I thought it was cool and a lot of my friends smoked. I didn't realise just how addictive it would be and I went from smoking 10 a day to 40 a day really quickly. I was out of breath all the time, suffered with really bad asthma and then I got really sick and was rushed to hospital with pneumonia. The doctor said I needed to quit or I would die, so I went to Living Well Rochdale and spoke to a stop smoking advisor who was fantastic, really supportive and did not judge me. With their support I quit smoking, and with the money I've saved from quitting I've booked a holiday to Mexico in September. I would definitely recommend the Stop Smoking Service to anyone who wants to quit and make a fresh start."

Every year smoking costs the NHS in the North West at least £250 million and a further £1.7 billion in wider costs to society. The Smoking Still Kills report also highlights the need for investment at every level; locally, nationally and regionally.

New ASH research also reveals that in the North West over 229,000 households who live below the poverty line include an adult that smokes. If they quit over 87,000 households in the North West would be lifted out of poverty.

Peter Kellner, Chair of the Smoking Still Kills Editorial Board and President, YouGov, commented:- "The NHS is facing an acute funding shortage and any serious strategy to address this must tackle the causes of preventable ill health. The tobacco companies, which last year made over a £1 billion in profit, are responsible for the premature deaths of 80,000 people in England each year, and should be forced to pay for the harm they cause. Investing in evidence based measures that reduce smoking is highly cost effective; for example Stop Smoking Services have been shown to be one of the most cost effective ways to improve people's health. Placing a levy on tobacco companies to fund such work is a win, win, saving both money and lives."

In the March budget earlier this year the Chancellor committed the Government to continue the consultation on imposing a levy on tobacco companies.

Those living in the North West strongly support Government action to reduce smoking. 36% think the Government should do more to reduce smoking while a further 37% think the Government is getting it about right.
The health gains which have been made in the last few decades have not been even across society. Smoking is now more concentrated than ever among the least advantaged in society. The report states that a new properly funded Government strategy must also address the startling and widening health inequalities smoking causes.

The report calls for:-

► A new vision for the country with ambitious target of achieving 5% smoking rate by 2035: No one should be left behind as we achieve a tobacco free future and health inequalities must not be allowed to widen
► A new comprehensive five-year Government tobacco strategy for England: Comprehensive approach is vital - 70,000 lives have been saved due to falling smoking rates since 1998, when the 1st comprehensive government strategy on tobacco, Smoking Kills, was published.

► A new approach to funding, annual levy on tobacco companies to fund tobacco control: Tobacco companies make over £1bn in profit in the UK and the harms from smoking to society are significant. They should pay to address the harms they cause.

► A comprehensive package of measures: taken together the recommendations in this report are designed to set us on the path to a smoke free future by 2035.