Organisers Hail Physical Fest 2015 A Giant Success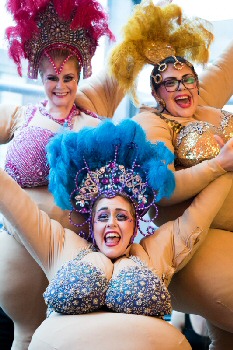 AFTER a sensational 9 days of performances, workshops and street theatre, Physical Fest is over for another year. With a massive presence and a buzz of excitement across the City on the build up to and throughout the festival, organisers Tmesis Theatre are reflecting on what has been the most successful year to date.

Taking place from 22 May to 30 May 2015, the festival presented a huge programme and brought together the very best and most established artists from all corners of the globe, with companies from Italy and Spain joining the UK performers which offered a truly international Physical Fest.

Wendy Houston proved hugely popular and was the perfect opening for the festival with her one woman performance of Pact with Pointlessness; a frank demonstration of how it feels to be knocked sideways by death, renegotiate and carry on. Following the success of his hilarious clown show at last year's festival, audiences could not get enough of Jamie Wood who returned with a new version of his show Oh No!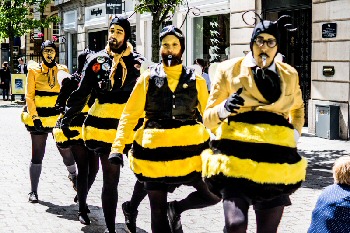 Other stand out performances included self proclaimed 'show man' Faruchio Peru is 'Extraordinare' and international showcase 'Fest Live' which both sold out, as well as Honky Tonk Hideaway from Tmesis Theatre Graduate Company with 3 performances every evening before each Unity show, all of which sold out.

This year's workshops and classes also proved to be an incredible triumph; the sell out programme saw eager participants take over 'The Bluecoat' every day, taking advantage of the opportunity to gain experience from world class performers and practitioners.

Elinor Randle of Tmesis Theatre said of the overwhelming success of this year's festival:- "Physical Fest has been a 'giant' success. It was a year of the animals; from giant giraffes at the opening, the amazing 'man with the chicken head', Animal Religion from Spain, to giant bees buzzing around the City doing the 'Waggledance'. I thought the ten year anniversary would be difficult to top, but this year was even better, packed audiences at every performance- with the Unity as you've never seen it before. People came to take part from all over the world and brilliant projects involving young people. The streets were alive with activity!"

As one of the key events in Liverpool's 'Cultural Programme' the festival brings the world's best local, national and international movement and physical theatre artists to Liverpool.

The astounding response to this year's festival is a true reflection on the quality of the programming and the hard work and commitment from all involved, who manage to make the festival bigger and better year after year. It will be hard pushed to imagine what organisers will come back with next year, but are already excited for Physical Fest 2016.

LJLA becomes home to Merseyside's 1st rapid electric vehicle charging point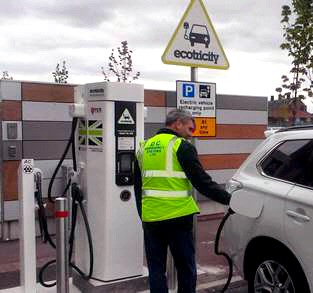 LIVERPOOL John Lennon Airport has installed Merseyside's 1st Rapid Charging Point for electric vehicles in partnership with green energy company Ecotricity. The facility is part of Ecotricity's Electric Highway which forms part of the UK's national network of electric charging stations. Powered with 100% renewable energy from sun and wind power, plug-in hybrid electric vehicles cars such as the Mitsubishi Outlander hybrid or Nissan's fully electric LEAF, can recharge in 20 to 30mins; about the time it takes to have a cup of coffee. The new charging point is free to use and located in one of the Airport car parks, close to the terminal building. Whilst use of the service is primarily aimed at passengers using the Airport, it is available for anybody to use, with access to its location free of parking charges too. The Electric Highway; created by EcotriCity and electric vehicle pioneer Nissan; is becoming a truly Britain wide, fast charging network. Having begun modestly with just 3 chargers installed at motorway services in 2012, there are now 240 chargers across the country, with 95% of motorway services covered. Andrew Dutton, Liverpool John Lennon Airport's Head of Environment, commented:- "Liverpool John Lennon Airport is proud to play a small part in the electric car revolution. The journey to the airport can be one of the major contributors to CO2 emissions associated with our business. By installing this charging point we are now giving those customers with electric or hybrid cars the opportunity to use these vehicles on a potential lengthy journey to the airport, relaxed in the knowledge that we have a charging point for them to use for their return journey home. Just as important though, this will also help to reduce CO2 emissions." EcotriCity Dale Vince said:- "With our electriCity pumps at 90% of the motorway network, we're well on our way to making electric cars a practical, everyday choice for drivers in Britain. Installing pumps at key destinations like Liverpool Airport is the next phase of what we call the Electric Highway, a national network which enables electric cars to drive the length and breadth of Britain. Now e-drivers can charge up at the airport, if they're picking up, dropping off, or on their way in and out of the Country."
Appeal to find Mark Gerald Parker's Next of Kin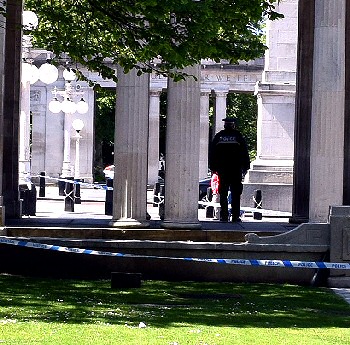 SEFTON Coroner's Office are appealing for the public's help in tracing the family of a man from the Southport area. Mark Gerald Parker, aged 40 years, of no fixed abode, was found following by North West Ambulance Service after receiving a call:- "regarding a person found close to the monument at the junction of London Street and Lord Street, Southport." Ambulance staff attending confirmed he was deceased at the scene, on Saturday, 6 June 2015. There are no suspicious circumstances surrounding his death. Mr Parker's parents, Gerald and Veronica Parker, are believed to live in the area of Dumbarton, in Scotland. Mr Parker is also believed to have a sister called Marie and a brother called Richard. Anyone with information about Mr Parker's next of kin is asked to please contact Sefton Coroner's Office on:- 0151 777 3409.